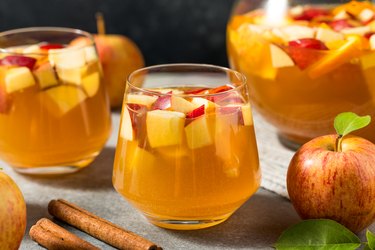 Thanksgiving dinner might steal the show, but what's a great dinner without an accompanying drink? The world of fall cocktails (and mocktails!) is a vibrant one, pairing flavors like pumpkin spice, apple and pomegranate to create unique sips suited to the season's cozy vibes. When Thanksgiving rolls around, these delicious drinks deserve their moment in the spotlight.
To help you prep for a Turkey Day celebration that won't leave guests thirsty, we've compiled some of our favorite Thanksgiving cocktail and mocktail ideas from creative influencers. From sweet Thanksgiving drinks made with dessert-inspired ingredients to autumn twists on classic cocktails, these beverages are sure to make a splash.
Your new favorite Thanksgiving cocktail recipe awaits!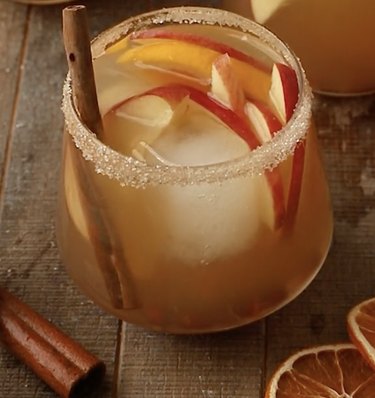 Sangria is beloved for a reason, so why not give it a fall twist by whipping up some apple cider sangria? TikToker @shortgirltallorder combines apple cider, white wine, bourbon and maple syrup in a pitcher, then completes the concoction with cinnamon sticks, apple and orange slices, pomegranate arils and a cinnamon sugar rim. Our mouths are watering already.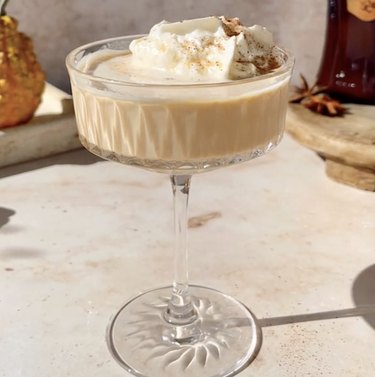 You don't have to be a pumpkin pie fanatic to enjoy a pumpkin pie martini like the one TikToker @join_jules demonstrates. To make it at home, combine cream liqueur, vodka, cinnamon simple syrup and pumpkin puree. Add ice, then garnish with whipped cream and nutmeg. It's like a dessert in drink form!
3. Cranberry Maple Rosemary Mocktail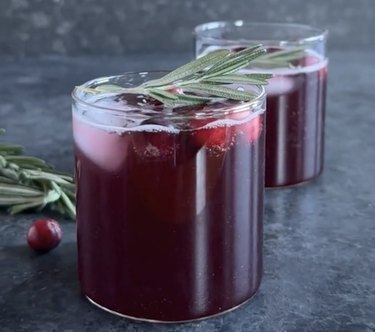 We're big fans of drinks that look as wonderful as they taste, and this cranberry maple rosemary mocktail from TikToker @cookwithmanali certainly delivers. To whip it up, you'll combine rosemary-infused maple syrup, unsweetened cranberry juice and a dash of allspice. Give it a shake, add to a glass, pour in as much soda water as you'd like and garnish with a sprig of rosemary. Bright, bubbly and downright beautiful.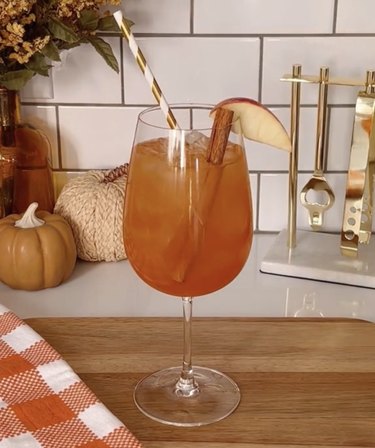 The Aperol Spritz continues its reign as the "beverage of the moment" with this apple cider version from TikToker @sierrainthecity, who combines fall flavors for a playful drink. You'll need ice, Aperol (of course!), apple cider, Prosecco and a splash of club soda. Finish with an apple slice, cinnamon stick and straw for a fantastically festive cocktail.
If you're always chilly on Thanksgiving, opt for a fall-themed hot toddy like the one TikToker @thecalifornialocal demonstrates. Start by steeping pumpkin spice tea in hot water, then add maple syrup, lemon juice and a dash of whiskey. Top off your cozy drink with a lemon slice and cinnamon stick, then enjoy! How wonderful would this be as an after-dinner drink?
6. Apple Cider Bourbon Prosecco Punch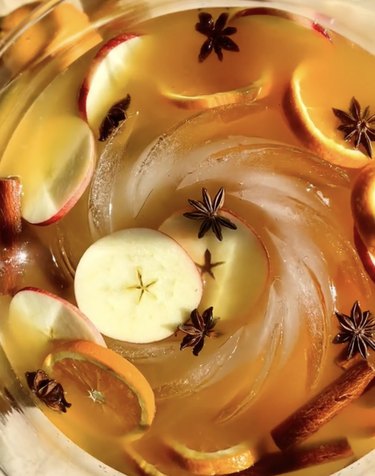 Next up, TikToker @thegandmkitchen shows us how to make a big batch of the perfect Thanksgiving punch (served in a punch bowl and all!) using bourbon, apple cider, orange juice, Prosecco and a DIY cinnamon rosemary simple syrup. We love the aesthetic of the finished punch, which is topped with apple slices, cinnamon sticks and even star anise.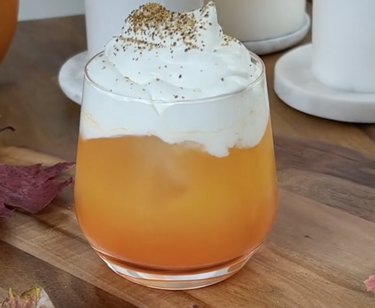 Here's one for the candy fanatics! If you ask us, Halloween candy season extends all the way through Thanksgiving, so why not concoct a candy corn mocktail like the one @blooming.mocktail highlights on TikTok? You'll mix pineapple juice, orange juice, a nonalcoholic spritz and plenty of ice. Next, combine heavy cream, powdered sugar and vanilla to make an easy whipped cream topping. We think this would be especially cute with actual candy corn pieces on top!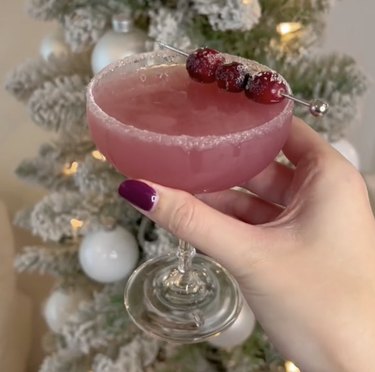 Obsessed with cranberry sauce? If you ask us, it's the best side dish ever! Use leftovers from Thanksgiving dinner or a fresh batch to create an inventive cranberry sauce cosmo like TikToker @thespritzeffect. Start with vodka, Cointreau and lime juice, then add a bar spoon full of cranberry sauce to a shaker. Add ice, shake and pour into glasses rimmed with lime juice and sugar.
9. Apple Butter Old-Fashioned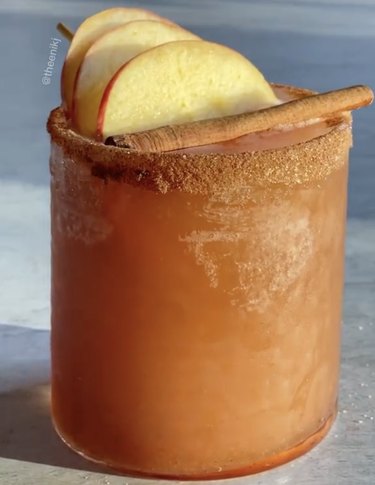 Picked up a bunch of apple butter at the local orchard, but not quite sure how to use it? Enter: the apple butter old-fashioned! This fun Thanksgiving drink from TikToker @theenikj combines aromatic bitters, apple butter (of course), whiskey, apple cider, ice and an apple butter rim with cinnamon sugar. Serve alongside appetizers to set the festive mood at your Thanksgiving get-together.
10. Caramel Apple Rum Punch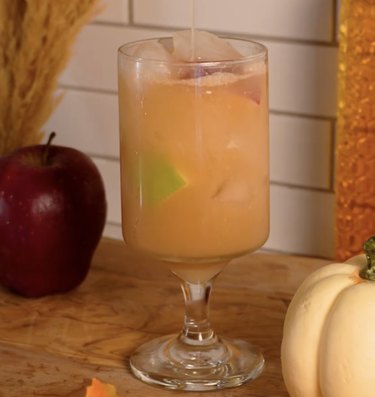 Desserts are a highlight of the holiday season, even when they come in beverage form. Try this caramel apple rum punch recipe from @servedbysammy on TikTok for one of the best Thanksgiving cocktails you've ever tasted. Load up a pitcher with chopped apples, then top with sour apple pucker, fresh lemon juice and a generous helping of caramel sauce. Add spiced rum and sparkling apple cider (sparkling wine or champagne would likely work just as well), then watch as your loved ones swoon with every sip.
11. Apple Pie Moscow Mule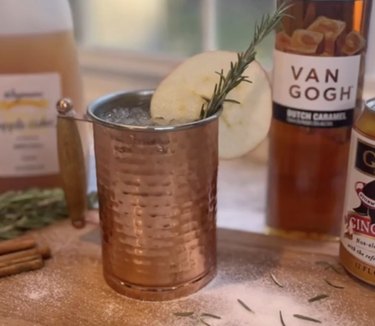 Nothing says Thanksgiving like a slice of homemade apple pie, so we've brought you apple pie in drink form! This apple pie Moscow mule from @everydayextra_ on TikTok starts with a DIY apple pie simple syrup. Combine syrup with caramel vodka, ginger beer and apple cider for a ridiculously delicious drink that works for a holiday brunch, Thanksgiving dinner and beyond.
Are you feeling as thirsty as we are? Whether you're looking for a nonalcoholic option or a standard cocktail, these Thanksgiving drink ideas are loaded with creativity and sheer deliciousness. Wishing you a Thanksgiving loaded with flavor, fizz and plenty of fun!
Looking for even more unique seasonal beverage ideas? You'll love our roundup of festive mocktail recipes, which includes options for Christmas, New Year's Eve and more.