The year is flying by, and now that Halloween is over, Thanksgiving will be here before you know it. You probably already have a general idea of the classic favorites you will be cooking for the big meal, but coming up with a festive way to decorate the Thanksgiving dinner table is almost as important as not burning the turkey. Elements like candles, pumpkins and flowers are some of the most important items to have on your holiday table and for good reason. These are tried and true traditional Thanksgiving centerpiece options that will never steer you wrong. What makes them special is found in the details of how you arrange them, though.
One crucial part of your Thanksgiving tablescape is to make sure that your table centerpiece, regardless of how pretty it is, doesn't interfere with your guests' conversations across the dining room table. For example, you will want to make sure your centerpiece is not so tall that it will block your guests' line of sight, making it difficult to naturally hold conversation without having to look around the arrangements in the middle of the dining table. On the other hand, you don't want your decor to be so small that it gets lost among all the cakes and casseroles. The perfect centerpiece doesn't have to cost a lot of money either. There are lots of budget-friendly centerpiece ideas out there.
The holidays are the perfect time to step out of your home decor comfort zone. Consider trying your hand at a few fancy napkin-folding techniques that will wow your guests or DIY a set of eye-catching candles to grace the center of your table. The best table designs are ones that layer together different sizes and shapes to create a centerpiece full of dimension and visual interest that will be a feast for the eyes. Here are 10 Thanksgiving table decor ideas as well as projects for DIY Thanksgiving decorations that will leave your guests hungry for more.
1. Mini Gourd Candle Holders
Create an easy, festive centerpiece that will be perfect for your Thanksgiving table with these mini gourd candle holders. Start by picking up a few bags of mini gourds, some mini pumpkins and a couple tall, tapered candles. Try to find gourds with stable, flat bottoms that will stand up on their own to use as the base of the candlesticks. Stack a small pumpkin on top of each gourd and use a drill to hollow out a circle that is about the same width as the candle. Slide the candle into place and scatter any leftover gourds along the middle of the table for a centerpiece worth talking about.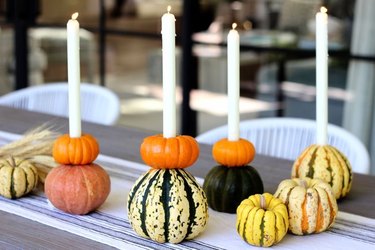 2. Fall Leaf Table Runner
Take advantage of the colorful fall foliage and bring the outside indoors for turkey day. Create this one of a kind fall table runner made with real leaves found right outside your door. Glue a base layer of leaves to a strip of burlap fabric cut to the same length as your table. Keep layering on leaves until all the fabric is covered and the runner looks nice and full. The leaves will add a pop of color and dimension to your table that will be hard to top. Just be sure to let the table runner fully dry before putting anything on top of it to avoid getting glue on your dishes or table top. This is a great option for those trying to decorate on a budget since the leaves are free, and the only other things you will need are burlap and glue.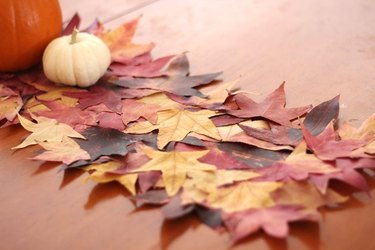 3. Charming Napkin-Folding Techniques
Take your napkin game up a notch with some expert-level napkin folding techniques. Paper napkins won't work for this. You will want to use thick, high-quality napkins for the best results. Start by carefully ironing linen napkins and then spray each one with a little starch. The starch will help ensure the napkin folds stay nice and crisp. Tuck stems of fresh flowers and berries into the folds on the napkin to complete the modern look. This is a great time to play around with how various colors and textures work together since it will only be a small project, and it is easy enough to switch things around until you find a combination that you love.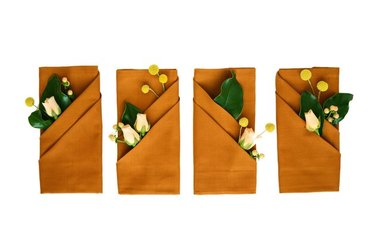 If you have guests coming over in a few hours and you need to quickly put together an eye-catching centerpiece, then these floating fall candles are for you. You likely already have all the supplies you will need for this DIY project lying around the house. Start by collecting a couple tall glass vases, preferably in different sizes and heights. Then, rummage around your cabinets for a few fall-related items, like corn kernels, grapes and fake leaves. Layer the items in the vases, carefully pour in water and top off each one with a floating candle. This is one easy DIY project that definitely won't add to the holiday stress.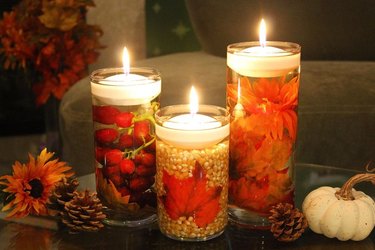 5. Turkey-Shaped Flower Arrangement
Using flowers as your go-to centerpiece is generally a no-brainer. Instead of just sticking a few stems in a vase and calling it a day, try using them in an unexpected way that your guests will love. This turkey-shaped flower arrangement fits the bill perfectly. Head to your local florist and pick up a few cattails, a small bouquet of chrysanthemums and a single bird of paradise. Combine them to make the only turkey that will go untouched this Thanksgiving. Use a piece of floral foam that has been soaked in water as the base for the turkey. The wet foam will securely hold all the stems in place and keep the flowers from drying out too quickly.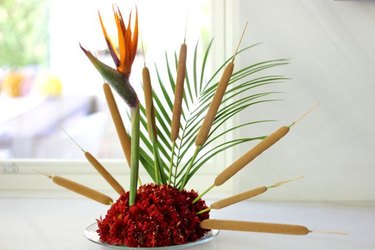 6. Gold Wire Napkin Rings
Don't worry if you are running short on time. You can still make a big impact on your dinner table while putting forth minimal effort. Dress up your place setting with these gold wire napkin rings. They are super simple to put together and will leave you with more time to cook and get ready for your guests to arrive. If you can wrap flexible gold wire around a piece of PVC pipe, then you can handle this project. Tuck linen napkins into the finished rings and add a coordinating tablecloth for a polished and cohesive Thanksgiving table setting in no time.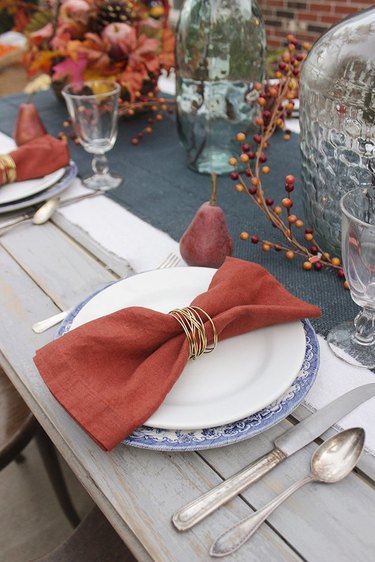 7. Cornucopia Arrangement
Nothing says Thanksgiving quite like an overflowing cornucopia arrangement decorating the center of the table. You can create your own DIY Thanksgiving centerpiece using either fresh or wax fruit. Fresh fruit is more authentic, but wax fruit will allow you to enjoy it longer. Whichever route you go, the cornucopia will always look better the fuller that it is. Make the contents appear as if they are cascading from the cornucopia by stuffing the base with raffia or paper so that you are only filling half of the cone with food. Incorporate other fall elements, like pine cones, sprigs of wheat and dried leaves, to add texture to your centerpiece. Complete the look with simple placemats for each guest and you are ready to feast.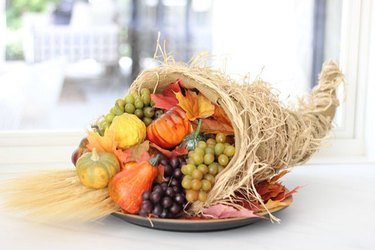 Dazzle your guests with fancy folded turkey napkins at each seat this holiday season. Each one of the turkeys will require two napkins: a solid-color one for the body and a festive printed one for the tail feathers. A strategically placed piece of heavy-duty foil that is placed inside the solid-color napkin helps ensure your bird's head will sit nice and straight for all the pictures that everyone will be taking of it. Add simple place cards with your guests' names on them in front of each bird to avoid a pre-meal game of musical chairs and you will have more time to enjoy the meal (and your company).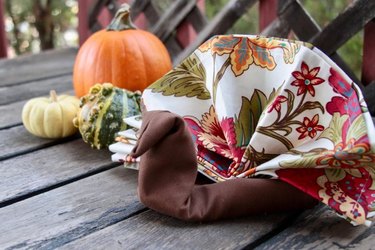 9. Pumpkin-Shaped Flower Arrangements
Pumpkins and flowers are some of the most important items to have on your Thanksgiving table. Don't be afraid to stray from the standard path and try something different this year, like these pumpkin-shaped flower arrangements. Combine the two elements to make a unique centerpiece that you will never get tired of looking at.
Start with a floral foam ball and cover it with small, seasonal flowers, like chrysanthemums, asters or marigolds. Then, add strips of raffia or jute to mimic a pumpkin shape. Top it off with a short branch for the pumpkin stem and your work is done. Make a few in different sizes for an extra dose of dimension for your tabletop.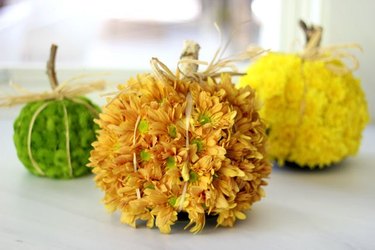 10. Proper Table Etiquette
It won't matter how you set the dinner table this year if your table etiquette is not up to par. Show your guests how it is done by brushing up on your skills. We all know the standard "no elbows on the table" rule, but did you know there is a proper time to unfold your napkin (you should wait until everyone is seated) and that there is even a proper way to excuse yourself from the table (fold your napkin and place it on the side of your plate)?
Napkins should never be used to wipe your silverware, and you should never wad them up on the table. As a general rule, it is best to keep your napkin neatly folded into fourths at all times. This way, you can easily switch the napkin to a clean space as needed and hide the messy portions. Take a few minutes to fine tune your manners so you can enjoy the Thanksgiving meal in a proper fashion.