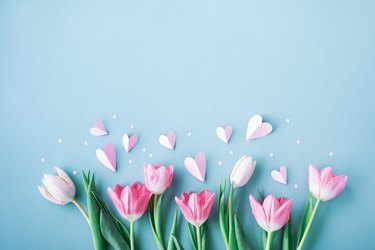 For many, May is synonymous with Mother's Day. As spring begins, we're encouraged to plan perfect gifts, round up bouquets of flowers and get a head start on those brunch reservations. And while Mother's Day is full of joy for many, the holiday can also bring challenging emotions. Maybe, like me, you've lost a mother, grandmother or mother figure. Perhaps you never had a good relationship with your mother or desperately desire to become a mother yourself. Or maybe you're simply looking for an unconventional way to spend the holiday.
Whatever your reason for seeking self-care this Mother's Day, we've got a roundup of meaningful crafts to encourage comfort, acknowledge challenges and provide a supportive, soothing way to navigate an emotional day.
1. Preserved petal potpourri
If you've got flowers saved from a significant occasion (or recently bought yourself a bouquet just because!), take a cue from TikToker @sarahgavilla and make preserved flower potpourri this Mother's Day. After flower petals are completely dry and dehydrated, place them in a Mason jar, add a few drops of essential oil, seal and give contents a shake to absorb the scent. Display the jar in your home and open it to fill the space with beauty for all senses. Memory is often closely associated with scent, so consider using your mother or mother figure's favorite aroma in your jar.
2. Soothing bath products
What better way to relax and care for your mental health than with your own homemade bath bomb? TikToker @flammacandles walks us through a simple bath bomb recipe using ingredients you might already have on hand! Choose your colors and scents (we recommend lavender for ultimate relaxation vibes) and lean into self-care.
3. Healing flower release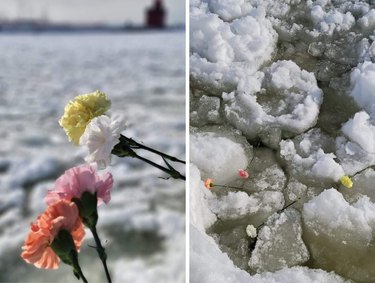 After losing my mother in 2021, milestones like Mother's Day, birthdays and anniversaries were difficult. Planning a flower release in her honor was one activity that helped me remain grounded while navigating tough "firsts." Similar to a balloon release (but better for the environment!), a flower release simply calls for dropping flowers into a lake, river or body of water and watching them float away—a visual representation of letting go. The process is both beautiful and healing.
Blankets bring a sense of warmth and security when we feel overwhelmed. So why not spend a difficult Mother's Day making a cozy blanket? If you're a blanket-making beginner, there are all sorts of tutorials to consider, including this chunky blanket how-to from TikToker @carissaperezlara. The finished product will make you feel as if you're wrapped in a warm, comforting hug.
Creating painted memory stones in honor of lost loved ones provides a meaningful and cost-effective group activity to share with family and friends on Mother's Day. Collect stones from a significant place, such as a beach your mom or mother figure loved. After you've painted stones, take time to display them in a memory garden. Make it a ritual to visit the garden, feel the stones and remember the love you put into creating such a soothing memorial. TikToker @conscious_meatsuit provides beautiful inspiration for painting memory stones.
6. Personalized memory box
When I'm missing my mom, especially on significant days like Mother's Day, it helps to have something tactile to admire. Use the day to create a memory box, whether you're honoring a lost relative or simply immortalizing meaningful moments. While TikToker @makingitwithabby constructs her own box from scratch, consider thrifting or upcycling a wooden container and adding your own personal touches with wood-engraving tools or simple paint. Place photos, dried flowers, ticket stubs, song lyrics and other cherished objects inside for safekeeping.
7. Keepsake recipe wreath
For a more involved project that doubles as colorful home decor, consider creating a keepsake wreath with family recipe cards—an idea straight from our own @ehow TikTok account. If you've got fond recollections of cooking or baking with a mom or mother figure, this craft offers an inventive way to display beloved recipes (and repurpose those vintage index cards!). After all, some of life's best memories are made in the kitchen.
8. Polymer clay creatures
Working with clay is decidedly relaxing and stress-relieving, but why not take the benefits up a notch by crafting something totally adorable? TikToker @morethingsnim walks us through the process of making a tiny (and ridiculously cute) bumblebee from polymer clay. Use vibrant colors to make a whole menagerie of tiny clay animals when you're seeking a soothing craft—talk about a mood boost!
If Mother's Day presents challenging emotions, we hope these crafts and ideas help soften a tough day, spark positive new memories and encourage self-care.