These cozy homemade waffles are the perfect comforting sweet treat for fall. They're filled with warming spices, sweet maple, nutty brown butter, and a generous amount of pumpkin. Enjoy them best with a thick drizzle of maple syrup and a pat of butter, or better yet, with a generous scoop of ice cream.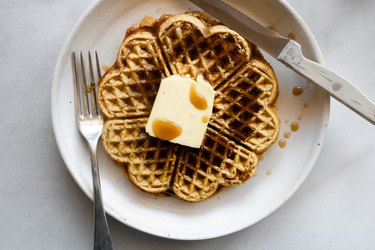 Things You'll Need
1/3 cup + 1/8 cup unsalted butter, cubed

2 cups all-purpose flour

1/4 cup cornmeal

1 tablespoon baking powder

3/4 teaspoon baking soda

1/2 teaspoon salt

1 teaspoon ground cinnamon

1/2 teaspoon ground nutmeg

1/4 teaspoon all-spice

1/4 teaspoon ground cloves

1/8 teaspoon ground ginger

2 large eggs

1/4 cup maple syrup, plus more for serving

1 cup pumpkin pie filling or puree


1 ½ cups buttermilk


1 teaspoon vanilla extract

Step 1: Brown the Butter
Place the butter into a medium-size saucepan set over medium heat. Heat, stirring often, until melted. Continue to cook, swirling the pan occasionally but not stirring, until the butter has begun to turn dark amber in color and nutty in fragrance.
Some burnt solids should have formed at the bottom of the saucepan. Remove from the heat and set aside to cool.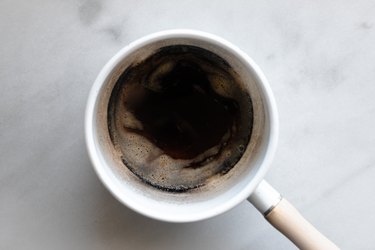 Step 2: Mix the Dry Ingredients
Whisk together the flour, cornmeal, baking powder, baking soda, salt, cinnamon, nutmeg, all-spice, cloves and ginger in a medium mixing bowl.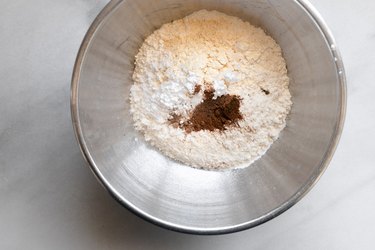 Step 3: Mix the Wet Ingredients
In a large pouring jug or bowl, whisk together the eggs, maple, pumpkin, buttermilk and vanilla until smooth. Whisk in the butter and any solids that may have formed in the base of the saucepan.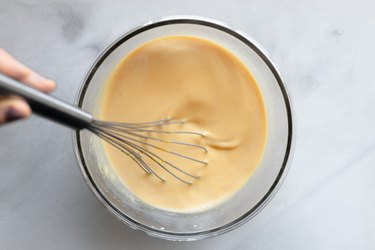 Step 4: Combine
Add the wet ingredients into the bowl with the dry ingredients. Whisk vigorously to combine until the batter is smooth and glossy.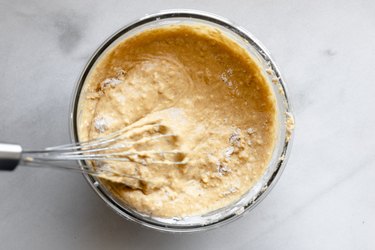 Step 5: Cook the Waffles
Pre-heat a waffle iron according to the manufacturer's instructions. Once at temperature, ladle a little of the batter into the waffle iron. Cook until golden and crisp.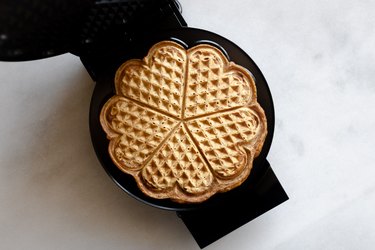 Remove the waffle from the iron and set it out and onto a wire rack to cool. Repeat this process with the remaining batter until it is all used up.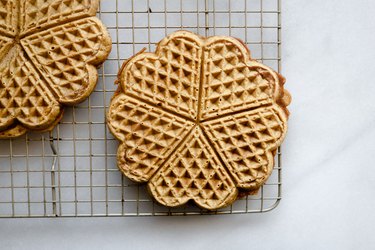 Step 6: Serve
Serve the waffles while they are still warm with a generous pat of butter and a drizzle of maple syrup. They can be kept stored in an airtight container in a refrigerator for up to 3 days. You can also freeze the waffles in a sealed container for up to three months. Re-heat before serving.