Crocs and Taylor Swift are a natural pairing. After all, they both boast a loyal following, multigenerational appeal and plenty of room for creative interpretation. So, when it came time to dream up the most eye-catching DIY Crocs imaginable, we took cues from our girl Tay and amped up the shimmer and glimmer. If you've been rockin' out to ‌Midnights‌ while rockin' foam clogs, this is the craft for you.
Inspired by Taylor's "Bejeweled" and its accompanying music video, these enchanting handmade Crocs charms and jewels will add a dash of fairy tale twinkle to any outfit. Whether you're a Swiftie who loves Crocs, a shoe fanatic with a penchant for all things bedazzled or all of the above, you'll turn heads like Taylor when you walk in the room with a pair of DIY bejeweled Crocs.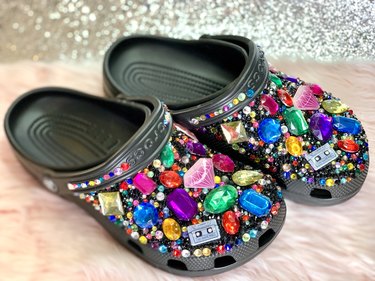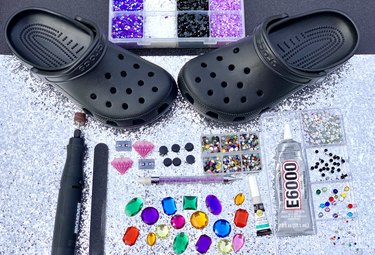 How to make "Bejeweled" Crocs: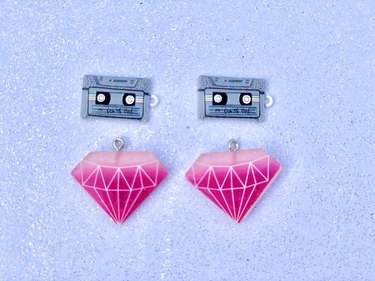 We turned to Etsy for beads and charm supplies, opting for pink diamond shapes and cassette tapes with a T. Swift vibe but feel free to go with whichever charms you like. Vibrant crafting jewels or rhinestones are fantastic for extra bling. While there are loads of creative options on Etsy, nearly any flat-backed bead or item can be transformed into a Crocs charm—we'll show you how in the next step!
Tip
For another approach to this craft, check out Crocs' inventory of premade charms (known as Jibbitz). There are so many ways to make Crocs your own!
2. Prep the charms & gems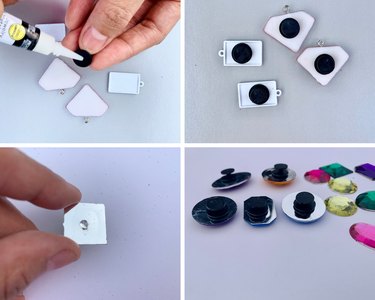 Adhere a plastic buckle to the back of each charm and oversized gem using a small amount of fast-drying jewelry glue. (You might want to use a nail file to sand down the plastic buckles before adhering the glue. This helps remove residue, allowing items to stick together better.)
Allow the charms and gems to dry for two to five minutes before popping them into Crocs.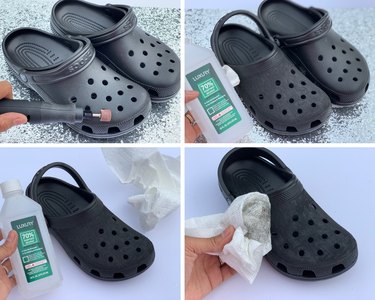 Sand the Crocs thoroughly and remove all residue with rubbing alcohol to better adhere charms and gems to the surface. I recommend using a rotary tool to sand the shoes if you have one—it speeds up the process and is simpler than using sandpaper or a nail file. But any sanding tool will do!
4. Pop charms & gems into Crocs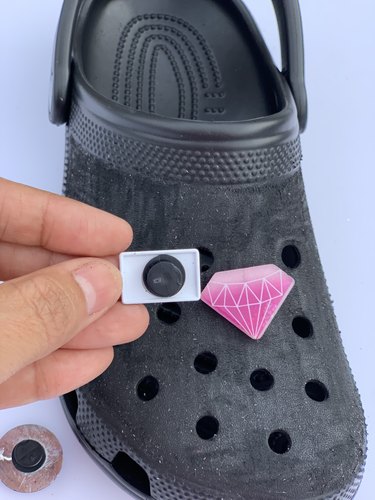 Add charms to the center holes of the Crocs (this placement will make the charms stand out) and press them into place. For a balanced look, place one charm near the top center and another near the bottom center. Next, pop in the large gems, alternating the colors and shapes to round out the look.
5. Fill in empty spaces with smaller rhinestones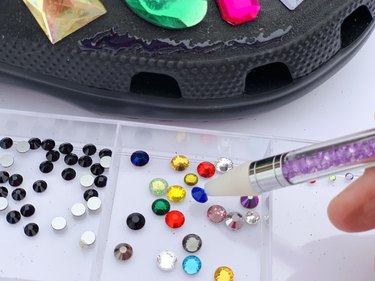 For a "Bejeweled" look, draw a line in E6000 glue (or Krystal Glaze glue) along the U-shaped perimeter of one shoe. Using a wax pen (aka a wax-tipped "pen" that better grips rhinestones), dip black and jewel-tone rhinestones in glue and place them along the entire perimeter of the shoe.
Tip
Apply glue in sections so it doesn't start to dry as you're decorating. Work your way inward and fill in gaps with appropriately sized rhinestones. In the blinging process, this is referred to as the "scatter method."
Next, fill in all empty spaces on the face of the shoe and on the Crocs strap with more rhinestones (you can never have too many!). We wanted to create contrast between the larger gems and the filler rhinestones so the gems really stood out. That's why we used mostly black rhinestones for filler and sprinkled in the jewel-tone rhinestones sparingly.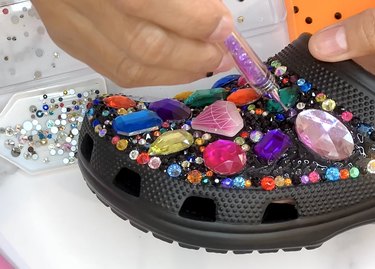 Repeat the process with the second shoe. When both Crocs have been coated in jewels and gems galore, you'll have a fully blinged-out look.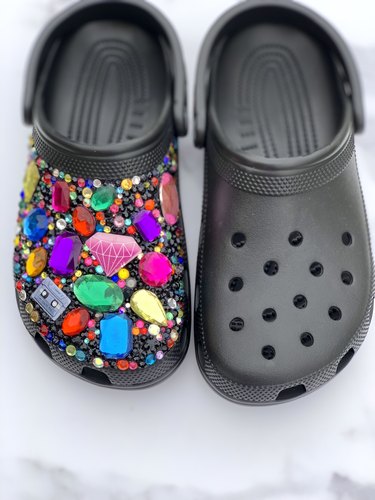 There you have it: a sparkling pair of Taylor-Swift-inspired bling Crocs that make you shine like a superstar at any event (especially if that event is a stop on the Eras tour!). Now, go glide into a room in comfort and style and make the whole place shimmer. After all, a diamond's gotta shine!