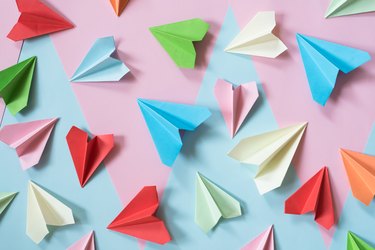 If you ask us, there's something special about paper folding crafts. After all, paper is a wonderfully simple and accessible material. Most of us have our fair share of scrap paper, leftover wrapping paper and even newspaper sitting around just waiting to be bent into something beautiful. But while paper folding might look seamless, it does require a bit of practice. Luckily, social media provides a helpful outlet for exploring origami tutorials and learning more about the marvels of paper folding.
From short and sweet 30-second projects to large wall decor, there's a wide range of paper craft demos online to spark your creative spirit. When you're ready to dive in, stock up on colorful origami paper (or use up that extra scrap paper!) and get creating with our roundup of easy paper craft ideas from TikTok.
1. Simple paper sunflowers
Even if you lack the patience and dexterity required for some beginner origami projects, you can almost certainly handle this easy paper sunflower craft from @onelittleproject on TikTok. The only necessary folding technique is a very basic accordion-pleat style. You'll need a hot glue gun to complete your flowers and attach the green straw "stems," but otherwise, this paper flower-making project is seamless enough for many ages and experience levels.
Remember folding paper airplanes as a kid? Unless there was some genius craftsperson in your class who could show you the right way to do it, those planes would "fly" approximately 10 inches before dropping to the ground. If only you had known TikToker @fernandosplanes's method, you could have sent paper planes soaring across the playground.
3. Quick paper helicopters
Why not build a whole fleet of flying paper crafts? This simple project from TikToker @spqu05 uses three strips of paper to make a spinner that looks like a helicopter's rotors flying through the sky. Once you master the technique, you can whip these out in 30 seconds or less.
We all know that books should be protected and respected, but some of those old paperbacks gathering dust in your basement or at the local thrift store are probably never going to be read again. Using paper folding to transform old books into art pieces is a sustainable way to celebrate your love of reading ‌and‌ create some cheap DIY home decor. TikToker @joleenemery's video shows off a few fun pattern options.
Paper Artists to Follow on Instagram
While TikTok is the place for origami tutorials, Instagram is a treasure trove of paper art too. Some incredibly talented paper artists use the platform to share and even sell their creations, from complex origami creatures to stunningly realistic paper flowers. Check out these five Instagram accounts for paper folding inspiration!
DIY paper boxes can be used as gift boxes, to contain trinkets on your dresser or—hear us out—to hold other smaller origami creations! Make a simple box from a single piece of paper with this tutorial from @easyorigamibr on TikTok. Use the same technique with a second piece of paper to make a lid.
Paper cranes are probably the most famous of origami crafts. Crane tutorials like this one from @kimigami on TikTok are here to help you make your own. All you need is a square piece of paper (any size works, though this tutorial uses a 15 cm. x 15 cm. piece).
Like paper airplanes, jumping frogs are a classic elementary school craft. They're endlessly entertaining to play with and can be made of Post-it Notes or other pieces of scrap paper. Don't forget to add eyes to make your mini frog friends extra cute. Check out @toob.toons's TikTok for the full demo.
These tiny paper boats are so quick and simple to make that you'll want to make them over and over again. TikTok origami expert @hongorigami makes a speed boat version that would be especially fun to send zooming through a cloud of bubble bath—or even to just display on a windowsill or mantel. If you're feeling extra creative, you could even string a few of these little creations on a garland to create easy DIY home decor for a nautically inspired room. Ships ahoy!