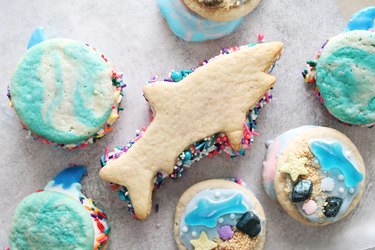 There's no doubt about it: Ice cream sandwiches are some of the most classic (and nostalgic!) frozen treats around. But if you're looking for something a bit different, you're in luck. Inspired by Shark Week and all things ocean-themed, we've created a trio of under-the-sea cookie ice cream sandwiches that will surely make a splash.
Video: Under-the-Sea Ice Cream Sandwiches for Shark Week & Beyond
Let your creativity shine while constructing and decorating these sea-inspired sandwiches. As you add individual touches with plenty of ‌fin‌esse, take time to incorporate funky sprinkles and icing decorations galore. Don't hesitate to customize each delicious under-the-ocean ice cream sandwich—after all, there's a whole sea of possibilities when it comes to DIY summer treats!
Tip
Making ice cream sandwiches is a blast, but it can also be very messy. We recommend keeping both dry and damp towels nearby, as this will make cleanup a breeze. The damp ones will be a lifesaver for sticky situations...trust us on this one! It's also a good idea to make space in your freezer and have a few freezer-safe dishes or small baking sheets ready to go. This way, you'll be able to quickly store finished ice cream sandwiches and limit how long they sit at room temperature.
Recipe 1: Blue Fin Ice Cream Sandwiches
Things You'll Need
Sugar cookie dough (regular and blue)

Rainbow sprinkles

Vanilla ice cream

Shark fin icing decorations

Circle cookie cutter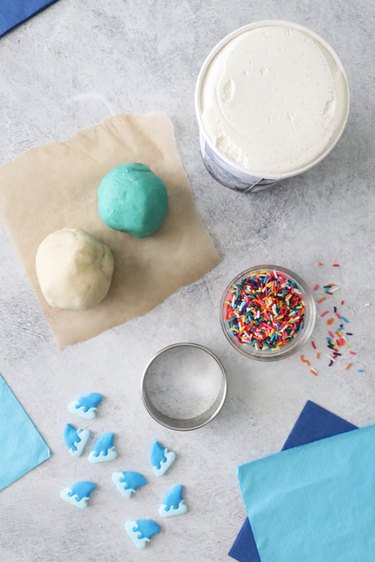 Tip
To dye sugar cookie dough, add a few drops of blue or teal food coloring to a ball of dough. Knead until color is evenly dispersed throughout. We recommend wearing gloves during this step, as food coloring might stain your hands. Also, keep in mind that coloring will intensify over time. Start with less than you think you need; you can always add more later.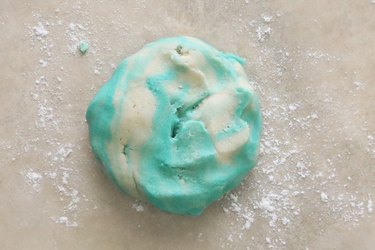 To create marbled cookies, twist and roll two cookie doughs. It only takes a few twists to marble dough. Avoid overmixing, as this will make colors blend too much.
Dietary Modifications for Ice Cream Sandwiches
These ice cream sandwich recipes can be totally personalized. For example, each homemade ice cream sandwich calls for sugar cookie dough, but you don't need to make it from scratch. Feel free to use store-bought cookie dough if that's easier. What's more, if you follow a gluten-free diet, you can use your go-to gluten-free cookie dough. The same goes for the ice cream! You're welcome to use dairy-free or lactose-free versions if needed.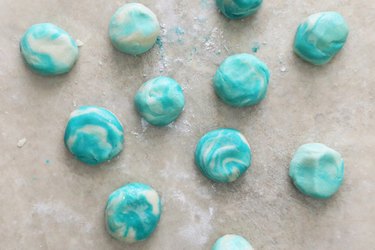 Form dough into uniform-size balls.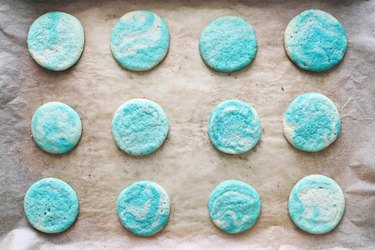 Bake according to recipe, subtracting two to three minutes from listed bake time. This will ensure cookies remain soft and chewy. If cookies are extra crispy, they'll become too hard in the freezer. Let cookies cool completely.
Tip
If cookies spread too much during baking, use a circle cookie cutter to reshape them while they're still warm.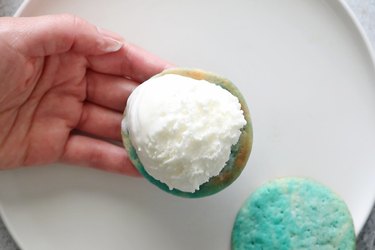 Working in batches, place a small scoop of your favorite ice cream (we used vanilla) on one cookie. As tempting as it might be, it's important to avoid overstuffing sandwiches with ice cream. Otherwise, they'll become difficult to decorate.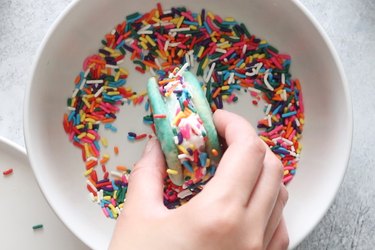 Press a second cookie on top of ice cream. Dip sides into rainbow sprinkles.
Tip
If you want to keep remaining sprinkles dry, try sprinkling them onto sandwiches.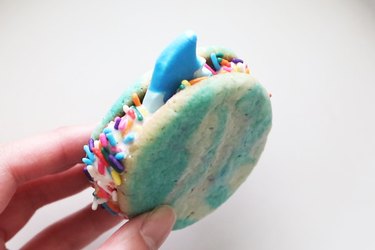 Gently press a shark fin icing decoration into side so it appears to be swimming in the marbled "wave." Freeze or serve immediately.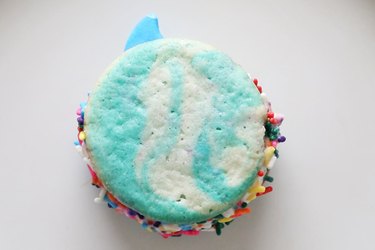 Recipe 2: Sandy Ice Cream Sandwiches
Things You'll Need
Sugar cookie dough

Blue icing

Graham cracker crumbs

Starfish sprinkles

Shell sprinkles

Chocolate rocks

Gummy sharks

Edible pearls

Cotton candy ice cream
Tip
Feel free to use any icing you'd like. We used cream cheese frosting with a few drops of blue food coloring. You can also use teal or navy food coloring.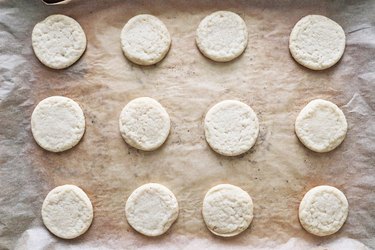 Bake sugar cookies according to recipe. Again, remove cookies two to three minutes early to keep them soft. Let cool completely.
Tip
If needed, use a circle cookie cutter to reshape cookies if they spread too much during baking.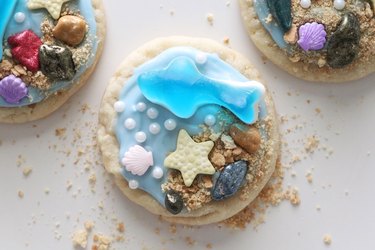 Spread blue icing onto a cookie. Add graham cracker crumbs along bottom for "sand." If you don't have graham crackers, brown sugar also works. Top with starfish and shell sprinkles. Follow with chocolate rocks, a gummy shark and edible pearls.
Tip
If possible, don't add ice cream until you're ready to serve the sandwiches. Freezing gummy sharks and other toppings might make them too hard to eat.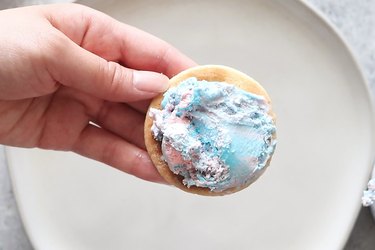 When you're ready to serve your summertime treat, add a scoop of your go-to ice cream flavor to a blank cookie. We used cotton candy ice cream.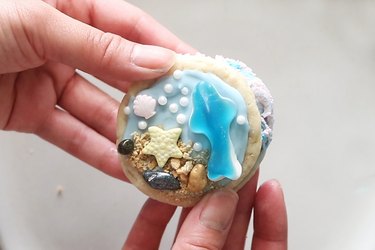 Press a decorated beach scene cookie on top and then dive in!
Recipe 3: Shark Ice Cream Sandwiches
Things You'll Need
Sugar cookie dough

Vanilla ice cream, softened

All-purpose flour

Shark cookie cutter

Chunky sprinkle mix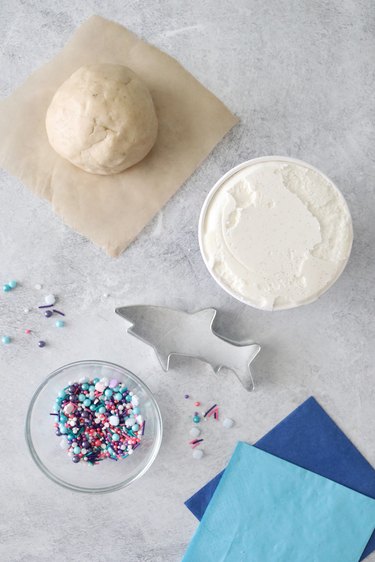 Tip
To soften ice cream, place carton in refrigerator for about 30 minutes.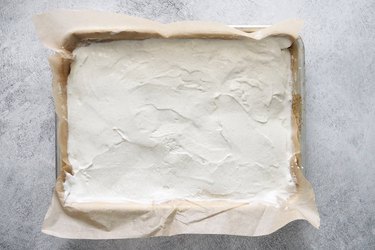 Line a rimmed cookie sheet with parchment paper or plastic wrap. Using a spatula, spread softened ice cream into an even layer about 1 in. thick. Freeze until solid, at least an hour. The total time it takes to freeze will depend on thickness of ice cream, brand of ice cream and your freezer.
Tip
For a classic ice cream sandwich touch, we used vanilla ice cream. However, you're welcome to use any flavor, like strawberry or chocolate ice cream. If you love Chipwiches, you could even fold mini chocolate chips into softened ice cream or use chocolate chip cookie dough instead of sugar cookie.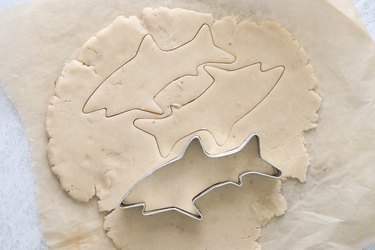 Dust a silicone baking mat or parchment paper with all-purpose flour. Roll out sugar cookie dough and cut out several sharks. To make this step easier, dip cookie cutter into flour before cutting out shape. This will prevent cutter from sticking to dough.
Tip
For half of the shark cutouts, be sure to flip cookie cutter. This way, you'll have two "mirrored" cookies per sandwich.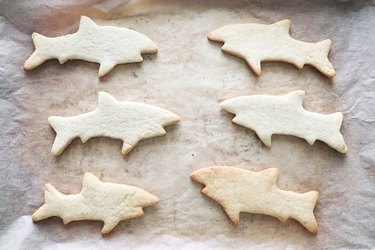 Bake cookies according to recipe or package, removing them two to three minutes early. Let cookies cool completely.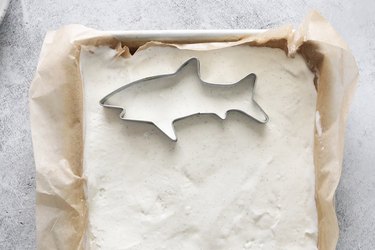 Remove ice cream from freezer. Using cookie cutter, quickly cut out a shark shape.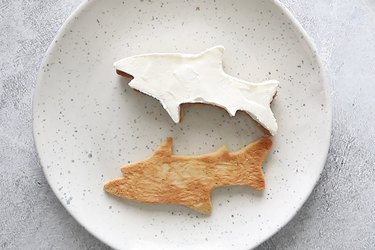 Carefully place ice cream atop a cooled cookie and then press a second cookie on top.
Tip
Return ice cream to freezer as needed. Another option is to spread ice cubes on a second sheet pan and place ice cream on top as you work.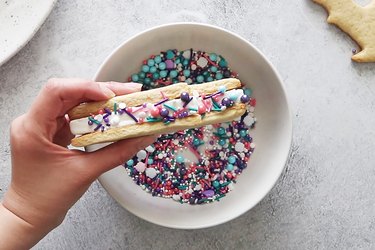 Add chunky sprinkle mix to sides of sandwich. Depending on your specific sprinkles, you might need to gently press it into ice cream.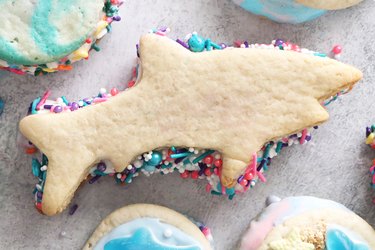 Serve or freeze immediately.
How to Make Ice Cream Sandwich Cake
For the ultimate no-bake summer treat, try turning shark-shaped ice cream sandwiches into a cake. Simply add a layer of sandwiches to a baking dish and then spread whipped cream on top. Repeat until dish is full and then garnish with classic ice cream toppings, like drizzled peanut butter, brownie pieces and hot fudge sauce.
You can also turn other sandwiches into an ice cream cake, with a few exceptions. For shark fin sandwiches, skip icing decorations and add them to the top of the cake just before serving. For a beach scene version, make sandwiches with plain cookies. Then, when you're ready to serve the cake, add decorated cookies on top as a garnish. How fun is that?
Serve these chilled treats at a beach party, indulge at home or whip up a batch for an ocean-themed birthday party. No matter the occasion, these colorful creations are sure to make waves.