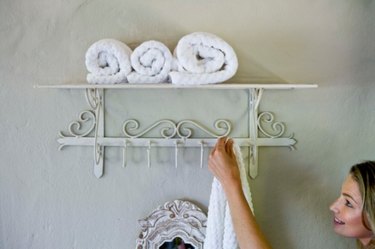 Texturing is a good way to add dimension and interest to your wall surfaces. Plain walls can be boring and unimaginative. Texture allows for a more interesting play of light on wall surfaces, and it also can hide imperfections and unevenness from the installation process. You can add texture by applying drywall compound to the surface using a number of different techniques. You can create a variety of styles, including knock down, Venetian plaster, skip trowel and orange peel. You can create texturing in the orange peel style with a roller or a paint sprayer.
Spray Method
Step 1
Apply primer to the walls. The primer paint provides a good surface to which the drywall compound can adhere, and it allows a more even application.
Step 2
Place some drywall compound into the bucket and add water, mixing it thoroughly with the drill and ribbon mixer attachment until the compound is the consistency of pancake batter.
Step 3
Fill the sprayer with compound.
Step 4
Apply to a 6-foot by 6-foot area using a sweeping motion. You can spray the compound horizontally, vertically or in random directions. Try to apply an even amount across the area without allowing too much buildup of compound in any one place
Step 5
Continue spraying until you have covered the entire wall area.
Step 6
Allow the compound to dry overnight.
Step 7
Apply another coat of primer.
Step 8
Apply paint. If necessary, apply an additional coat
Roller Method
Step 1
Place drywall compound in the bucket, and add water until the consistency is that of thick cream
Step 2
Pour the thinned drywall compound into a roller tray.
Step 3
Dip the roller into the compound and apply to the wall, working in a 6-foot by 6-foot section. Try to keep the pressure on the roller uniform to make the pattern as even as possible.
Step 4
Allow to dry for 10 minutes.
Step 5
Apply another coat on the wall using the roller to create a deep orange peel effect.
Step 7
Apply primer. Allow to dry
Step 8
Apply desired paint. Add a second coat of paint if needed.
Tip
Make notes on the amounts of compound and water you use so can easily mix more as needed. Only mix what you need at one time. Compound will begin to harden if left to sit.
Spraying on will give a more uniform orange peel than brushing on, according to DrywallTips.
Experiment with the pressure and aperture tip before applying to a large section of wall. A pressure setting of 25 to 45 PSI generally works well, according to HousePaintingInfo.
Lighter application of the compound makes the pits in the texture more noticeable, according to ReliableRemodeler.
Warning
Mask windows, doors and other fixed structures that you don't want covered with compound