Things You'll Need
Strong magnets

Suction cups

Monofilament wire or fishing line

Adhesive hangers

Grid clip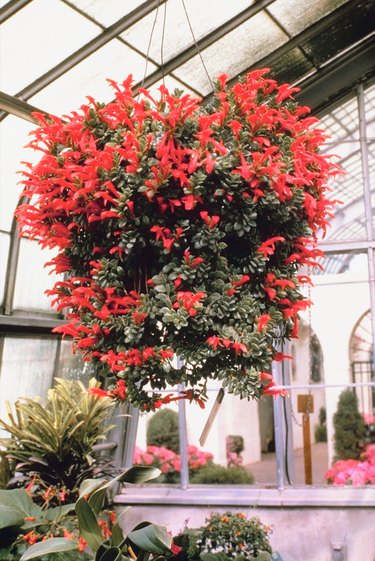 Hanging decorations, flower baskets and lights to a ceiling adds color and visual interest to a room. Unfortunately, it is impractical or dangerous to screw hooks into metal, glass or concrete ceilings, or ceilings with asbestos inside. Party arenas, such as banquet halls, may prohibit hanging fixtures that damage the ceiling. Fortunately, several inexpensive hangers can support suspended ceiling items without altering the ceiling in any way.
Step 1
Hang items from metal ceilings or ceilings with a metal grid with strong magnets. Place a magnet on the metal part of the ceiling and use it to hold the hanging object's metal hanger. Strong magnets with built-in hanging loops are also commercially available.
Step 2
Press a suction cup onto a glass ceiling and thread a monofilament wire or fishing line through it to hang your object. For best results, clean the glass ceiling thoroughly and allow it to dry before attaching the suction cup.
Step 3
Tie a monofilament wire or fishing line around visible beams in ceilings or around the grids in drop ceilings to hang your objects.
Step 4
Press adhesive hangers onto clean wood, concrete or drywall ceilings. Adhesive hangers made for ceilings will come off clean.
Step 5
Clamp a grid clip hanger around the grid of a drop ceiling and hang your object from its loop.