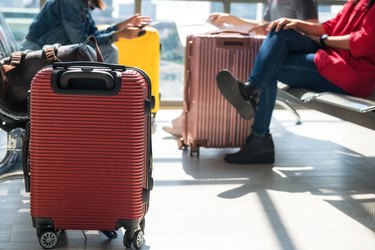 The benefits of owning a really good carry-on bag are huge, especially for frequent flyers. If you're going on a quick trip where you won't need a lot of stuff, a carry-on suitcase can save you time, money and stress. Using a carry-on instead of checking your bag means you won't have to wait in line to check your bag or wait for your bag at the end of your flight, which means less stress over your bag getting lost. Even better: You'll save money and won't have to pay the checked bag fee for each leg of a trip.
Of course, even if you plan on using a carry-on bag in addition to a checked bag, finding one that's easy to maneuver around the airport and place in the overhead compartment is key. Not all luggage is created equal, so we're here to help you find the one that works best for you.
What to Consider When Purchasing Carry-On Luggage
‌Type:‌ There are various types of carry-on luggage to consider when flying. Rolling suitcases with spinner wheels are the most popular and are easy to handle, but if you prefer a hands-free luggage option, a backpack is a good go-to (one that's more of a luggage backpack rather than a school backpack). Rolling backpacks are great for kids who want to have some independence and carry their own luggage. They come in kid sizes with lots of fun designs to choose from.
‌Size:‌ Your carry-on suitcase needs to fit in an overhead bin on an airplane. Each airline has different guidelines for the maximum dimensions of carry-on bags, so you should check with the airline you fly most frequently to make sure the carry-on you want to buy will work. For reference, carry-on bags on United Airlines can't exceed 9 by 14 by 22 inches and carry-on luggage on Southwest Airlines can be no bigger than 10 by 16 by 24 inches.
‌Material:‌ The two main options for material are hard shell or soft shell, and there are advantages to both. A hardside carry-on bag is generally water-resistant, which keeps it protected during transfers if it's raining or snowing outside and ones that are made with a polycarbonate shell are lightweight, which is easier to handle when you put away the carry-on in an overhead bin. Softside luggage is typically more durable than hard shell bags since the shell isn't rigid with the potential to crack under pressure. The exterior fabric tends to be a strong nylon or polyester that doesn't rip easily or show wear and tear. Both types of suitcases can have expandable options.
‌Maneuverability:‌ If you're going for luggage on wheels, it's important to make sure that the wheels are easily maneuverable. The easiest suitcases to maneuver are ones with four spinner wheels that can swivel 360 degrees. Some wheels are even aligned magnetically, which keeps the suitcase moving in one direction. Suitcases that have two wheels require pushing or pulling, which can be harder to move around the airport, but is still doable.
‌Organization:‌ The compartments in a carry-on bag can be limited when compared to a full-size suitcase, but what's offered can be helpful. Most luggage offers compression straps—the ones that hook together to keep your items in place. You can find bags with interior pockets and exterior pockets to help keep your things organized, but not all bags have them. So, that's something to consider if extra storage space is important to you.
Below, you'll find the best carry-on luggage of 2023.
The Best Overall Carry-On Luggage
There's a lot to love about this 20-inch carry-on hard shell suitcase. Its multi-directional spinner wheels make it easy to handle through the airport; it's lightweight and durable; it has an interior mesh zip pocket as well as an elasticated pocket; it has a ergonomic aluminum telescoping handle and it meets several airlines' size restrictions. The expandable suitcase is available in a whopping 25 colors, so you're bound to find one you enjoy (and one that stands out from all the other basic suitcases in the airport).
If you need a carry-on suitcase to save on the cost of checking a bag but can't spend much, this affordable little bag is a great option. The softside carry-on bag is made of polyester material and has a padded telescopic handle for your comfort. It has a front zippered pocket for easy accessibility to your travel documents, headphones, snacks and so on. The suitcase is available in four colors: black, green, purple and teal.
The Best Hard Shell Option
Not only is this Samsonite hardside luggage with spinner wheels easy to pull through the airport, it's also really, really good looking. The bag is extremely lightweight and durable with a large packing capacity. It has multiple interior pockets, a built-in ID tag, a TSA lock and it's expandable. The bag comes in six sleek colors: silver, black, sky blue, white, white/gray and amethyst purple.
The Best Soft Shell Option
Make your way through the airport with this durable and stylish 21-inch carry-on bag from SwissGear. This piece of luggage has plenty of packing space for a one to three day trip, spinner wheels, a removable zippered wet bag for toiletries, an internal storage pocket, a large flat pocket and adjustable compression straps. The expandable cary-on will give you even more packing room if you need it in the main compartment. In addition to a padded telescopic handle, there are side handles to help with lifting. There are eight color options: black, dark gray, blue, burgundy, navy, pewter and purple.
The Best Option With Lifetime Warranty
Briggs & Riley suitcases are pricey, but they're incredibly high-quality and chic. In fact, they're a favorite among flight attendants who clearly know a thing or two about business travel efficiency. This Briggs & Riley carry-on size bag has four wheels that are double swivel for 360-degree navigation. It has a deep, full length pocket for extra storage and two compression garment panels that keep your items from shifting around during travel and minimize wrinkling. The spinner carry-on also has a front pocket and a back pocket for convenient storage and easy access. This 22-inch bag comes in three colors: black, navy and plum.
This duffle travel bag is TSA-approved as a personal item, which means you can bring this bag on an airplane in addition to another carry-on for your getaway. It's the perfect weekender bag that has a laptop sleeve and plenty of room for an iPad, water bottle, a pair of shoes, travel accessories and enough clothes for a few days. The tote's exterior is made of water-resistant polyester and nylon with a full-grain leather trim, seam-sealed zippers and anti-microbial lining. The color options are mint and black.
Away is a company that makes solid travel backpacks that are durable, comfortable to wear and incredibly stylish. This Away backpack is versatile and perfect if you're going away on a tropical vacation, to visit your parents or on a hiking trip somewhere in the mountains. Its dual interior and exterior compression systems can help you pack more and in multiple pockets for up to a five day trip. The bag can be carried as a backpack or the removable padded straps can be converted into a duffel bag. The color options include green, black and blue.
This adorable carry-on can hold your child's clothes and other packing essentials, or it can carry all the toys and snacks they'll need to keep them busy on a flight. There's a 16-inch option, or if you prefer a bigger carry-on for even more activities to keep your kiddo busy, you can choose the 19-inch option. One side of the bag has compression straps to keep items in place, and the other side has a zippered divider to hold even more items. Choose from eight fun animal designs.