Even if your apartment balcony is only slightly bigger than a postage stamp, it's still your little patch of outdoor space, and you should enjoy every square inch of it. Building a cozy and inviting balcony space doesn't require a lot of room. It's all about maximizing the space that you do have using streamlined pieces and creating lots of visual interest. Stock up on sunscreen because you're about to start spending a lot more time outdoors.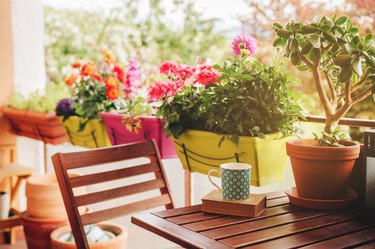 1. Plant a Vertical Garden
Growing a vertical garden lets you bring a ton of greenery into a small space without taking up a lot of square footage. Use a vertical garden stand to hold individual pots. Hanging planters from the wall or ceiling is also a viable way to create a vertical garden, but it may not be allowed by the terms of your lease. An herb garden is a pretty low-maintenance gardening project to maintain on your balcony.
Is there any space that isn't improved by string lights? Even a tiny balcony feels comfy and cozy when it's lit by the twinkling glow of string lights. Wind them around the balcony railing and hang them overhead using hooks attached to removable adhesive strips. Fill decorative lanterns with mini battery-powered string lights and set them on tables or the floor to create even more light when you're hanging out on your balcony after dark.
3. Build a Privacy Screen
What you do on your apartment balcony is no one's business but your ... not that that's going to stop nosy neighbors from watching. Create a privacy fence to shield at least the lower half of your balcony from prying eyes. Buy a folding screen that you can quickly set up and take down or hang a panel of privacy screen fabric across the balcony railing. Never underestimate the power of a few really big, leafy plants. They'll give you privacy and make your balcony feel a little bit like a garden oasis.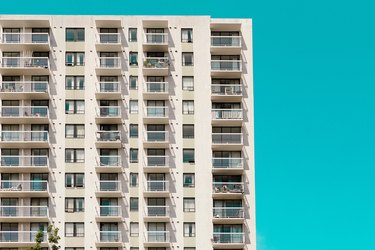 4. Make an Outdoor Living Room
Even a small apartment balcony is usually big enough for a few chairs and a side table. Take advantage of every bit of space by choosing lightweight outdoor furniture with slim lines; a lot of wicker/rattan patio furniture is bulky and will make a small space feel too crowded. Add a patterned outdoor rug, colorful throw pillows and some greenery on the small table to complete your tiny balcony living room.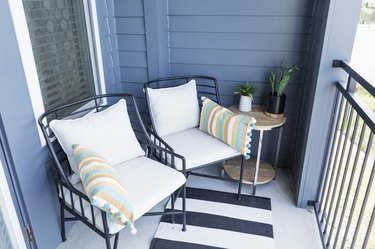 5. Set Up a Hammock Chair
Lounging in a hammock is the perfect way to enjoy your outdoor space on a nice day. Renters with tiny balconies can experience the joy of rocking in a hammock with the sun on your face. You might not have the space or permission to hang a full-size hammock from your balcony's walls, but you don't need a lot of room for a hammock chair. Some versions come with a freestanding frame with no hardware required.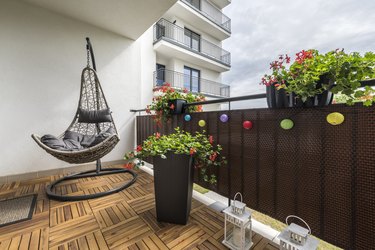 Don't let blinding sunshine keep you from enjoying your balcony on hot days. Creating shade can make your space more comfortable for you and your pets and protect your balcony's plants from getting scorched by too much sun. With limited space, you may not be able to use a traditional patio umbrella. Instead, buy one or more mountable umbrellas. This kind of umbrella has a clamp at the end of its pole so you can attach it to a chair arm or balcony railing and control exactly where it's positioned.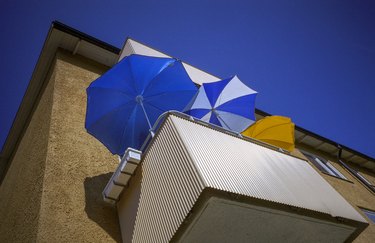 7. Use Pallets in Multiple Ways
A few wooden pallets and some DIY effort can totally transform a balcony. Stack pallets together and cover them with foam and cushions to create a daybed/loveseat or coffee table. You can also line up pallets in front of your railing to form a DIY privacy screen. Pallets propped against a wall can create a gallery wall where you can display hanging plants and art.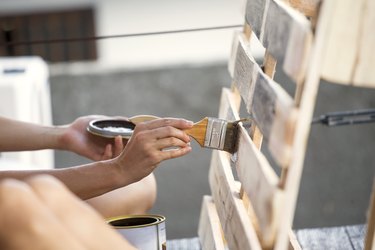 Just because you have limited square footage doesn't preclude from you the joy of grilling. Manufacturers have started making grills that are designed especially for small balconies; at least one type is designed to hook onto a balcony railing itself. Make the investment even if you don't have a ton of grilling experience. Once you have a grill on your balcony, it's the perfect excuse to invite people over for a cookout.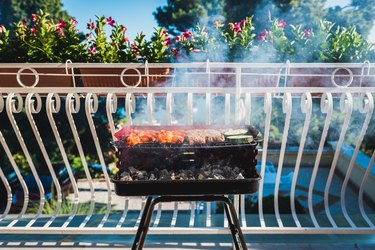 9. Lay Down Temporary Flooring
You have to leave your apartment balcony's floors in the same condition you found them. You don't have to live with the floors the way you found them, though. Temporary decking tiles are ideal for a rental balcony. They're easy to install and remove, and they lock together to create a secure surface. Just be sure to get tiles designed for outdoor use. Rubber and artificial grass versions are both options.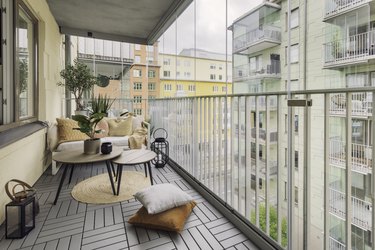 10. Add a Balcony Bar Table
The invention of ready-made, removable bar tables that attach to railings really changed the game for any renter who has a truly tiny balcony. Even if the space is too tight for a coffee table or bistro table, you should be able to fit a narrow bar table over your railing. It will give you a place to set down your coffee or cocktail as you relax and enjoy your view.