Road trips are a fantastic way to travel and see parts of the country you might otherwise never see—all from the comfort of your car. Since you'll be spending a lot of time in your car, certain car accessories can help make your road trips hassle-free. There's only so much you can do when you're literally strapped into your seat in the car, so it's important to have all of the necessities within reach, or at least somewhere in your car (or on top of it) so you can access it when you pull over.
Whether you're taking a road trip for fun or out of necessity, there are plenty of road trip accessories to consider to make your trip more enjoyable.
What To Consider When Purchasing Road Trip Car Accessories
​Passengers:​ The accessories you need will vary depending on who you're traveling with, but in general, things like a trash can, phone charger and first-aid kit are helpful no matter who is with you—if anyone at all. If you're traveling with kids, everyone's trip will go a lot smoother if you have some things on hand to keep them entertained and fed. The more people you have in the car, the less room you'll have for everyone's luggage and other belongings, so adding storage space like a cargo box will add some square footage.
​What You Think You'll Need:​ Aside from one or more phone chargers to ensure that everyone has something to do for the long haul, you might also find that a radar detector is helpful because it can alert you to red light and speed camera locations, speed limits and police radar. A back seat organizer might be helpful to keep kids entertained, a snack holder that hangs between the two front seats is a convenient place to store snacks so everyone can reach, and a travel trash can helps keep your car clean.
​Budget:​ Road trip accessories aren't required to get from point A to point B—they're definitely a luxury, but that doesn't mean you and your passengers don't deserve to have whatever will make your car ride more comfortable. Most accessories that can make a positive impact on your road trip are pretty inexpensive, with the more tech-y items costing a little more.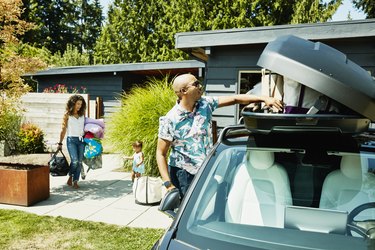 The Best Car Phone Charger
CHGeek Wireless Car Phone Charger
Not only will this Qi wireless car charger keep your phone charged while on a road trip (and whenever you drive anywhere), but it'll also hold it steady so you can look at a map or use your phone hands-free while you're in the car. The device can mount to a dashboard or an air conditioning vent. When you place your phone on the charger, it'll automatically clamp your phone to keep it in place. Gently touching the side of the charger will make the sides open. Once your phone is fully charged, the charger will power off to protect your phone's battery. It works with any regular phone case up to 6 millimeters thick and is compatible with many different phones including the iPhone 11 Pro Max and the Samsung Galaxy S20.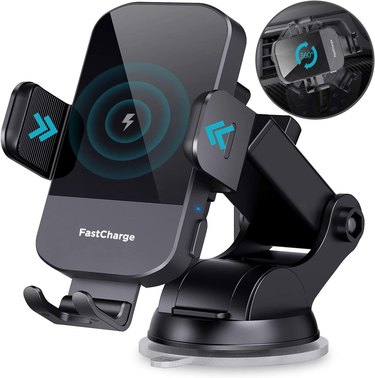 Zone Tech Pop Up Vehicle Trash Can
As it turns out, you don't have to throw your trash in the middle console of your car or on the floor—trash cans for cars exist and they're small and ready to make your car ride better. This pop-up vehicle trash can takes up minimal space in your front or backseat while giving you plenty of space to store your trash without needing to empty it every day. It has a loop for hanging to keep it in place, plus it's collapsible and leakproof. It can also pull double duty as a place to store toys or other belongings.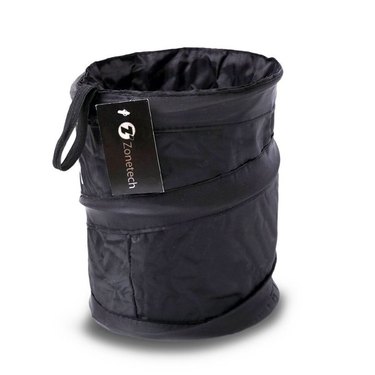 The Best Car Refrigerator
Bodega Portable Car Cooler
Keep your beverages or food cool while you're on the road with the 12-volt Bodega Portable Car Cooler. The temperature can be controlled via a smartphone app for iOS/Android, ranging from -4 degrees Fahrenheit to 68 degrees Fahrenheit. In fact, you can even use the cooler's convenient USB port to charge your phone. The refrigerator can cool down from 77 degrees Fahrenheit to 32 degrees Fahrenheit within 15 minutes, and from 77 degrees Fahrenheit to -4 degrees Fahrenheit within 90 minutes. It comes with a built-in LED light so you can see what you're reaching for in the dark. The cooler is available in three colors in either 20 quarts or 27 quarts. It's great for a road trip, but it's also ideal for camping or tailgating.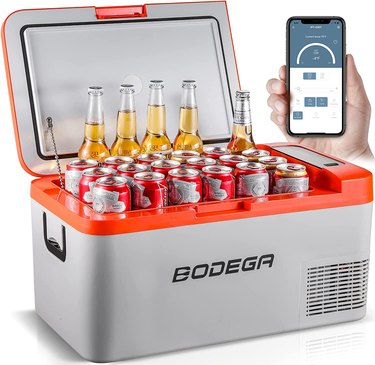 First Aid Only 298 Piece Emergency Kit
It's always a good idea to keep a first-aid kit in your car, especially for road trips where you're far from home and otherwise wouldn't have immediate access to bandages or other first-aid items. This kit comes in a zippered fabric case with clear plastic pockets and includes fabric and plastic bandages, antibiotic ointments, antiseptic towelettes, burn cream packets, aspirin, ibuprofen, a gauze roll and pads, wound closures, a cold pack and many other emergency items.
The Best Backseat Organizer
H Helteko Back Seat Car Organizer
Keep your back seat organized while giving your kids access to a plethora of activities on a road trip with this two-pack of back seat organizers. They hang on the back of the front seat(s), allowing your kids to store games, books, beverages, snacks, toys, tablets, and whatever else they might want while on a long car drive. The organizer is securely held down by straps so it always stays put. It comes in two color options: black or gray.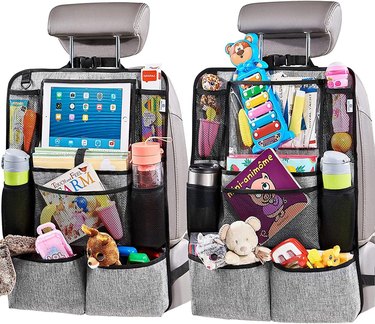 Ikea Lilla Children's Green Potty
When you gotta go, you gotta go—or at least that's how it goes for toddlers. On a road trip, you don't always have access to a toilet, so it's probably in your best interest to have a travel potty on hand in case someone in the car can't hold it. This small IKEA potty doesn't take up much space, it's easy to use, easy to empty and easy to clean. When you're traveling, you can wipe it down with a disinfectant wipe and then rinse it with soap and water when it's convenient. It measures 10.75 inches long, 9.5 inches wide and 7 inches high, so it's best suited for babies and toddlers up to 3 years old.
All road trips require snacks, and with the Car Jazz Snack Holder, you'll finally have a convenient place to put them. The mesh holder has two large pockets to hold food and beverages. It can be hooked onto both front seats to hang between them, making it reachable for passengers in the front seats and back seats. The net also works as a dog barrier, so your dog doesn't jump into the front seat while you're driving.
Escort Max 360 Laser Radar Detector
This radar detector is one of the best on the market. It's equipped with long-range front and rear antennas that scan for threats in all directions, while built-in filtering minimizes interference. In other words, it's reliable. It connects to the Escort Live driver community so you can stay informed on what's going on nearby, and it offers real-time driver alerts for red light and speed camera locations, speed limits, police radar and more.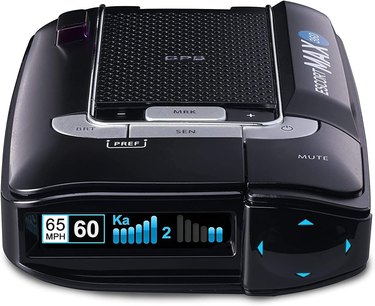 The Best Rooftop Cargo Box
SportRack Vista XL Cargo Box
Cargo boxes can be pretty expensive, but the SportRack Vista XL is on the cheaper end while still being efficient, durable and totally worth the money. It provides 18 cubic feet of interior capacity, giving you extra space to load your luggage or extra road trip gear. It has a rear opening and comes with a lock and key to secure your belongings inside the box and fasten the box to the rack. The cargo box fits on top of SportRack systems, square bars, round bars and most factory racks—but you should check the fit guide before purchasing just to make sure.