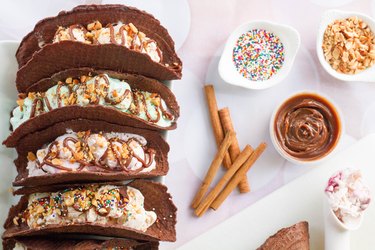 We're firm believers that ice cream should be enjoyed all year long regardless of the weather. After all, why should we ‌ever‌ deprive ourselves of cool, creamy deliciousness? And while ice cream is a time-tested dessert, there's always room for innovation. To help you think outside the box (or should we say outside the ice cream carton?), we've rounded up five mouthwatering and inventive ice cream trends from the sweet side of TikTok.
Whether you're in the mood for tasty ice cream tacos or frozen Fruit Roll-Ups, these five videos will inspire your next creative foray into frozen fare.
1. Fruit Roll-Up Ice Cream
First up is TikToker @sharidyonne with the sweetest trend: Fruit Roll-Ups paired with ice cream or sherbet! Shari fills a red Fruit Roll-Up with Tie Dye Burst ice cream (which features vanilla, cherry and blue moon flavors) and shares two important tips: Use a decent-size scoop and work quickly so the Fruit Roll-Up doesn't freeze or crack. She also recommends taking "a crisp sip of water" afterward to "elevate the experience." We're definitely intrigued!
2. Edible Chocolate Ice Cream Cups
Ever wanted to have your ice cream and eat the cup too? Just follow TikToker @adeelchaudry1's recipe. Start by melting chocolate and then add it to a cup and freeze. Next, make ice cream by blending heavy whipping cream, condensed milk and vanilla extract. Adeel suggests adding strawberry purée or any other flavor you might like. Simply add the ice cream mixture to a chocolate cup, top with more chocolate, freeze again and enjoy!
Next up are homemade ice cream tacos from TikToker @harts.content. The creator begins by making waffles in a waffle iron and folding shells over a wooden spoon to create that classic taco shell shape. Next, they melt light green chocolate and coat the inside of the waffle taco shell. After filling the shell with mint ice cream, they dip the taco in the remaining chocolate and top it with sprinkles. While we love the Lucky Charms-inspired theme, this method would work well with so many different flavor combinations!
4. Leftover Nutella Ice Cream
Ever wondered what to do with leftover bits of chocolate in a Nutella jar that are just too precious to throw away? TikToker @kyleistook shows off one solution. It's simple: Add heavy cream and sugar to the almost-empty jar, whisk it all together and freeze the container overnight. The next day, you'll have a delicious tub of Nutella ice cream to devour. We love the simplicity and resourcefulness of this idea!
Finally, if you find yourself with a hankering for ice cream but don't have any on hand, make some in a Mason jar! TikToker @buttermilkbysam shares a mouthwatering recipe that calls for brown sugar, cream cheese, sweetened condensed milk and heavy cream. Sam suggests including additions like peanut butter or Nutella and using a mixer to combine the ingredients. Simply freeze the jar and then dig into a personal container of ice cream made exactly as you like!
We're screaming for all of these cool, creative ice cream ideas and can't wait to give them a try. After all, there's no wrong time for ice cream!