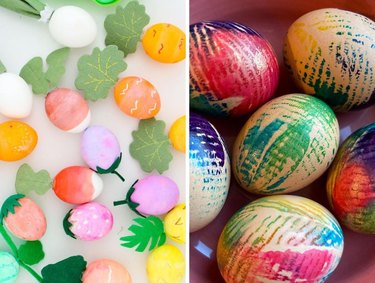 Calling all Easter egg enthusiasts! There's something so fresh and fun about dyeing eggs when early spring rolls around. For many of us, setting up cups of food coloring-dyed water and dipping hard-boiled eggs to perfection is a cherished pastime. Of course, there's room for creativity and innovation in every DIY endeavor—and Easter crafts are no exception.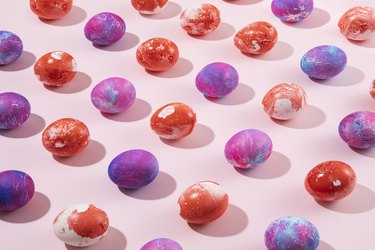 If you're ready to step beyond traditional Easter egg decor and get inspired, you've come to the right place. We've scoured social media to round up nine amazing Easter egg ideas (with a focus on food-safe Easter egg decorating techniques) that will keep the whole family busy. Whether you're creating a tie-dye effect, hand-painting a beautiful design or getting crafty with whipped cream, these Easter egg decorating ideas will add a dash of color (and even some speckles!) to your seasonal spread.
Take a cue from TikToker @myfourwonders and create a marbled effect on this year's batch by using whipped cream or Cool Whip to dye Easter eggs. The process is simple: Soak hard-boiled eggs in a bit of vinegar, mix food coloring with whipped cream, roll eggs, let sit and rinse. The results are eye-catching and original, while the use of whipped cream is perfect for younger kids or those who appreciate sensory crafts.
Here's a great way to reuse all those extra rubber bands collecting dust in your junk drawer—give decorated Easter eggs some fun stripes by using bands during the decorating process. You'll use traditional food coloring dye for this project. Simply wrap a few bands around each hard-boiled egg before dipping in the mixture. After removing, take off the rubber bands to reveal a totally original lined design!
TikTok creator @ywmfamily takes traditional dyeing to a new level by crafting Easter eggs with a mosaic pattern. The steps are straightforward: Begin with hard-boiled eggs, then peel off small sections of eggshell to leave portions of underlying egg white exposed. Next, dye eggs as usual with food coloring and water. The result? A totally original mosaic vibe that would impress the Easter Bunny himself!
Instagrammer @chaivdesign crafts all sorts of whimsical and intricate paper creations, but we're particularly obsessed with these paper flower eggs. Creating a copycat version will require a bit more skill and attention to detail than traditional Easter egg designs, but the payoff is so special. Purchase pre-made paper flowers and leaves or create your own, then stick them to eggshells with a food-safe adhesive. Alternatively, opt for faux eggs to create a long-lasting piece of Easter decor. How lovely!
Next up, @kailochic on Instagram offers a totally family-friendly Easter craft that perfectly combines egg decorating with springtime vibes: garden-inspired Easter eggs! Use wax crayons to draw designs onto plain white eggs (think: tiny polka dots to imitate strawberry seeds or squiggly lines to represent ridges in a fresh carrot) before dyeing. Round out your fruit and veggie eggs with felt leaves and stems for a completed garden look.
6. Hand-Painted Wooden Eggs
Want to create decorative Easter eggs that last longer than traditional hard-boiled chicken eggs? Wooden eggs are the perfect solution. Snag a pack from your craft store or Amazon, then start planning your beautiful and sustainable decorated eggs! TikTok artist @claretheresegray shows off a series of enchanting hand-painted wooden eggs to get you inspired. We're totally blown away by those detailed flowers, animals and other designs. You'll want to use a fine-tipped paintbrush here to work on such a small surface.
TikToker @littlepinelearners offers a quick, enchanting, food-safe tutorial for adding pressed flowers to white eggs, though we think brown eggs would look just as lovely here. You'll need to press and dry flowers from your own garden (@littlepinelearners suggests edible flowers such as pansies) before starting, then dab bits of food-safe wheat paste on each egg before attaching flower pieces—you'll need only water, flour, a stovetop and a whisk to create the paste. Gorgeous!
Here's another fun Easter egg decor idea that you can probably pull off with ingredients you already have. TikToker @314handcrafted demonstrates the easy and fun process for creating rice-dyed eggs using hard-boiled eggs, food coloring, snack bags and—you guessed it—rice! Simply add coloring to rice, shake to mix, add eggs and shake again! The result is a fun, taste-safe speckled effect that won't leave splashes of dye.
Get a little groovy this Easter with a tie-dye egg how-to from Instagrammer @oureverydaykitchen. Wrap eggs in paper towels, add food coloring, spray with a vinegar and water mixture and let dry in the fridge overnight. The results? Playful DIY Easter eggs that will make a vibrant centerpiece for any Easter brunch.
Whether you're tucking your completed eggs away for an Easter egg hunt, popping them into Easter baskets or simply enjoying a springtime craft with the whole family, we hope our roundup of crafty ideas for decorating and coloring Easter eggs has left you feeling especially creative this year. Now what are you waiting for? Round up a few sweet decorative stickers, mix store-bought or natural dyes and hop to it! Inspired Easter eggs await.