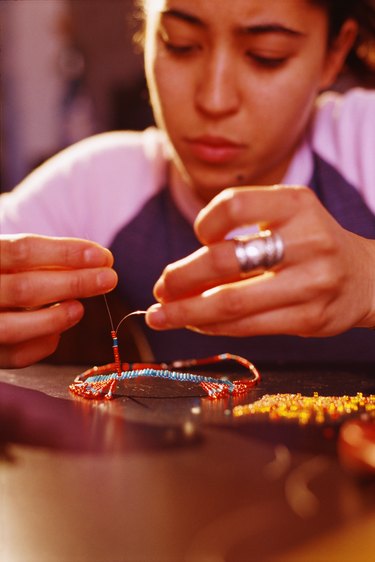 When planning a birthday party for 13-year-old girls, you can organize a variety of crafts to keep them busy. Prepare more challenging crafts than you would prepare for younger children to keep the teens interested. Crafts also double as favors the girls can take home as mementos of the party. Teen girls, craft ideas and a few supplies from your local craft store are all you need to get them started.
Bath Crafts
Many 13-year-old girls will enjoy making their own bath products. They can make bubble bath mixing 1 cup shampoo, 1 1/2 cups water, a few drops of food coloring and 1/2 teaspoon glycerin in a plastic bottle with a screw-on lid. For scented bubble bath, have them add a few drops of scented essential oil. Another idea is body glitter. Mix clear aloe vera gel with fine polyester glitter in a clear jar to make body glitter. Give the girls white stickers to make their own labels for the bath products.
Sleepover Crafts
If the party is a sleepover, consider having the girls make items related to a slumber party. Give each girl a white pillowcase or extra long T-shirt. The extra long T-shirts work as nightgowns. The girls can use puff paint, fabric markers and glitter pens to decorate the shirts or pillowcases. They can make autograph shirts by having all the other party guests sign their shirt or pillowcase. Other supplies the girls can use to decorate include stencils, acrylic paint, rhinestones and marabou. Another idea is to give the girls dark-colored shirts and pillowcases. They can use bleach pens to draw and create designs.
Jewelry
Give the girls a variety of craft supplies to make jewelry. Some supplies include charms, alphabet beads, elastic string, yarn, pony beads, 18-gauge artistic wire and jewelry clasps. The girls can make their own bracelets, anklets, necklaces and key chains. Another idea is friendship bracelets. The girls can use embroidery floss, yarn, hemp cording, leather string, silk cording or plastic lacing to make friendship bracelets. Print instructions for different types of bracelets from online or use instructional books.
Fashion Crafts
The girls can enjoy creating their own fashion items at a birthday party. Give the girls canvas tennis shoes, T-shirts, hats, tote bags or flip-flops to decorate. Use puff paints or tie-dye to decorate the items. Tie-dye kits are available at most craft stores and the girls can use the kits to create hats, shirts, shoes and tote bags. Give the girls strips of fabric to tie around the plastic part of flip-flops for decoration. Another idea is jeans or shorts. Ask the girls to bring a pair of old jeans or shorts to the party. The can use craft supplies to decorate them to create a "like-new" pair to take back home.