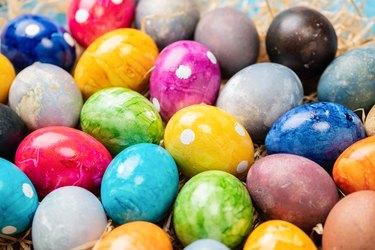 Easter egg hunts in their classic iteration are a blast, but why not mix things up by adding extra elements to your next spring get-together? If you've been on the lookout for creative Easter egg hunt ideas (for young children, older children or even adults), you'll be "hoppy" to learn that we've done the work for you by rounding up three of the freshest egg hunt ideas on TikTok. We'll share everything from alternative egg filler inspiration to tips for an after-dark event complete with gorgeous glowing eggs.
Ready to plan your most memorable Easter Sunday ever? Let's hop to it!
1. Easter Egg Scavenger Hunt
First up is @adorethemparenting's idea for an Easter egg scavenger hunt. The creator mentions that this is an excellent idea for older kids, though it could even be modified for grownups. She starts by writing color-coded riddles containing clues as to the location of each Easter basket and then cuts up the sentences and places them in individual eggs for scavenger hunters to find, reassemble and unscramble. We love that the scavenger hunt helps participants unearth eggs ‌and‌ leads them to their goodie baskets in the end. So fun!
Have you ever considered holding an Easter egg hunt after dark? We're drawing inspiration from @strawberry.road, who creates glow-in-the-dark Easter eggs by placing battery-operated tea lights in each plastic egg. The result gives the eggs a warm, shimmering glow that's nothing short of whimsical. Can't you imagine how lovely these glowing eggs would look scattered throughout a dark garden or backyard? For a special touch, try adding glow sticks to the eggs to leave participants with fun glow-y prizes at the end.
Finally, @treehousethreads shows off a few plastic Easter egg filler ideas that stray from the norm. From tiny puzzle pieces to chalk to stickers and miniature crafting supplies, the ideas are truly endless—and the video inspires us to get creative with prizes for both kids and adults taking part in the annual hunt. Of course, we're still all about the candy, so consider combining these nonedible Easter egg fillers with traditional candy options for a fun, playful mix.
Whether you're setting up an Easter egg hunt for little ones or planning an unconventional gathering with grownup friends, we hope these videos help jump-start your planning. "Hoppy" Easter!