Macarons are easy to love. They're totally interchangeable—you can fill them with ganaches, buttercreams, jams, curds and more. You can also get totally creative with adorable designs like our Strawberry Cheesecake Jigglypuff Macarons or Oreo Cheesecake Bear Macarons, both of which are well suited to beginner character bakers. However, if you're up for a challenge, we've got something delightful in store...Bubble Tea Macarons!
This recipe ups the cute element with an adorable boba tea design (don't worry, we've got a handy boba macaron template to simplify this part) and calls for an ube white chocolate ganache. Though ganache might sound intimidating, it's actually fairly simple and can be whipped up in the microwave!
Video: Bubble Tea Macarons Loaded With Ube & Boba Flavor
Hold up...what is ube?
Ube is a bright purple yam native to the Philippines. Its flavor has been described as a cross between vanilla and pistachio. Ube is commonly found in Filipino desserts, like ice cream, cake, bread and other pastries. In our boba macaron recipe, ube extract is added to ganache. The middle of each macaron contains ube halaya (aka ube jam), which is topped with some boba.
Once you bite into these mouthwatering (and adorable) ube macarons, your taste buds will thank you. The shells have a perfectly crisp outside with a bit of chew in the middle, while the centers are loaded with ube white chocolate ganache, chewy tapioca pearls and ube jam. It's a true textural, flavorful experience. Ready to bake? Let's dig in!
Quick Recipe Overview
‌‌SERVING SIZE‌: 8 Bubble Tea Macarons (~2 x 3.5 in.)
‌PREP TIME: ‌30 minutes
‌‌DRYING TIME: ‌1–2 hours
‌‌COOK TIME: ‌15–18 minutes
‌‌DECORATING TIME:‌‌ 15 minutes
‌‌TOTAL TIME: ‌‌‌‌2–3 hours
Part 1: French Macaron Shells
Things You'll Need
2 baking sheets

Parchment paper or silicone mats

4 medium piping bags

Hand mixer or stand mixer

Large mixing bowl or bowl of a stand mixer

3 small to medium mixing bowls

Food processor or sifter

Rubber spatula

Toothpick or cookie scribe

50 g egg whites


60 g almond flour

50 g powdered sugar

40 g granulated sugar

Gel food coloring (purple, pink, red)
1. Whip egg whites and granulated sugar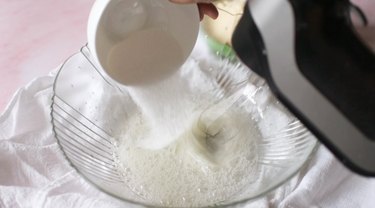 Set up your tools and measure out all the ingredients first. This will help you move through the recipe more seamlessly.
Whip the egg whites on medium speed until foamy. Slowly add in granulated sugar a third at a time while whisking on medium-high speed.
2. Beat eggs until stiff peaks form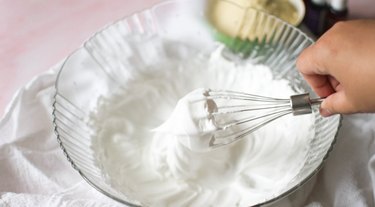 Continue whisking until stiff peaks form and you get a thick, glossy meringue as pictured above. This should take ‌‌at‌‌ ‌‌least‌‌ five more minutes.
Tip
Meringue should ball up onto the whisk. When the whisk and bowl are held upside down, the meringue should not move.
3. Fold in dry ingredients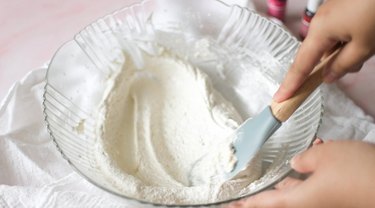 Add all dry ingredients into the meringue. Using a rubber spatula, fold the dry ingredients into the meringue, scraping the sides and bottom of the bowl often. Fold ‌just‌ until no dry spots are remaining. Do not mix further since we will be splitting the batter into different colors.
Tip
If you want really white macarons, add a very small amount of purple food coloring, which will counter the yellow color from the almond flour.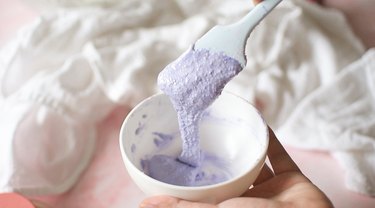 For this macaron design, we'll use four colors: red, purple, pink and white. Divide the macaron batter into four bowls by weight: red (10 g), purple (20 g), pink (20 g) and white (150 g).
Work with one color at a time. Fold in a tiny drop of food coloring. Mix until the batter reaches a thick, glossy consistency and comes off the spatula in continuous ribbons. The batter coming off the spatula should melt back into the remainder of the batter in the bowl within 20 to 30 seconds. Transfer each color to its own piping bag.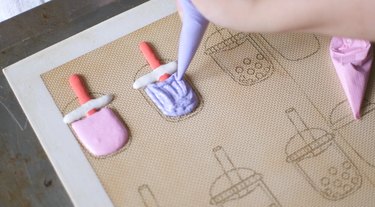 Use our macaron template as a guide underneath parchment paper or a silicone mat to pipe the design.
6. Pipe backs of macarons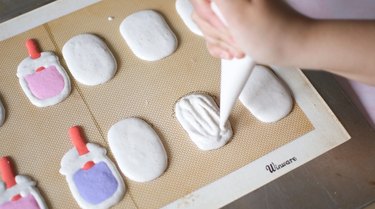 Use the remaining white batter to pipe the back of each macaron. There's no need to get fancy with designs here—the front of your macarons will steal the show!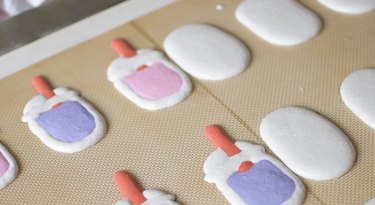 Remove all templates and let the macarons sit out between one and two hours or until the macarons are dry to the touch. If the room is humid, this step might take longer. While waiting, skip ahead and make the ube white chocolate ganache.
Bake the macarons at 325°F for 15 to 20 minutes, flipping halfway through. To test if they're done, poke the side of one macaron. If it wiggles, they need more time.
Let them cool completely on a tray and then match the macaron shell pairs.
Part 2: Ube White Chocolate Ganache
Things You'll Need
Small to medium microwave-safe bowl

Medium piping bag

Open star piping tip (optional)

Rubber spatula

100 g white chocolate

40 g heavy cream

1/2 tsp. ube extract
1. Microwave white chocolate and heavy cream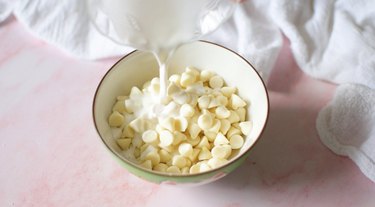 Combine white chocolate and heavy cream in a microwave-safe bowl. Microwave until melted, stirring every 30 seconds.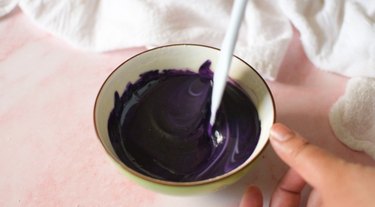 Mix in extract until uniform. Cover the ganache with plastic wrap and refrigerate until it's thick enough to pipe. Check the ganache after 30 minutes and then every five to 10 minutes.
Once set, transfer to a piping bag with an open star tip. Alternatively, snip the end of the bag and use it in place of a piping tip.
1. Draw details on macarons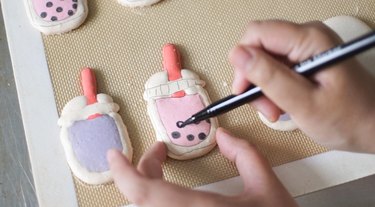 Use black edible marker to outline the boba cup details and to draw on tapioca pearls.
Using ganache, pipe a ring on the perimeter of the bottom macaron shell.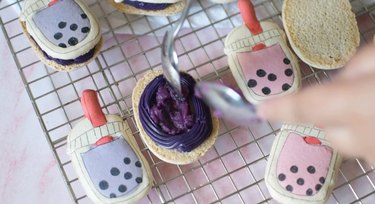 Use two spoons to fill the middle with ube jam. Make sure the jam is a bit flat so you can lay the boba on top.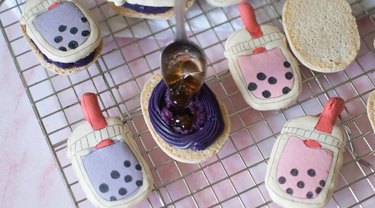 Add four to six bobas in the middle of each macaron. Top with the matching macaron shell and enjoy!
Store macarons in an airtight container in the fridge for up to three days or in the freezer for up to one month. Eat at room temperature. Save a few to share with friends (if you can avoid eating the whole batch yourself). These adorable creations are sure to impress!