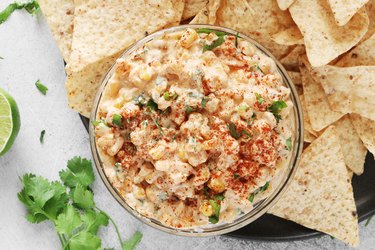 There are few things more satisfying on a hot summer day than elote, or Mexican street corn, so called because it's a popular street food in Mexico. The dish is the perfect partner for classic barbecue foods, like grilled ribs or shrimp skewers, though it certainly tastes delicious on its own. Our version of elote is in dip form, inspired by the ones you might have seen at Trader Joe's or Costco, for easy sharing during your summer festivities and potlucks.
Featuring a blend of sour cream, mayonnaise and cotija cheese, this Mexican street corn dip is irresistibly creamy and satisfying. It also includes lime juice for tang, jalapeno pepper for heat and cilantro for herby freshness. Once combined with slightly charred corn kernels — which you can cook on the stovetop, oven or grill — you'll have the ultimate summer dip for tortilla chips, crackers and more. The best part? The total time it takes to make this recipe is about 20 minutes.
There's no doubt that this dip recipe will be the life of the party. Read on for the full tutorial plus tips and ideas for making this corn dip recipe your own.
Things You'll Need
2 15-ounce cans corn kernels (about 1 3/4 cups cooked corn)

1/2 cup mayonnaise

1/2 cup sour cream

1 jalapeño, deseeded and diced

1/4 cup fresh cilantro, finely chopped

1 teaspoon chili powder (plus more as needed)

1/2 teaspoon garlic powder

1/2 teaspoon salt

1/4 to 1/2 cup cotija cheese

1 lime

2 tablespoons butter or oil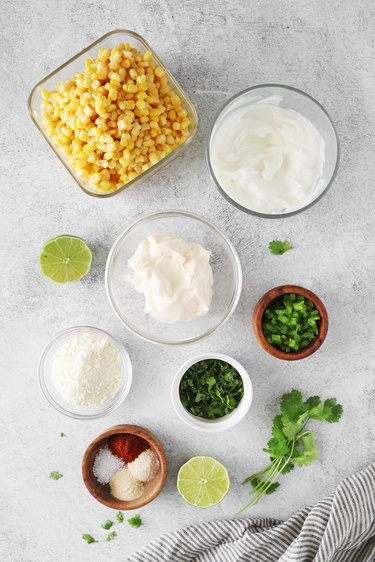 Tip
You can substitute the sour cream and/or mayonnaise with the same amount of plain, unsweetened Greek yogurt; Mexican crema; or cream cheese that has been softened at room temperature. Alternatively, you can use 1/2 cup of just one ingredient depending on your preference or what you have on hand.
Step 1: Prepare the Base
In a bowl, combine the sour cream, mayonnaise, cilantro, chili powder, garlic powder, salt and the juice of one lime. Add 1/2 to 1/2 cup cotija cheese, which is a type of aged Mexican cheese.
Cover and store the sour cream mixture in the refrigerator for about 15 minutes to let the flavors develop.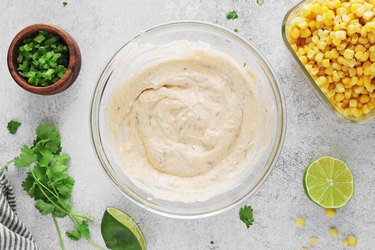 Tip
If you can't find cotija cheese, you can also use grated Parmesan or Romano cheese. Some people prefer using feta cheese instead. Also, if you don't like cilantro, feel free to skip it.
Step 2: Cook the Corn and Jalapeño
In a large skillet or cast iron skillet over medium-high heat, melt butter or add oil, such as olive oil. Add 1 3/4 cups corn and diced jalapeno pepper. Stir well. Cook for about 10 minutes or until the corn is slightly charred. Let the mixture cool slightly.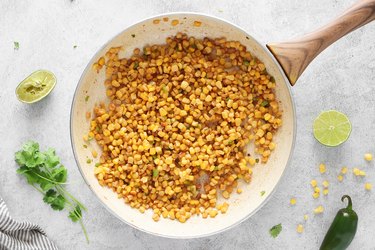 Tip
If you don't want to sauté the corn, you can cook fresh corn on the grill and then remove the kernels. Another option is to bake corn on the cob in the oven, which takes about 12 to 20 minutes.
Step 3: Mix Everything Together
Remove the sour cream mixture from the refrigerator and taste it. If needed, add more salt, lime juice, chili powder or other spices as necessary.
Add the cooked corn and jalapeno and stir until fully combined.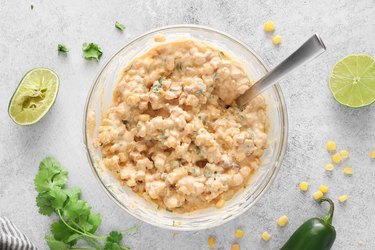 Tip
If you want even more heat, add a few teaspoons of your favorite hot sauce to the elote dip. Other options include cayenne pepper powder, canned green chiles or ground black pepper.
Step 4: Serve and Enjoy!
Before serving your Mexican corn dip, add a sprinkling of chili powder, fresh cilantro or chopped green onions on top. Enjoy it as an appetizer or side dish by pairing it with tortilla chips or crackers. You can also use it as a garnish on entrees, like tacos or burgers, or even inside burritos.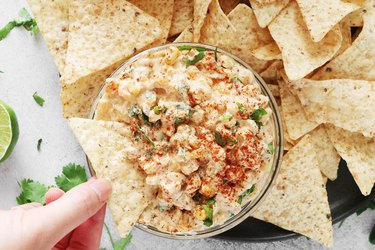 Needless to say, your summer menu is about to be so much tastier!