Whether you're throwing a viewing party to watch the big game or your favorite post-apocalyptic TV series, one thing's for certain—the food is ‌everything‌. Like almost as important as what's on the screen. Luckily we have an idea that'll please everyone gathered around the TV. A board of dips perfect for (yes!) dipping, including Pepperoni Pizza Dip, Whipped Feta and Guacamole Hummus.
Seriously, this trio is one of the tastiest ways you could kick off a viewing party. After all, who can say no to a mouthwatering spread of individually portioned party dips? Top it off with crispy snacks like crackers, pretzels, tortilla chips and crudités and your guests might just be too busy devouring the dips to pay attention to what's happening on the screen or in the big game.
So, let's get ready to play...err, we mean create! Below, you'll find everything you need to whip up a dips board, plus tips for customizing each appetizer dip.
Things You'll Need
8 oz. sour cream

8 oz. cream cheese, softened

1 cup pizza sauce

1 1/2 cups shredded mozzarella cheese

1 tsp. Italian seasoning, plus more as needed

1/3 cup mini pepperoni

Mini oven-safe bowls or ramekins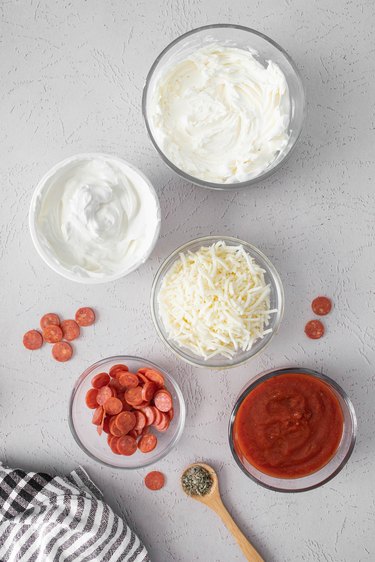 Tip
Depending on the size of your bowls, you might need slightly larger portions of each ingredient.
How to make Pepperoni Pizza Dip:
1. Prepare cheese dip base
Preheat the oven to 350°F. In a bowl, combine sour cream, cream cheese and 1 cup of mozzarella cheese. Use a large fork to thoroughly mash up any remaining chunks of cream cheese.
Tip
For even more flavor, add Parmesan or cheddar cheese along with the mozzarella.
Scoop the cream cheese mixture into oven-safe bowls or ramekins. Fill each bowl 1/3 to 1/2 full depending on the size.
Tip
If your bowls are deep, you can turn this into a layer dip. Simply add a layer of cream cheese mixture, top with an extra layer of pepperoni pizza toppings and repeat once more.
2. Add pepperoni pizza toppings
Top each bowl with pizza sauce. Garnish with shredded mozzarella cheese, mini pepperoni and Italian seasoning.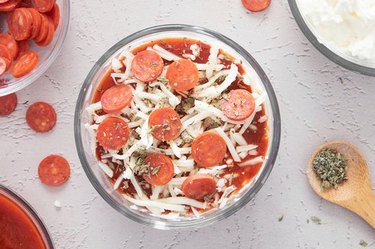 Tip
Create a sausage dip by using crumbled sausage instead of mini pepperoni—or use both for a "meat lovers" version! Other topping options include sliced olives, caramelized onions and diced green peppers.
Place the mini bowls on a baking sheet and bake for 10 minutes or until the cheese is melted and golden brown.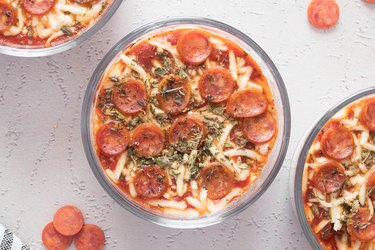 Serve your cheesy dip with crackers, veggies or even garlic bread!
Things You'll Need
8 oz. crumbled feta cheese

1/2 cup (6 oz.) plain Greek yogurt or sour cream

1 Tbsp. olive oil

Juice of 1/2 lemon

1 tsp. garlic powder

Dried or fresh dill for topping (optional)

Food processor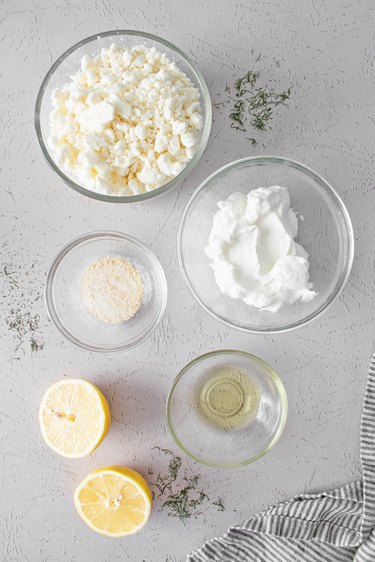 How to make Whipped Feta Dip:
Add all ingredients to a food processor. Blend on high until fully combined and fluffy, pausing to scrape down the sides as necessary.
Scoop whipped feta dip into small bowls or ramekins. Top with a drizzle of olive oil and fresh or dried dill if desired.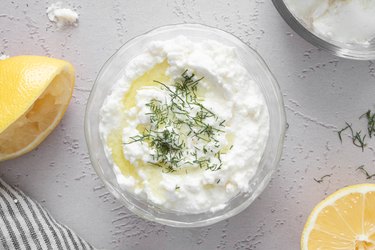 This creamy whipped feta dip tastes best with pita chips or wedges of pita bread. However, we can confirm that it's a delightfully versatile recipe, and it tastes equally amazing with hard pretzels, veggies and crackers. Yum!
Things You'll Need
15 oz. canned chickpeas, drained

2 Tbsp. tahini

3 Tbsp. olive oil

2 Tbsp. lime juice

1/2 to 1 tsp. salt

1/4 tsp. black pepper

1 tsp. garlic powder

2 ripe avocados

1 small bunch fresh cilantro

Food processor
Tip
If you're short on time, combine store-bought guacamole and hummus in a food processor for an easy dip. Done and done!
How to make Guacamole Hummus Dip:
Add all ingredients except avocados to food processor. Since chickpeas are much tougher than avocados, the first step is to thoroughly blend the chickpeas.
Blend until smooth and combined, pausing to scrape down the sides as necessary.
Tip
If the chickpea mixture is too thick or chunky, add a bit of reserved chickpea water.
To complete the guac component, add avocados.
Tip
If you prefer a more hummus-forward dip, add just one avocado.
Blend until smooth and fully combined, scraping down the sides as needed.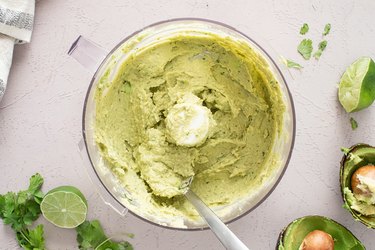 Scoop the delicious completed dip into bowls. For added flavor, top each one with refried beans, chopped chorizo, taco seasoning or more fresh cilantro.
This creamy dip pairs best with tortilla chips and sliced vegetables (like celery, red peppers or carrots), but honestly, it's ‌so‌ good with everything! You could even use the leftovers as a tasty topper for nachos.
Last Step...Build the Dips Board!
1. Construct board with all three dips
When your dips are ready, it's time to put it all together! On a wooden cutting board or charcuterie board, fill the center with bowls of completed dip. Fill in gaps with vegetables, pita wedges, crackers, tortilla chips and olives on toothpicks.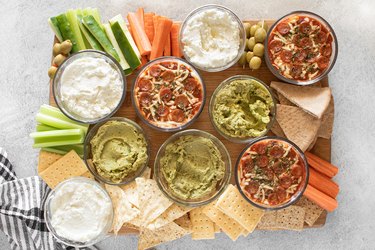 Serve your dips board alongside classic viewing party snacks, like chicken wings and potato skins, for the dreamiest spread around. The big game provides plenty of entertainment, but your dip board might turn out to be the main event.
Let's start that countdown to kickoff! Or should we say "dip-off"?!