Fresh herbs pump up the flavor in recipes, and with an indoor grow kit, you can have fresh homegrown herbs year-round. Best of all, you don't have to be an experienced green thumb for success. By using one of the many herb-growing kits available, beginner growers cannot fail at growing herbs right in the comfort of their homes. Grow-your-own herb kits also make great gifts for the gardener in your life.
Whether you want to grow cilantro, oregano, chives, Genovese basil, Thai basil, curly parsley or others, an indoor herb garden starter kit contains everything you need for thriving indoor growth. You don't even require a lot of space for the herb garden, as most fit perfectly on a countertop or windowsill. They are also a great way to introduce the kids to gardening, as they can help plant the herb seeds, watch them sprout, grow and assist in the harvesting.
With so many choices on the market, selecting the best one can seem tricky. We've narrowed that list with our selections of the best indoor herb garden kits available. We've also noted some important points of consideration when choosing the best herb growing kit for your specific needs.
What to Consider When Buying an Indoor Herb Kit
‌Price:‌ When it comes to kits for growing indoor herbs, prices are all over the board. You can get basic herb-growing kits that are relatively inexpensive. They don't have the bells and whistles like fancier systems, but will still get the job done. On the other hand, more elaborate herb gardening systems can cost a pretty penny and usually are set up to grow more than a couple of herbs at once. Consider your herb growing needs and decide how much you're willing to spend because, while you get what you pay for, you may be just fine with the basics.
‌Gardening System‌ ‌Type:‌ There are two growing systems for growing herbs indoors. You can use the standard plant pots that are set on a sunny windowsill or countertop, and these types of indoor herb kits are less expensive. However, you can also choose to go with a hydroponic growing system, which is typically more expensive. Smaller hydroponic systems allow you to grow three or four herbs at one time, whereas larger systems allow you to grow even more. With hydroponics, you don't have to deal with messy potting soil that is required for growing in standard plant pots. Neither DIY system requires you to be a master gardener to be successful, but some people find their herbs grow better and faster in hydroponic systems.
‌Herbs:‌ When selecting an indoor herb kit, make sure to check if the kit includes herb seeds. Many kits include popular types of non-GMO herb seeds. With some herb kits, you'll have to provide the seeds. Regardless of whether you're growing in a hydroponic system or standard pots, you can grow your favorite herbs in each. If growing in pots, be sure to meet each particular herb's water and light requirements, as you are the one in control. Some herbs like rosemary don't require as much water as herbs like basil.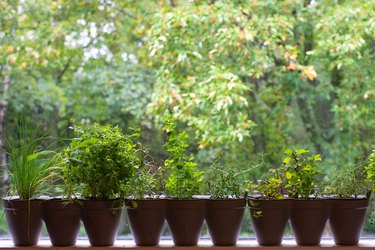 The Best Overall Indoor Herb Kit
The serious herb grower won't be disappointed with the AeroGarden Harvest hydroponic indoor garden, and it also makes a great gift. The compact and easy-to-use unit has everything you need to get started, including herb seeds. It comes with six plant pods so you can grow six herbs or even veggies at a time. The garden includes mint, Genovese basil, thyme, Thai basil, dill and curly parsley seeds. There's no potting soil, meaning less mess, and the unit is compact enough to sit on a countertop. The adjustable light offers your herbs full-spectrum lighting, meaning they'll produce the best growth allowing you to grow year-round. You don't have to be a hydroponic expert for success using this system, as the control panel is easy-to-read and indicates when you need to add water or plant food.
The Best Budget Indoor Herb Kit
Whether you're just getting started growing indoor herbs or you don't want to break the bank by purchasing a kit, this indoor herb garden starter kit includes everything you need to get started at a reasonable cost. The starter kit includes five herb seed packages, five reusable plant pots with attached drip trays, a small metal shovel, a water bottle, plant labels and five organic fiber pellets. The included non-GMO seeds are parsley, chives, thyme, cilantro and basil. This indoor herb kit makes a great gift for beginner green thumbs or home chefs. The pots are the perfect size to fit on a windowsill or sit on a bright, sunny countertop.
The Best Indoor Herb Kit for Kids
It's never too early to get the kids involved in growing things, and if you have a budding green thumb on your hands, this herb kit from National Geographic will make them feel like a gardening rockstar. The kit includes everything they need to get started. They get three stainless steel pots, chive, basil and oregano seed packets, peat soil discs, wooden plant markers and a small shovel. They can also decorate the pots with their creative designs with the included paint palette, brushes and stickers. It also comes with a detailed, kid-friendly instructions sheet filled with a wealth of botanical facts. This herb kit makes learning fun and is guaranteed to put a smile on their faces planting their seeds, watching germination occur, and seeing their herbs turning into full-size plants they can harvest and use in their favorite dishes.
The Best Indoor Herb Kit for Beginners
Whether you're a beginner herb grower who wants to gift yourself with a herb-growing gift or you know one personally, this starter kit from Loako is a good choice. The kit comes with everything you need to get growing, including detailed instructions to add to your success. You get four plant pots, a nifty wooden box you can place them in, four nutrient-rich soil discs and four plant markers. It also contains four popular herb seed packages of chives, basil, cilantro and chives. You can also use the wooden box as a planter, giving you the option of growing even more herbs. This herb kit is perfect for small spaces or sitting on a sunny windowsill. With step-by-step instructions, even novices will feel like a gardening pro as their herbs sprout and develop into lush plants ready for use in their favorite recipes.
The Best Compact Hydroponic Indoor Herb Kit
If you're seeking a smaller herb kit that is hydroponic, then the AeroGarden Sprout won't disappoint. The kit comes with everything you need to get started and is a great choice for those new to hydroponic gardening. AeroGarden Sprout has a sleek design and fits perfectly into small spaces with an adjustable full-spectrum light, three seed starter grow pods and domes, liquid plant food and a quick planting guide and detailed instructions on the unit's use. The control panel lets you know when you need to add more water and when it's time to feed your herbs. You also get seed packs of dill, curly parsley and Genovese basil. Before you know it, you'll be harvesting your fresh homegrown herbs for use in the kitchen.
The Best Indoor Herb Kit for Windowsills
This indoor herb kit from REALPETALED not only comes with all the supplies to grow 10 different herbs, but the pots are also small enough to fit perfectly on a windowsill or another small, sunny space. You get everything you need to feel like an herb-growing superstar with 10 reusable pots and drip trays, 10 soil discs and 10 herb packets. You'll receive four garden tools and plant markers to label your herb pots so you know what's growing in each plant pot. The herb seeds you receive are chives, dill, basil, parsley, thyme, oregano, sage, cilantro, mustard greens, and chia. Also included is an herb growing instructions guide taking all the guesswork out of growing your tasty herb bounty. This herb kit makes a great gift to any gardener desiring to grow herbs year-round inside their home.
The Most Diverse Indoor Herb Kit
If you want an indoor herb-growing kit with a diverse assortment of herb seeds other than the standard types, this deluxe kit from Home Grown will fulfill that desire. It also makes a great gift for the green thumb in your life. The kit includes everything you need to get started, including detailed instructions. You'll get eight reusable pots and drip trays, eight peat pellets, eight plant markers and eight seed varieties. The seeds you'll receive are lemon balm, oregano, thyme, rosemary, parsley, basil, curled chervil and cilantro. Your pots fit perfectly on a sunny windowsill, countertop and weather permitting, you can also situate them in an outdoor space like a sunny porch, balcony or patio.