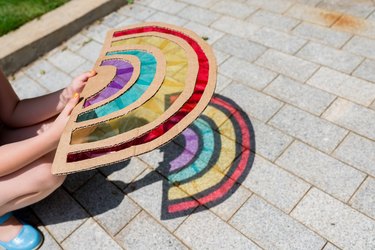 No matter if you're stuck inside on a snow day or celebrating the return of summer, making your own suncatchers is a fun way to interact with nature for adults and kids alike. With their translucent rainbow hues and dazzling prisms, making the stained glass-inspired window art is essentially like creating magic. It's also a creative way to practice mindfulness for all ages.
From mandala window stickers to stained glass crafts, we share the best suncatcher painting kits, ahead.
What to Consider When Shopping for Suncatcher Painting Kits
‌Project Type:‌ When shopping for suncatcher painting kits, there are all sorts of projects to choose from. And, while many are kid-friendly options, there are some stunning suncatcher kits designed for adults, too. If you're shopping for yourself, consider the type of project you want to create and where you might place it in your home to narrow down your selections. It also helps to consider your personal home decor style so that it blends beautifully into your space. When shopping for your kid, consider their interests, any upcoming holidays, or how they might use the suncatcher—whether it be to give as a Christmas gift for a grandparent or to decorate their room.
‌Suncatcher Type:‌ Suncatcher craft kits come in a variety of types so, in addition to the project, it also helps to look at the type of suncatchers available. You can find some crystal suncatcher pendants that make stunning rainbow prisms in a room, stained glass suncatchers, paint kits, and even some options that use tissue paper and paste to create whimsical window art.
‌Included Craft Supplies:‌ When shopping for a suncatcher painting kit, take a look at what comes inside before clicking 'add to cart.' Since it is a DIY kit, it should have everything needed to create your own suncatchers, save for a few additional supplies like newspaper or a silicone mat to protect your table surface and a water cup for cleaning brushes.
‌Holiday Decor:‌ Painted suncatchers are a beginner-friendly way to create stunning window art, especially for the holidays. As far as kids' craft kits are concerned, you can find a suncatcher kit project for just about any holiday, including Valentine's Day, St. Patrick's Day and Christmas. You can also find spring-inspired designs like a butterfly suncatcher to give for Mother's Day.
‌Kids Craft Kit Activity:‌ Kids' suncatcher kits are a fun activity for a birthday party and make cute party favors, too. You can find suncatcher craft kits that match a variety of popular birthday party themes, including a dinosaur suncatcher kit or an outer space suncatcher kit. You can even get creative with snowflake suncatchers for a ‌Frozen‌-themed birthday party or fish suncatchers for a mermaid-themed birthday party. Whether you give them away as party favors or use them as party activities, they're a must-have for your party supplies list. Plus, you can find simple stained glass kits for a budget-friendly sale price at craft stores such as JOANN or Michaels.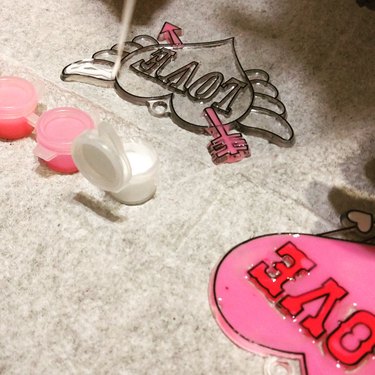 1. Hula Home Color Your Own Stained Glass Mandala Window Clings Kit
If you love the intricacy and mindfulness involved in an adult coloring book, you'll love this mandala suncatcher kit from Amazon. Ideal for teens and adults, this project comes with everything you need to create your own window art, including 10 blank mandala stickers—all with different designs—plus eight markers in a variety of rainbow colors, and a coloring guide for added inspiration. Once finished, stick them to the wall of your office, at-home yoga studio or bedroom for a sparkling piece of art.
2. Works of Ahhh Suncatcher Wood Paint Kit
The Works of Ahhh Suncatcher Wood Paint Kit involves several mediums to create a stunning suncatcher design. Featuring five different colors of acrylic paint, a nontoxic varnish finish, two paint brushes, colorful tissue paper and gems, the butterfly suncatcher kit allows kids to express their creativity and make something fun and colorful to welcome the spring and summer seasons.
3. WBDCreations Silk Painting Suncatcher Kit
Silk suncatchers are an elevated way to add a dose of color and prism sunlight into your space—and the Silk Painting Suncatcher Kit from WBDCreations on Etsy comes with everything needed to create the finished piece, including an easy-to-follow, pre-drawn template so you don't have to worry about hand drawing. Once finished, you can hang it up in front of a window to catch that true suncatcher essence or even use the home decor piece as wall art.
4. American Crafts Makit & Bakit Fantasy Jewelry Suncatcher
DIY suncatchers aren't just for window art—kids can also use them to make whimsical pieces of jewelry. The Makit & Bakit Fantasy Jewelry Suncatcher from American Crafts comes with everything needed to create five stained glass charms that can be strung on a beaded bracelet. The kit is also a little more mess-free since it doesn't involve paint and instead uses baking crystals that are placed on the metal frame and then melted in the oven for a stained glass finish.
5. Art Le Motif Glass Painting Kit for Beginners
For adults who love the stained glass look but prefer a project that is a tad more accessible, the Art Le Motif Glass Painting Kit for Beginners from Etsy is a fantastic pick. The art kit comes with a 7.9-by-7.9-inch piece of glass along with solvent-based suncatcher paint, a paintbrush, acetone, cotton pads, cotton tips, a mixing tray, and all other supplies needed to create a painted suncatcher project that looks nearly identical to stained glass (without, you know, having to cut actual glass).
6. KOKO AROMA Create Your Own Window Glitter Paint Art Suncatchers
Whether you're shopping for party supplies for a kids' activity or looking for a gift for the creative kid in your life, the KOKO AROMA Create Your Own Window Glitter Paint Art Suncatcher from Amazon is an excellent pick—and boasts fantastic value, too. Ideal for ages 6 through 12, this kit includes everything needed to create 24 glittery suncatcher window decorations in an assortment of shapes and designs.
7. Melissa & Doug Stained Glass Made Easy Activity Kit
Welcome spring with this adorable stained glass-inspired window cling. The butterfly suncatcher kit is designed for ages 5 and up and is an excellent busy activity for travel as it's completely mess-free. Instead of paints, this kit includes translucent stickers cut to fit inside each outlined space, so kids can create a glistening suncatcher without the mess.
8. Oriental Trading Suncatcher Succulent Flowerpot Craft Kit
If your child is a seasoned suncatcher creator, they might enjoy something a little different, such as these sweet suncatcher succulents. The Suncatcher Succulent Flowerpot Craft Kit from Oriental Trading comes with enough supplies for six painted houseplants, including flower pots, pebbles for planting and the suncatcher forms. However, it doesn't include suncatcher paint, so you'll need to purchase that separately or use leftover paints from other suncatcher projects.
9. TheStrangeMagic Tarot Card DIY Glass Painting Kit
Perfect for anyone who loves tarot or the macabre, this DIY-painted glass kit puts a mystical spin on classic suncatcher kits. TheStrangeMagic Tarot Card DIY Glass Painting Kit comes with a 5-by-7-inch glass panel with the outlined image on top for easy painting, along with paintbrushes, paints, a jar of Mod Podge and step-by-step instructions to create this fun window art. Once finished, you can display it in a floating frame and lean it against your window or hang it on your wall for custom wall art.