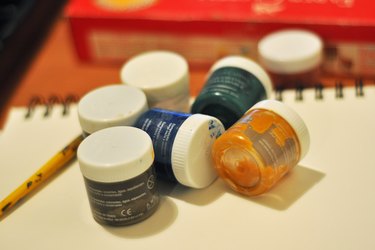 Often referred to as poster paint, tempera paint is water-based pigment mixed with a chemical binding agent. It is widely used for children's projects and crafts because of its flexibility, bright colors and ease of use. Tempera paint also comes in powder, which becomes paint-ready when mixed with water.
History
The origin of tempera paint comes from egg tempera, used prior to 1500 A.D., a fast drying medium that was a mixture of powdered pigment, distilled water, egg yolk and linseed oil. Contemporary tempera paint has very little similarities to its predecessor aside from its rapid drying time and its ability to be layered multiple times.
Function
Often used to teach school children how to paint, tempera can adhere to many surfaces including canvas, wood, fabric, paper, paper mache, poster board and temporarily on glass. Water can be mixed with the paint to extend drying time. Once it is dry, it cannot be reconstituted. The same color theory rules apply to tempera paint. Mixing complimentary colors together such as red and green will result in a mud color.
Time Frame
Layers of paint may be dry to the touch within minutes, though under layers may take up to months to dry. Add more water to thin the paint if you desire to create thin glazes where under painting shows through. Each layer will need to dry up to five minutes prior to adding the next color.
Features
Being the most inexpensive and safe medium to work with for children, art education instructors use tempera paint to teach finger painting and brush painting. Its uses also extend to printmaking, posters, plaster sculptures and most craft projects.
A versatile medium, tempera can also be mixed in with other elements such as salt, flour or sand to create thick textured paint, or add white glue and water to make tempera similar to acrylic paint.
Storage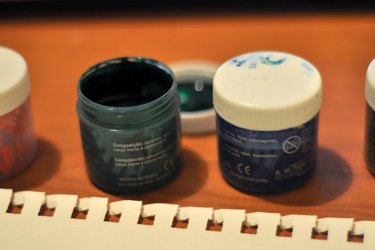 Plastic tubs with airtight lids are the best way to store water-based paints. While working with tempera, try using a muffin tin as a palette, or reusable plastic cups.
Brushes
Soft brushes made of synthetic bristles are best to use with tempera paint. Fingers and sponges are also good choices. For thicker paint, palette knives or household utensils such as the back side of a spoon are effective.
Warning
Make sure to wash out your brushes thoroughly immediately after painting. Tempera is nearly impossible to remove from bristles after it dries. Wash with soap and warm water and store your brushes bristles up to not damage the brush. If paint dries in the brush, try soaking it overnight in liquid fabric softener.