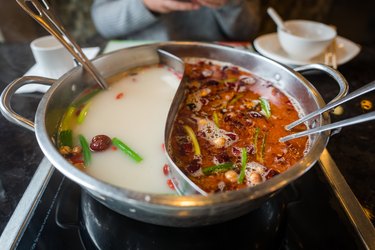 If cold winter weather has got you in the mood for a nice, hot meal, consider adding an electric hot pot cooker to your kitchen collection. Based on the traditional Chinese method of cooking, in which meat, vegetables and tofu are simmered in a hot pot of flavorful broth, modern hot pots are table- or counter-top ready and exchange open flames for electric power sources. Today, hot pot cookers are used to cook Chinese hot pot, Japanese ‌shabu shabu‌, Korean ‌jeongol‌ and more, and not only are these dishes packed with flavor, but they also tend to be pretty healthy, using fresh ingredients and cutting out the need for cooking oil or lard. And if you're one of those people who always feels cold, a good hot pot meal will warm you up from the inside out.
Maybe you've already tried this type of cooking at a restaurant before (and you LOVED it, right?), and if you have, you know that it can get pretty pricey fairly quickly, mainly due to the fresh, high-quality ingredients like sliced meats and vegetables. While it's more effort to prepare at home, DIY hot pot can potentially cost less than eating out, and it makes for a great night ‌in‌ that you can enjoy by yourself or with a few friends, as most electric hot pots are designed to feed two to four people at once.
What to Consider When Purchasing an Electric Hot Pot
‌Material:‌ The interior of most electric hot pots is either made of stainless steel or coated or features a nonstick coating. While nonstick varieties are often easier to cook in and clean, they're not the best fit if you prefer to avoid the chemicals found in nonstick coatings, or else don't want to worry about scratching the coating with metal utensils. In that case, opt for a stainless steel model instead. Stainless steel models will require a bit more effort to keep clean, but the upside is that the material tends to be more durable and long-lasting. Plus, you don't have to worry about which utensils are safe to use with it, and you'll be able to minimize scratches.
‌Capacity:‌ Electric hot pots come in many sizes that vary in how much food they can hold. The majority of models fall within a range of around 1 1/2 to 5 quarts. Consider how many people you normally plan to feed with a hot pot meal. For instance, if you plan to use a hot pot for entertaining, you'll want to choose one with a larger capacity. On the other hand, if you're typically dining alone or with just one other person, a smaller model may fit your needs and be a bit easier to store.
‌Design/Accessories:‌ Some electric hot pots are divided into compartments, which affords you some cooking versatility. This is especially useful if you want to cook in two different broths, or like to keep certain ingredients separate from each other (meat from veggies, for example). While grilling capabilities aren't a standard feature on hot pots, some models are designed with a divider and separate cooking surfaces for grilling and simmering, allowing you to do both at the same time. On some models, both sections are built-in, creating a single unit, while in other models, either the grill/barbecue plate or the simmer pot may be removable, which can make it easier to load up on ingredients.
Hot pot models that combine simmering and grilling come in a few different configurations. In some designs, a round or square pot forms the centerpiece, with a round or square grilling plate forming the perimeter, allowing for 360-degree grilling accessibility. Other models may feature a round or square pot with a rectangular grilling plate adjacent on one or more sides. Some hot pots also include steaming racks and vented lids for added versatility.
‌Safety Features:‌ When it comes to hot pot safety, look out for a few key features that will keep your space and diners protected. Make sure that the electrical cord is long enough to reach the table from the outlet. The cords on some electric hot pots attach with magnets, so if it's accidentally pulled, it will detach from the pot without spilling the hot pot contents; a nifty feature. Many hot pot models feature stay-cool handles and/or bases to keep diners' fingers and hands safe from burns. Some hot pot cookers also have nonslip feet to give the pot extra traction on the table, helping you avoid accidental scalding-hot spills.
The Best Overall Electric Hot Pot
The Sonya Shabu Shabu hot pot is the most traditional-looking model on our list, but in many ways, that basis in tradition makes it among the best. This stainless steel electric hot pot comes with a divider that makes it possible to separate meat or seafood from vegetables, cook different broths, and for diners sitting on either side of the pot to either customize their hot pot or divide cooking responsibilities. With a large 5-liter capacity, this hot pot will work well to serve up to six people. It's also easy to clean as the cooking pot is removable. Other details on this hot pot that make it so worth a purchase are the heat resistant-handles, slip-resistant silicone feet and the transparent glass lid that allows you to clearly see the contents that are cooking.
Tip
The Sonya hot pot is a highly sought-after model that is frequently out of stock. In that case, we recommend the Shabu Shabu Mongolian Hot Pot by M.V. Trading, available on Amazon, which is very similar. It has a 4-liter capacity instead of 5 liters, and it's just slightly less powerful (1400 watts), but it's our pick if the Sonya model isn't available.
‌Power:‌ 1500W
‌Capacity:‌ 5 l.
‌Temperature Control Settings:‌ 4
If your friends or family prefer varying levels of spice, this traditional hot pot with a dual-pot bowl allows you to cook two types of soup at the same time. At a powerful 1500 watts, this model has five settings that allow for quick and even heating without using too much energy. Use the temperature dial on the front to choose from low, medium and high heat settings so that your broth doesn't overheat and bubble over. The pot's generous 5-quart total capacity offers enough room to sufficiently feed a family of four or more people. One thoughtful design feature is the steam vent in the lid, which allows you to steam dumplings in the pot, in addition to traditional hot pot cooking. The stainless steel pot comes with a tempered-glass lid, and both are dishwasher-safe for easy-peasy cleanup. One caveat is that sometimes the compartments heat at different rates, so one group might hungrily eye the other group chowing down first with short-lived envy!
‌Power:‌ 1500W
‌Capacity:‌ 5 qts.
‌Temperature Control Settings:‌ Low, medium, high, warm
The Best Hot Pot/Grill Combo
For those who value cooking versatility and want to be able to feed more people at once, this combination of electric hot pot and griddle will be a hit at small dinner get-togethers. Made from a cast aluminum body with a nonstick coating, the configuration of a round hot pot adjacent to an elongated grilling platform makes it easy to split simmering and grilling responsibilities based on where people are sitting. The hot pot boasts a 5-quart capacity and comes with a divider so you can cook two types of broth at once, while the grill provides over 122 square inches of cooking surface area. Since it's a combination cooker, it does use more energy—2400 watts—but it makes up for it with independent temperature control and five temperature adjustments. Its elongated shape may make storage a little trickier, but the flat grilling surface is ample enough that you can probably maximize space by stacking small pots or pans on top.
‌Power:‌ 2400W
‌Capacity:‌ 5 qts.
‌Temperature Control Settings:‌ 5
The Best High-End Hot Pot
If you're willing to splurge a bit on a premium, multi-functional cooking device, the Zojirushi electric skillet is an excellent choice. This device is a hot pot and skillet in one, which can be used for sautéing, stewing, boiling and grilling. The skillet itself has a ceramic surface with a titanium nonstick coating, making cleanup simple. It has high heat conductivity, meaning you can takes less time to get hot, and can heat up to 430 degrees. The handles, however, will remain cool no matter how heated the skillet is. A huge benefit to using this electric skillet is that you can remove the cooking pan and use it on the stovetop, as well. The skillet pan measures 2 1/4 inches tall, so some people may consider it a bit too shallow for traditional hot pot or shabu shabu and better for grilling instead, but it should work if you refill the broth water from time to time.
‌Power:‌ 1500W
‌Capacity:‌ Approx. 3.4 qts.
‌Temperature Control Settings:‌ 4
If you're only going to be cooking for yourself and don't have lots of kitchen storage, the Dezin electric hot pot is the most compact and user-friendly hot pot on the market. With a capacity of just 1 1/2 liters, this hot pot is ideal for solo diners who need an easy way to enjoy hot pot, as well as sauté, cook eggs and make noodles like ramen and udon. The nonstick coating on the pot makes it super easy to clean: All you need to do is to wipe the pot down and rinse it after each use. The key is not getting water near the end of the handle, which has a small opening. With its compact size and user-friendly simplicity, this hot pot is one of the best options for students and people with limited space in the kitchen. As a bonus, the pot comes with a silicone turner spatula, an egg rack and a lid.
‌Power:‌ 600W
‌Capacity:‌ 1.5 liters
‌Temperature Control Settings:‌ 150W - 600W