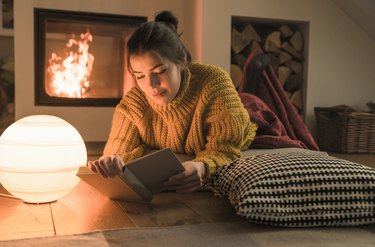 Depending on where you live, the holiday season, while a time of warmth and joy, also means brisk winds, chilly air and even snow. But, at least the season's festivities make it all bearable, right? So what happens in January, after all the year-end holiday fun is over, but you're still stuck with frigid weather? Brrrrrring a torch, Jeanette, Isabella, indeed! Hopefully, Santa brings you something warm and fuzzy so you don't feel like you're going to freeze to death in your own living room, but if he doesn't, you can take matters into your own hands and keep yourself and your household cozy all winter long with these great (and even giftable) products—including ways to keep cozy on-the-go.
If you don't have a regular heater installed or wish to cut back on your energy bill without freezing inside your home, a space heater can keep you warm and comfortable. Unlike traditional heaters, which pump heated air through vents throughout your home, space heaters are designed to heat a small area, and this ETL-certified small space heater from Brightown is safe to use under your desk at work, next to your work station, on a bedside table and more. At just 400 watts, it's more economical than running the heater all night, and its quiet operation means you can even leave it running overnight without disturbing your sleep.
While this space heater isn't enough to keep you sufficiently warm if you live in a harsh cold climate, it's a convenient and portable way (it even features a built-in handle) to provide some extra warmth to a local area of around 100 square feet. It comes with a 5 1/2-foot cord with two prong connections, so you can plug it in just about anywhere, and its compact size (smaller than most backpacks) makes it easy to bring to the office or move from room to room.
Keeping the temperature warm isn't the only way to feel cozy; inviting aromas work, too! And if you're big on burning candles, a candle warmer lamp is a safer alternative to open flame candles or traditional electric candle warmers. Candle warmer lamps, a trend that recently emerged on TikTok, use halogen light bulbs to heat the candle from the top-down, whereas electric candle warmers (which can double as mug warmers) heat them from the bottom-up in a small dish or basin. Especially if you've got rambunctious kids or pets around, a candle warmer lamp is a safer way to enjoy your favorite candle scents without the risk of accidentally knocking over a lit candle. Plus, with a candle warmer lamp, there's no smoke, so it's better for people with sensitivities.
This sleek-looking candle warmer lamp from LIFELUM features a generously-sized platform to accommodate candle jars of various sizes. Its flexible neck allows you to adjust the height of the bulb according to the size of your candle, as well, allowing for some customization. The lamp features a two/four/eight-hour timer and a 25/50/75/100% temperature dimmer control so you can experience scents at different strengths. It comes with two lightbulbs and one anti-slip silicone pad and is available in black or white. For more great candle warmer selections, check out eHow's candle warmer lamp review.
A Humidifier to Warm the Air
Humidifiers aren't just good for relieving cold and allergy symptoms; they can actually make the air feel warmer, too. During the winter months, the air is typically dryer, and if you've got the heater running, that can remove even more moisture from the air. A humidifier helps keep moisture levels in the air up, which not only helps prevent nosebleeds and cracked lips, but also provides a warm, soothing feel to the air. Pairing a humidifier with heater use is especially helpful, as higher humidity means less work for your heating system. Contrary to what you might expect, both warm and cool mist humidifiers can help the air feel warmer.
This smart humidifier from LEVOIT is quiet, easy to use, features a spill-proof design and connects to the Vesync app for convenient monitoring and voice control (when paired to a third-party device). Its 6-liter tank lasts up to 50 hours and provides coverage for rooms up to 753 square feet, so it's a great choice for larger home spaces where people congregate. The humidifier includes an aroma box so you can add essential oils and enjoy your favorite scents, as well. The LEVOIT Classic 300S Ultrasonic Smart Humidifier is also an excellent streamlined option.
A Way to Keep Your Drinks Hot
Maybe it's just us, but hot drinks feel even cozier when served in mugs, and there's nothing quite like a hot mug of coffee, tea, cider or hot cocoa to feel some warmth in your bones during the winter. But regular mugs don't keep your drinks hot. Well, this insulated mug from Hydro Flask is just what you need. Handle? Check. Closeable, press-in lid? Check. TempShield double-wall vacuum insulation? Check. Plus, it's available in eleven different colors and three different sizes: 6 ounces, 12 ounces and 24 ounces. Whether you're snuggling up under a blanket with a good book or trying to keep warm at the office, this mug is your friend. For more travel-friendly options, we recommend the classic Hydro Flask Wide Mouth Straw Lid model (which you can pair with a Hydro Flask Wide Mouth Lid) or the Stanley Classic Insulated Wide Mouth Bottle, which includes a convenient pull-out handle.
Tip
Remember that these insulated mugs and bottles are intended to keep drinks at the same temperature for a long time, so hot drinks won't have much of a chance to cool off like they would in regular mugs. If you don't want to burn your mouth, let your drink cool a bit before pouring it in, or don't make it too hot to begin with.
You probably remember those cringey Snuggie® commercials from the late 2000s that became the subject of ridicule due to their cheesiness, right? Good idea, bad commercial. Dozens of Snuggie competitors have popped up since then, so if you don't want to be associated with those embarrassing commercials but want to enjoy the luxury of a blanket with sleeves, you're in luck. This super cozy blanket hoodie from Waitu not only looks better than the original Snuggie, but comes in 24 different colors and patterns, including red-and-black plaid and camo. Made from a soft polyester and flannel, it includes a gigantic pocket and comes with a hood for added warmth. The sizing is one-size-fits-most-adults. Some options even include sherpa fleece for extra softness. To clean it, just machine-wash and tumble-dry on low (don't iron or bleach it). Now, you can read a book, change the TV channel or use your phone without exposing your arms to the chilly air.
To go along with your snuggly blanket hoodie, why not step into a pair of cozy slippers? Sure, you could just wear socks around the house, but c'mon, winter is THE time to wear slippers! And these unisex, wool-like slippers (which came in as our top pick in our Best Slippers roundup) feel even better than they look. Available in both men's and women's sizes, these house shoes feature a warm fleece collar and lining to keep the top of your foot and back of your heel extra snuggly, as well as a high-density memory foam padding so every step you take exudes comfort. The sturdy rubber soles are anti-slip to help you walk more safely, too. They're even machine-washable. Choose from 12 different colors, mainly a selection of dark reds, blues and blacks.
OK, hear us out: Earmuffs are great and can also be a stylish accessory, but for people who don't live in snowy climates—yet want to protect their ears from the cold—they can feel a little silly. If earmuffs aren't really your thing, or if you want something cozy for your head when it's chilly but not snowy, you might like an ear warmer headband instead. We love these hand-knitted headbands by Pachamamma Woollies on Etsy. They're fair trade and responsibly handmade in Nepal using 100% wool for the outer material and 100% polyester fleece linings. Not only does it look fantastic, with its Fair Isle diamond pattern, but it will keep your ears nice and snuggly, and keep your forehead warm, too.
A Pair of Fingerless Gloves
Fingerless gloves might not make sense to you, but they actually work. While some body heat may be lost by not covering the fingertips, keeping your wrists warm does help keep your hands warm, too. Plus, with fingerless gloves, you can still use your smartphone or pick up your dog's waste on a walk, which is really convenient.
You get all the benefits mentioned above with these comfy fingerless gloves from AndeanSun. Made of 93% alpaca hair, they provide excellent thermal protection and comfort. They're designed to expose just the upper third of the finger (on most hands), and not the whole length of the finger, so you get most of the warmth from regular gloves while still being able to use touch screens on your devices. The gloves also cover your wrists to keep you extra warm. They're available in four sizes to fit most people and come in five different colors.
An Electric Fireplace Heater
If you don't have a real wood-burning fireplace, and if a small space heater isn't going to cut it for you, consider investing in an electric fireplace heater to add both charm and real warmth to your living space. This model from Wrought Studio mounts to your wall to mimic a modern built-in fireplace and boasts a realistic LED flame effect that you can control via the included remote, so you can adjust the heat settings and brightness from anywhere in the room. But what about its heat? You don't want one just for the look, right? The Allmar model provides warmth for rooms up to 400 square feet, so it's perfect for living rooms or great rooms in houses and apartments, as well as office lobbies. The electric fireplace measures 36 inches long, 22 inches tall and just 3 3/4 inches thick, so it's an excellent space-saving option that barely protrudes from the wall. For more high-quality electric fireplace options, check out our roundup of the best electric fireplace heaters.