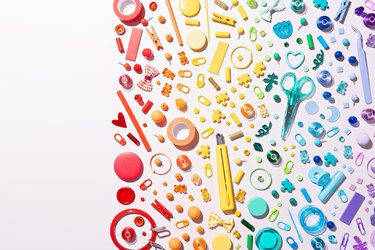 Once the hustle and bustle of the holidays has settled and every wreath has been returned to its rightful home in the storage room, you might find yourself searching for a meaningful way to relax and recharge. Sweep that stray NYE confetti off the floor and set it aside to be reused, 'cause we've got some reflective and refreshing crafts for the new year that will put you in a creative mood as January rolls on.
Whether you're rounding up a list of fun ideas for the whole family or adding a few solo DIY projects to your list of New Year's resolutions, these crafts for the new year offer a rewarding way to embrace your love of making throughout the coming weeks. We scoured social media for craft ideas and inspiration from some of the internet's most talented creators and crafters. Cheers to a DIY new year!
No brand-new year is complete without a brand-new calendar to keep track of everything on your docket. You could snag a premade option at the store or use that free wall calendar mailed out annually by your local realtor, but where's the fun in that? TikToker @cloudyveras proves that DIYing your very own desk calendar isn't so hard—it just takes paper, colorful markers, cute designs and perhaps a piece of washi tape to adhere it to the wall above your desk. Adorable!
2. Sentimental embroidery journal
If you're a sucker for sentimentality and colorful crafting, an embroidery journal definitely belongs on your list of crafts for the new year. To start, you'll want to separate an embroidery hoop into 12 sections: one for every month of the year. As Instagramer @hannahlouisestitches demonstrates with her nearly completed 2022 embroidery journal, you'll simply fill each month with words, designs and woven illustrations to represent each month. Just imagine a decade full of these incredible commemorative creations!
3. Cute and cozy puff quilt
You've heard of traditional quilts, but are you familiar with puff quilts? They're essentially exactly what they sound like: a soft, puffier version of a normal quilt wherein each square is "puffed" with a soft Poly-fil material. TikToker @emandbear_ is something of an expert on puff quilts, having shared tutorials on her account for creating finished quilts of all shapes and sizes. Can't you imagine curling up under one of these soft, handmade creations on a cold winter night?
4. "Use what you have" journal
If sustainability is on your list of goals for the new year, consider making a "Use What You Have" journal from, well, whatever you have in the house! TikTok crafter @agirlwithanaccent provides impressive examples of her own recycled journals, crafted with everything from empty tissue boxes to Amazon shipping mailers (and we all certainly have our fair share of those left over after the holidays).
Our next craft is all about honoring the sweetest moments in life. Instagram DIYer @lioninthetrees shares a photo of her annual memory jar, which features twine, paint, colorful paper and even a handmade tiger charm. The purpose of a memory jar is to collect handwritten notes, trinkets, small photos and other remnants of memorable moments throughout the year to come. Create your jar in early January and add to it all year—then open it at a New Year's party for a trip down memory lane.
Looking for a kid-friendly craft that won't break the bank and will add an easy dash of color to your surroundings? Consider collecting and painting rocks like TikTok artist @electricmandala, who turns ordinary rocks into beautiful works of art with a colorful dotted mandala style. You don't have to get too fancy, though—rock-painting is a wonderful way to express yourself without rules. Better yet, create a kindness rock (see our "Crafts That Give Back" article for details) and leave it in nature to brighten someone else's day.
7. Thoughtful time capsule
TikToker @macyhardin presents another great craft idea for the new year: DIY time capsules. You can really get creative with this idea—use anything from a leftover shoebox to a wood or glass container that can be painted to your liking. Inside, place remnants of the present year and decide on a date for opening it. What a fun way to embrace the passage of time while looking back at what matters most in the moment!
8. Cottagecore-inspired moss tray
The arrival of a new year brings feelings of hope and possibility for many. Reflect these feelings by creating art with moss or other vibrant plants! TikTok crafter @dovahviing demonstrates a cute cottagecore-inspired project for the new year that incorporates a simple acrylic tray, craft glue, a Popsicle stick, grass powder, preserved moss and dried flowers. The resulting moss tray is an easy craft that will add fresh charm to your home.
9. Thrifted clock wall art
In the mood for something funky and creative to kick off the new year? Consider this watch wall art DIY from @thriftstorejor on TikTok, who uses a thrifted wall clock, place mats and paint to make a whimsical piece of usable wall art that will make a perfect countdown clock during next year's New Year's Eve celebration! There's no particular template for this piece—simply let your imagination run amok!
10. Recycled planner journal
Aiming to do more journaling in the new year? Record your thoughts in a sustainable way with this DIY recycled planner journal, expertly exemplified by TikTok DIYer @nevermindlisa. The video itself is a throwback from 2021, but the idea stands: Use last year's planner pages to create recycled paper and build a journal for the new year. This is especially useful if you're not ready to part with your planner's pretty cover!
11. Beginner-friendly crochet
The new year is a great time to embrace crafts you've never tried before—like crochet! If you've always wanted to try your hand at this relaxing art form but haven't quite found the time to test it out, add it to your to-do list for the brand-new year and check out TikToker @loopswithhooks's video for easy, largely beginner-friendly crochet ideas (think keychains or cute plush animals) that can be completed in under an hour. You don't have to start with intimidating scarves and sweaters!
If you draw energy and inspiration from visualizing your goals and dreams, a vision board might just be the perfect craft. There are so many ways to approach your DIY vision board: You can print inspiring quotes and images like TikToker @talkingoutofturn does, load your board with glitter and paint, opt for crayon and marker illustrations or rely on cut-out magazine photos. Fill your board with words and images that fill you with good vibes for the coming year.
When you're ready to fill your calendar with fun activities that will keep your crafty spirit inspired in the new year, consider these TikTok and Instagram treasures. Winter excitement certainly doesn't end when the ball drops and the New Year's Eve party hats have been stowed away—after all, you've got 12 months of marvelous making to look forward to. Here's to a rejuvenating and craft-filled year!