We all know we ‌should‌ clean our fruits and vegetables after bringing them home from the grocery store, but how many of us actually do? If you're ready to up your game in the kitchen, we've found three TikTokers to show us the what, when, why and how of produce cleaning. Before you know it, you'll be serving the freshest fruits and veggies around.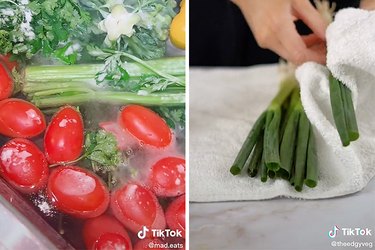 First, creator @mad.eats shows us a tried and true method for cleaning produce: Place your fruits and vegetables in water and then add baking soda and vinegar. Let your produce sit in this bath for about 15 minutes. Next, rinse with cool water and let everything air dry. It's that easy! As the creator mentions in the comments, be sure your sink is properly sanitized beforehand or fill up a few bowls with the cleaning mixture instead.
As TikToker @ocwarrior19 says, running your produce under water alone isn't enough to guarantee clean fruits and veggies. This creator leaves her grapes in a mixture of water and white vinegar (no baking soda this time) for 20 minutes. Based on what's left behind afterward, we'd say it's a good thing she did! While we're grateful for the soil that grows our produce, we don't really want to be eating it.
This last video from @theedgyveg is a great reminder that washing produce is not only sanitary but cost-effective. The creator says they wash their produce in a 1:3 ratio of vinegar to water to kill bacteria that would otherwise "break down food more quickly." They also offer helpful tips for food storage after washing, like placing berries in airtight containers with paper towels to help maintain freshness. Thanks, @theedgyveg!
Thanks for coming to Produce Washing 101—we hope you learned as much as we did!