If you ask us, cast iron skillets are best used to make decadent desserts. They might not be your go-to baking vessel, but social media is oozing with sweet skillet ideas that will have you tossing your savory recipes aside. Whether you're craving an apple crumble for one or a giant cookie to share with the whole family, these TikTok creators have you covered with video tutorials.
Talk about putting the ‌skill‌ in skillet, right?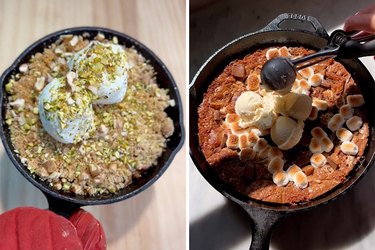 First up is @taniamannotra's delicious dessert for one: apple crumble in a skillet. We love that this recipe only calls for one apple and that the remaining ingredients are kitchen staples, so you probably already have them on hand. This video also demonstrates why the skillet is versatile and perfect for dessert: You can cook your apple mixture on the stove before moving the entire skillet to the oven to bake. Brilliant!
Our second skillet dessert comes from @whatsgabycookin, who makes a s'mores pizookie. If you're unfamiliar with the term "pizookie," it means "pizza cookie"—a giant cookie that's nearly the size of a pizza and can be cut into slices. We love the s'mores angle used here, and our mouths are watering just looking at those toasted marshmallows. Don't forget to eat your s'mores pizookie straight out of the skillet when it's warm and gooey, just like the creator suggests.
Last but certainly not least, @bromabakery shows us how to upgrade the classic chocolate chip cookie pizookie—just add Nutella! She uses an entire jar of the beloved chocolate-hazelnut spread to add gooeyness and flavor, and the results look absolutely heavenly. She also suggests coating the entire skillet with a cube of butter before baking. Noted!
The next time you're craving something decadent, pull out that cast iron skillet! These inventive desserts offer a whole new world of inspiration when you're looking for sweet, totally indulgent bakes.