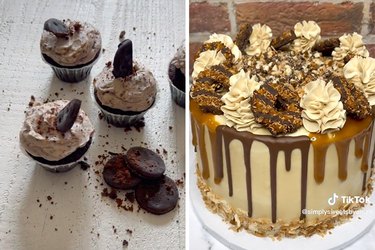 Whether you have a fresh Girl Scout cookies order on the way or you've just discovered a long-forgotten box from last year tucked away in your cupboard, one thing is for sure: Girl Scout cookies should never go to waste. These beloved treats are delicious all on their own, but have you ever considered incorporating Girl Scout cookies as ingredients in even more decadent dessert recipes?
To inspire you, we turned to TikTok and rounded up three of the most creative and indulgent ways to enjoy Girl Scout cookies. You'll never again have to ask: What do I do with all those extra Girl Scout cookies? Best of all, these recipes incorporate arguably the most popular Girl Scout cookie flavors: Samoas, Thin Mints and Tagalongs.
So, without further adieu, let's get ready to dig in!
First up, for the Samoas fans, @simplysweetsbyaniya has baked the most gorgeous Girl Scout cookie cake we've ever laid eyes on. Even if you're not a huge fan of Samoas (aka Caramel deLites), there's just something divine about digging into a Samoa with all its sweet, chewy deliciousness. Aniya shows off a stunning cake topped with alternating chocolate and caramel sauces, dollops of cream and, of course, Samoas galore. We'd devour this cake—Scout's honor.
Girl Scout cookie flavors can be divisive, but it's safe to say that Thin Mints are among the most popular. After all, what's not to love about perfectly flaky mint goodness coated in rich chocolate? And follow-up question: What could be better than frozen Thin Mints fresh from the freezer?
If you're a Thin Mint fanatic (like we obviously are!), TikToker @honeyhousewife has crafted the dessert recipe of your dreams: Thin Mints-topped chocolate cupcakes. We love that the batter includes chopped-up Junior Mints while the frosting features crumbled Thin Mints for a double dose of flavor. The more mint chocolate magic, the better.
2. Tagalong Peanut Butter Cake
Tagalongs (aka Peanut Butter Patties) might not get quite as much attention as Thin Mints or Samoas, but we think they're just as fantastic. For the Tagalong cookie connoisseur, @theboldenaffect presents a cake topped with whole Tagalongs as well as smaller pieces of the delectable peanut butter and chocolate delights. The placement of each cookie is perfect for ensuring that each slice of cake is garnished with a Tagalong. Talk about peanut butter perfection!
We love the concept of infusing Girl Scout cookie flavors into baked goods and topping them with our beloved yearly treats. Thanks for the ideas, TikTokers!