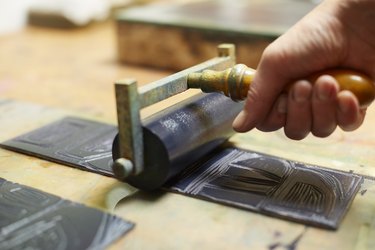 Block printing is an ancient art practice that dates back 4,000 years to China. Originally used to print text using a carved wooden printing block, the method for printing has since transformed into creating textiles with custom patterns that resemble screen printing techniques, carving illustrations, printing on cotton paper and more. Whether you want to try your hand at carving your own stamp for block printing or are more interested in printing with a wooden block, block printing kits are a fantastic entry into the ancient practice.
Up ahead, find the eight best block printing kits for beginners and more advanced crafters, too.
What to Consider When Purchasing a Block Printing Kit
‌Included Supplies and Tools:‌ As with any arts and crafts kit, what comes in a block printing kit is the first thing to consider. Block printing kits should include the supplies you need to create a stamp (which is usually made up of rubber and includes carving tools) as well as tools and supplies for rolling ink on top. If it's a project-based kit, it should also come with the supplies necessary for creating the project, like a tote bag, bandana or cardstock.
‌DIY Project:‌ Not all block printing kits are curated with a specific project in mind. If you want to create a certain project—such as the Folkways Craft Kits ​​Block Printed Napkins Kit—look for kits that are curated in this way. Some block printing kits include tote bag printing canvas printing, and even wood printing.
‌Extra Art Supplies:‌ When shopping for block printing kits, take a close look at what comes in the kit and whether or not you need to purchase extra supplies. Most project-based kits come with everything you need but, should you wish to decorate over items with the rubber stamps, you'll need to provide those separately. It's also a good idea to have some extra cardstock on hand to test the block printing out before trying it out on a project, as well as extra dyes in a variety of colors so you can play with different looks.
‌Drawing Skills:‌ Block printing is tons of fun for most craft skill levels. However, some projects might be more complicated than others—especially for those who don't use their drawing muscles often. If you're working on a block printing project and the craft kit purchased doesn't include a design, creating a stencil and tracing it out is ‌super‌ helpful. For simple shapes, try using templates such as the HESTYA Plastic Circle and Oval Templates or the BTSKY Primary Shapes Template Set on Amazon. If you want something a little more intricate, uploading a clipart or a template from Etsy to the Cricut Design Space and using a Cricut Maker to cut a custom stencil out using a vinyl sticker also works well.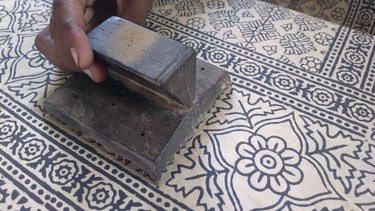 1. ​​Speedball Speedy-Carve Block Printing and Rubber Stamp Making Kit
For less than $15.00, the ​​Speedball Speedy-Carve Block Printing and Rubber Stamp-Making Kit from Amazon is an excellent pick for beginners who don't want to invest too much in a new craft and are looking for more of a stamp-making tool kit. While it doesn't come with a specific project, the kit does include a large 6-by-4-inch Speed-Carve block, a wooden handle, a V-shaped cutter, a U-shaped cutter, and tracing paper, along with a scannable QR code for step-by-step instructions on how to carve and create a printing block. Once complete, you can use the block and ink to print onto cardstock, canvas tote bags, denim jackets and more.
2. Essdee Lino Cutting and Printing Kit
The Essdee Lino Cutting and Printing Kit on Amazon has everything needed to create tons of fun paper crafts using block printing techniques. The block printing starter kit features 22 pieces—including six lino cutters, water-based ink, a hand guard, an ink roller and tray, and lino blocks—to create custom stamps you can use over and over again on greeting cards, art prints and more. Plus, you can buy additional supplies like wooden signs, t-shirts and canvas totes to create more designs with the custom stamps.
3. Speedball Block Printing Kit for Fabric and Paper
For fabric-printing jobs, the Speedball Fabric and Paper Block Printing Kit at Walmart has everything you need to get started. The kit includes six 1.25-ounce tubes of fabric block printing ink, which you can roll on top of a custom-carved stamp and apply to all sorts of materials including cotton and polyester blend fabrics, as well as paper. Once printed fabric cures, it can be washed, too!
4. CatePaperCo Magnolia Wood Block Printing Kit
Etsy has some of the best arts and crafts kits, and block printing is no exception. This is a great kit to add to your wishlist for anyone wanting to try block printing but isn't as interested in carving their own stamps, since the CatePaperCo Magnolia Wood Block Printing Kit comes with two pre-carved wood printing blocks. In addition to the stamps, it features 10 cotton printing paper sheets, a wooden barren, a rubber brayer, nontoxic water-based printing ink, an acrylic ink plate and step-by-step instructions. For an extra fee, you can also add on a cotton artist's apron.
5. TexturesFactory Block Printing Kit - Botanical
For a deep dive into the art of block printing, consider the TexturesFactory Botanical Block Printing Kit. This kit has everything needed to learn how to block print and make custom printing plates, including rollers, textile paints, marking chalk and a fabric scarf project. It also has several step-by-step guides on how to block print, including how to create composition on fabric.
6. FolkwaysCraftKits Block Printed Napkins Kit
Cloth napkins make for an easy and fun block printing experience—and the FolkwaysCraftKits ​​Block Printed Napkins Kit includes all of the necessary supplies and tools to get the job done. The kit features a set of four 20-by-20-inch cotton napkins, a 100% recycled rubber printing plate, and a Speedball linoleum cutter set with five different-sized blades, along with several other block printing tools and a detailed instruction booklet on how to block print on fabric napkins.
7. CatePaperCo Geometric Shapes Wood Block Printing Kit
While printing with a rubber block is fun and allows for a lot of customization since it's so easy to carve, wood printing blocks also offer a fantastic printing experience. For a wood block printing kit, consider the CatePaperCo Geometric Shapes Wood Block Printing Kit, which comes with three fun geometric wooden stamps, cotton printing paper and other necessary supplies—including the option to add an apron to your order at checkout—to create your first block prints.
8. TexturesFactory Blockprinting Kit - Matisse
Inspired by the artist Henri Matisse, this block printing kit from TexturesFactory on Etsy is a must-try for anyone who loves art and bright colors and shapes. This kit includes everything needed—such as printing blocks, ink, paint and rollers—to make a fun patterned scarf in a color of your choosing. On top of that, you can select the paint color theme too, with options like pink/black/yellow, red/blue/green, and yellow/blue/black.