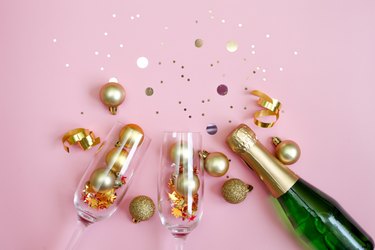 Fact: New Year's Eve parties were not designed for morning people or people who—try as they might—just can't seem to keep their eyes open until midnight. If you fall into one of these categories (or if you're looking for a playful way to celebrate the new year with little ones while maintaining their sleep routine), we've got you covered. Move over, traditional New Year's Eve parties! There's a new celebration on the winter scene, and it takes place in broad daylight without compromising on fun. That's right. This January, ring in a brand-new year with something novel: a New Year's Day party.
There might not be a fireworks display or an open bar, but this midday gathering makes for something wonderfully different. Here are a few party ideas and a dash of inspo to kick off your daytime bash.
1. Keep it bright and cheery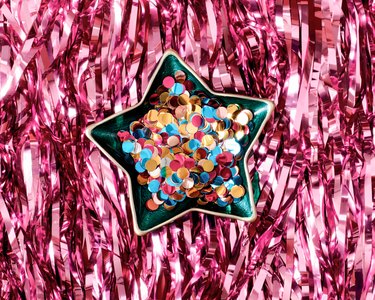 While New Year's Eve parties might be all about letting loose, basking in the fun of being out past bedtime and enjoying a few (or more than a few) adult beverages, your New Year's Day party offers the perfect opportunity to embrace the sense of renewal that accompanies a brand-new year. After all, the sun has set on the year past, so choose bright, colorful decor that reflects feelings of hopefulness and fresh palettes.
Think: whimsical garlands, whether handmade or snagged from your favorite Etsy creator. Check out our magical DIY mushroom garland, which would make a fantastic addition to a New Year's Day "garden party" or draw inspo from this colorful snowflake garland from Etsy shop forrestandmeadow, which keeps the winter vibes alive with a vibrant twist.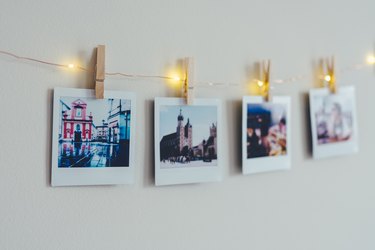 It's impossible to ring in the new year without looking back at the old year, and this is much easier to do when the lights are on and minds are clear! Resolutions get all the love at New Year's Eve celebrations, but there's something wonderful about admiring the victories (both small and large) of a previous year.
Ask every attendee to write down their favorite memory from the past 12 months or—better yet—request that each partygoer bring a framed photo of their favorite recent memory to add a personal touch to the New Year's Day party decor. Tape or string memories and photos to a wall and take time to admire each one.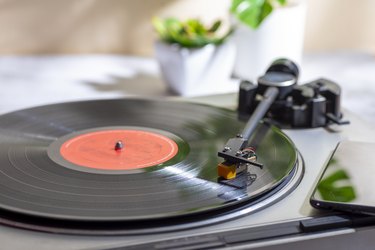 Set up a midday dance floor and play tunes from throughout the generations so everyone can take part in a bit of active fun while celebrating the new year—no strobe lights required! Better yet, play some games while you do so in order to get even the dance-resistant people at your party (we're looking at you, Uncle Jack) moving and grooving. A game of freeze dance, anyone?
4. Get crafty with DIY calendars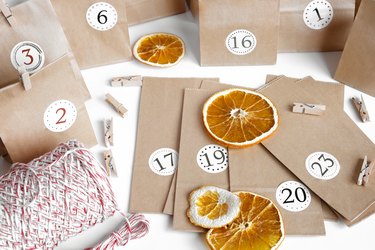 January 1 is the perfect time to update—or make—your brand-new calendar! Add a crafty element to your New Year's Day party with an easy and useful craft: calendar-making. Set up a table with art supplies galore, from construction paper to crayons to hole-punchers, confetti, glitter, stickers and string. Guests can create their own calendars (or just decorated preprinted calendar pages) to take home.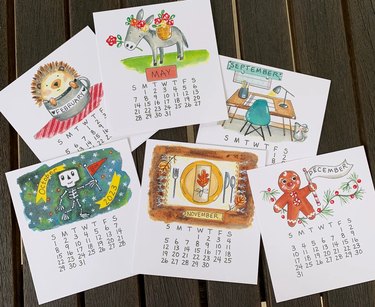 5. Serve an epic brunch (mimosas and all!)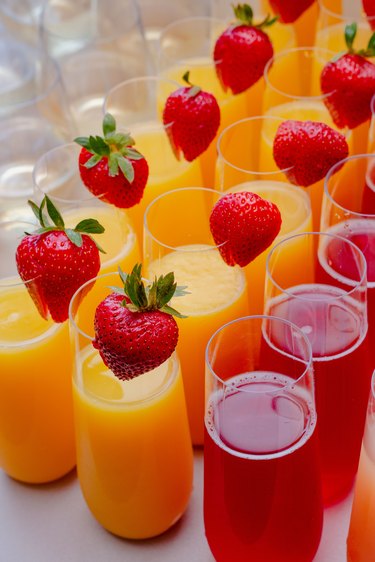 Brunch enthusiasts will be thrilled to walk into your New Year's Day party and find a plethora of unique appetizers and eats, from our everything bagel tater tots to a crowd-pleasing hashbrown casserole that's perfect for a chilly January day. Of course, there's nothing wrong with enjoying a celebratory adult beverage or two during the day, so bring out the mimosas or give our vodka-infused fruit salad recipe a try for something unconventional.
Sweets are a winter party must, so delight your guests with one of these unconventional holiday dips (we're slightly obsessed with the candy cane variety) or set up a hot cocoa bar with marshmallows, whipped cream, peppermint sticks and everything in between.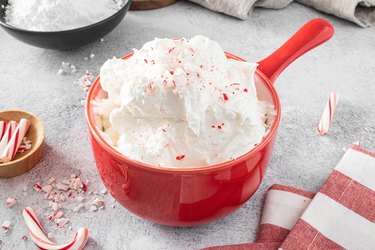 6. Celebrate beloved traditions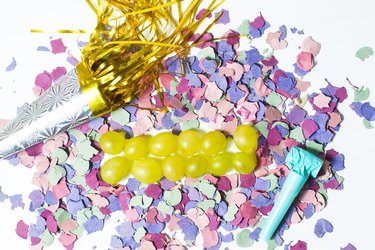 New Year's Eve parties don't always leave much room for cross-cultural connection unless you count checking out live streams of people celebrating across the pond and marveling at the fact that it's already the new year in another part of the world. On New Year's Day, though, there's space and time to incorporate traditions from your family or culture.
For example, in Spain, it's tradition to eat 12 grapes (one for every month of the new year) as the clock strikes midnight to bring good luck. The so-called "twelve lucky grapes" tradition dates back to the late 19th century and is now celebrated throughout Latin America—talk about a tasty way to welcome January!
In addition to celebrating your own traditions, ask each guest to introduce a New Year's custom from their own culture or childhood. You just might find yourself hanging onions on your front door to encourage collective and personal growth during the coming months, as is customary in Greece!
7. Don't skip the countdown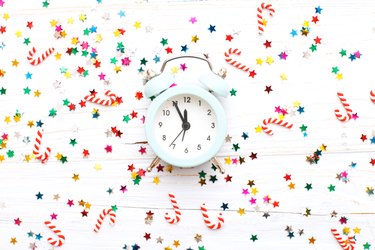 A daytime gathering doesn't mean you have to skip one of the highlights of every New Year's Eve party: the countdown! After all, who wants to miss the chance to sing "Auld Lang Syne" while enjoying a quick smooch with their sweetheart? Turn on a replay of the previous night's official countdown and ball drop or design one of your own by counting down to 12 o'clock... noon! For a fun twist, set up a New Year's balloon drop in your living room. Round it all out with a champagne toast—or, more appropriately, a midmorning tea toast.
8. Gift guests with mini succulents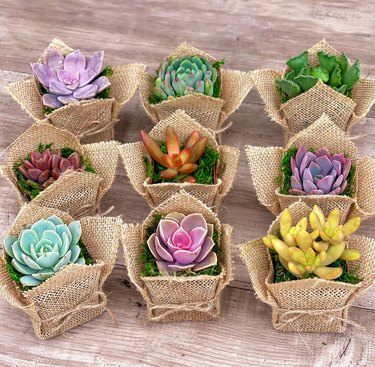 Kick off a brand-new year in the spirit of generosity and sustainability by sending your guests home with party favors that won't end up in the trash. Mini succulents are a charming option, as they can thrive all year long, and they represent the growth and opportunity associated with a brand-new year. Source your succulent party favors from a DIY enthusiast like Etsy artisan Queen of Succulents, who sells potted pieces with or without tags. As the months roll on, each mini succulent will serve as a reminder of the best New Year's Day party ever thrown.
As we inch toward New Year's Eve, go ahead and decline that invitation for a midnight bash. You're about to experience the mother of all New Year's celebrations—and it will happen when the sun is up!