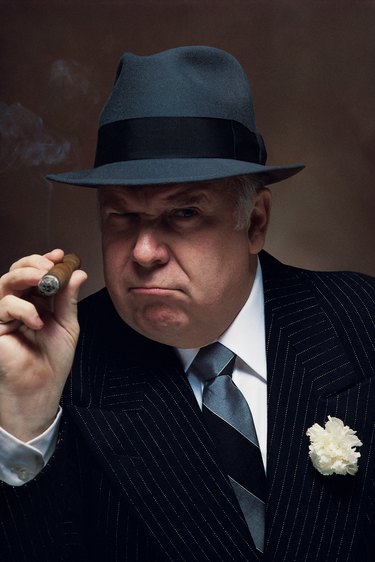 The 1930's were a period of great change, challenges and cultural riches in America. A time when Americans escaped from financial disasters and environmental hardships in movie theaters and they rallied together to celebrate the achievements of an Aaviator from Kansas and quaked in their boots when doing business in Chicago. A time fondly remembered for our ancestor's bravery and ability to endure, a 1930's party could be an uplifting look back at some of the more entertaining details of the period.
Mickey Mouse
On January 13, 1930, Mickey Mouse made his very first appearance as a comic strip in the New York Mirror newspaper. Celebrate his achievement with a 1930 Mickey Mouse themed party. Use the original look of Mickey on your party invitations and invite everyone to wear one mouse-related item to the party. Play a Mickey Mouse trivia game or challenge guests to draw their own version of Mickey.
Gangsters and Rum Running
1930 was a big year for organized crime. Not only was Al Capone arrested on a perjury charge on June 13, but also on February 10, Chicago law indicted 186 people in a huge rum-running plot worth millions. Have a "1930 Chicago Gangster" party featuring rum drinks and rum cake, plenty of gangster related decorations including paper cut out machine guns, old time hats. Add some pictures of Al Capone and period vintage suitcases and images of 1930 vehicles to completely transform your party space. Invite guests to dress up as gangsters or cops and play 1930 trivia games for prizes.
Amelia Earhart
In May 1932, Amelia Earhart became the first woman to fly solo over the Atlantic Ocean. Her life and disappearance is a compelling story full of record-breaking achievements and mysterious endings. With the new focus on her from Hollywood with their 2010 film titled "Amelia," a party to celebrate her legacy and life would excite potential guests. Have guests dress in period clothing and ask each person to come up with her own theory on what happened to Amelia with an eye to a creative and most unusual answer winning the prize. Use aviation themed décor and present a toast in her memory.
Price is Right 1930s Edition
Invite your friends and family to a 1930's Roll Back the Prices Party. Ask friends to come in 1930's costumes and provide classic 1930's snacks and appetizers (see Resources.) Play a game of Price is Right where you ask guests to guess the actual price of common items in the 1930's. Winners can receive a period-related prize such as a Duke Ellington CD or a collection of Charlie Chan episodes on DVD.
Golden Age of Hollywood Party
The 1930s and '40s are considered the Golden Age of Hollywood, so celebrate in style by having a theme-related party. Invite guests to dress up as their favorite Golden Age of Hollywood actor or actress and decorate the party room with period movie posters and gold glitter stars. Have an Old Hollywood trivia contest or costume contest and use 1930's movies on DVD such as "Stagecoach" featuring John Wayne or "Hell's Angels" as prizes.