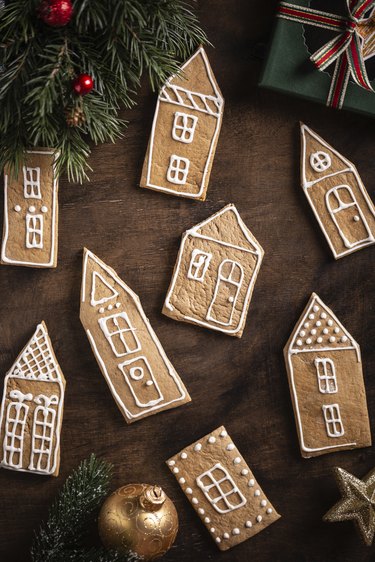 As temperatures drop and the holidays approach, we can't help but think of three things: cozy decor, making fun memories with loved ones and, of course, baking to our heart's content. Luckily, there's a time-honored holiday tradition that combines all three—gingerbread houses.
The tradition of crafting spicy-sweet Christmas cookie houses originated in medieval Europe, and it continues to this day with fun and innovative gingerbread house designs flooding social media every year come Christmastime. And for good reason. A gingerbread house tastes great and adds a pop of fun to any holiday decor. Not to mention that crafting a gingerbread house is one of the only times when playing with your food isn't just okay—it's encouraged!
With that in mind, we put together this list of original gingerbread houses to fuel your holiday creativity. And when we say original, we mean original—no simple gumdrop houses on this list. So browse the gingerbread house decorating ideas below, then get inspired to make your best gingerbread house yet!
1. The Neutral Gingerbread House
If you favor bright whites or earth tones for your interiors (we're looking at you, coastal grandmother!), this is the gingerbread house for you. To re-create the vibe of this creation from @lindsey_interiors, cover your gingerbread house with a generous coat of white frosting. Leave the bright candies behind in favor of details in organic hues of beige, dark green, deep red and brown. Suggested materials to decorate your neutral gingerbread house include cranberries and square-shaped cereal, such as Chex, for roof tiles. You can also add sprigs of rosemary to mimic the look of spruce trees and holiday wreaths.
2. The Charcuterie "Gingerbread" House
Make this savory "gingerbread" house from @ainttooproudtomeg the creative centerpiece of your holiday charcuterie board. It swaps out frosting and candy roof tiles for spreadable soft cheese and slices of salami. Some versions even incorporate vegetables as trees and shrubs. For the finer architectural details, you can include classic charcuterie items such as Marcona almonds, dried or candied fruit, and various types of crackers and bread twists. Or go full-blown savory and bake the structure out of cheesy cracker dough or flatbread.
3. The Mug-Topper Mini Gingerbread House
What's cuter than a mini gingerbread house perched on your mug of hot cocoa (or eggnog, for that matter)? These itty-bitty cookie homes from @owlbbaking are open at the bottom and feature front and back door cutouts that align with the rim of your preferred mug. They're constructed the same way as full-sized gingerbread houses—baked gingerbread cookie pieces secured with frosting "glue." But you can also dunk them in your favorite warm holiday beverage for extra fun.
4. The Fairy-Tale Gingerbread Cottage
Try out this whimsical style, from @lanibakes, for a gingerbread cottage out of a Grimm fairy tale. Though most gingerbread houses call to mind a cozy home in a bucolic setting, you can play up the vibe even more by incorporating winding frosting vines, edible moss and rock candy crystal details. Dark chocolate candy for the roof tiles heightens the illusion that this gingerbread cottage is made from wood.
5. The Gingerbread House That Looks Like Your Own Home
Your house may not be cookie-cutter, but you can re-create it as a cookie! Challenge yourself to whip up a delightful gingerbread version of your own home to display in your kitchen. You'll want to pay special attention to the different textures and designs of your home's facade and play around with creative ways to imitate them with frosting, candy and shaped pieces of gingerbread. Use frosting or powdered sugar if you want to add snow.
6. The Gingerbread Village
Why settle for one gingerbread house when you can construct a whole village? Although it sounds like a lot of work, this might actually be easier to make than a classic gingerbread house because you're not going for a 3D effect. You can use one cookie cutter or hand-cut gingerbread cookies to create different building silhouettes. Once cookies are baked, the details can be drawn on with white frosting. Display your gingerbread cookie village by arranging the houses upright in a thick layer of granulated sugar, or by pressing them into the sides of a simple cake with white frosting.
7. The Dollhouse-Style Gingerbread House
This style of gingerbread house has three walls, with the fourth wall and part of the roof left off to offer a view of the interior, just like an old-school dollhouse. We love this style because it gives you more opportunities to be creative–and flex your home design skills—as you furnish the interior of the gingerbread house too. Try rooms divided with gingerbread walls and furniture sculpted from marzipan or fondant.
Tip
Want to keep your creation beyond the holiday season? Try crafting your gingerbread house out of wood, cardboard or clay. Paint or glue on the details, and store your masterpiece for enjoyment year after year.
8. The Swiss Chalet Gingerbread House
Channel the coziness of a ski weekend in the mountains with this A-frame gingerbread house. Comprised of two triangular gingerbread panels for the walls and two rectangular ones for the roof, this gingerbread home is relatively easy to assemble. Add cutouts for windows with sugar glass for the panes. Then place a strand of battery-operated twinkle lights inside the structure so it appears lit from within. For more of a ski-lodge look, create skis from candy canes or pretzel sticks.
9. The Creepy-Cute Gingerbread House
If ‌The Nightmare Before Christmas‌ best describes your approach to holiday decor, this is the gingerbread house for you. Re-create Jack Skellington's house from the movie, or use Tim Burton's gothic style as inspiration for a gingerbread creation all your own. Mix traditional Christmas details (such as candy Christmas lights) with macabre ones (say, swapping out a doorknob for a candy eyeball!) to achieve a gingerbread house that's as scary as it is sweet.
10. The Mid-Century Modern Gingerbread House
Christmas in Palm Springs, anyone? This funky gingerbread house calls to mind images of Santa sporting a Hawaiian shirt and sunnies. Whether you live somewhere it doesn't snow or you're dreaming of a sun-drenched Christmas getaway, this style of gingerbread house is sure to bring some warmth into your home. Add a candy-and-pretzel palm tree (in lieu of a Christmas tree!) and a kidney-shaped candy pool to complete this mid-century modern gingerbread marvel.