Hot chocolate cocoa bombs are trending right now, and it's easy to see why. These festive and sweet concoctions are fun to use — and delicious, too. With this tutorial, you can make DIY hot chocolate cocoa bombs with your favorite ingredients and seasonal sprinkles. Add one to a mug of hot milk and watch it transform into a cozy wintry drink. Top it off with a good book and soft blanket, and you're all set for the holidays.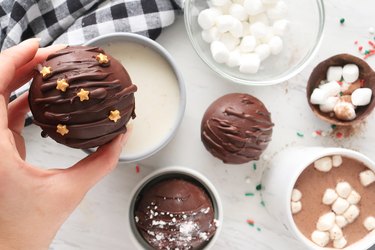 Things You'll Need
2 cups chocolate chips (plus more as needed)

6 tablespoons hot cocoa mix

6 tablespoons freeze-dried mini marshmallows

Crushed candy canes

Sprinkles or edible glitter

Silicone half sphere molds

Paintbrush (clean, new and used just for food)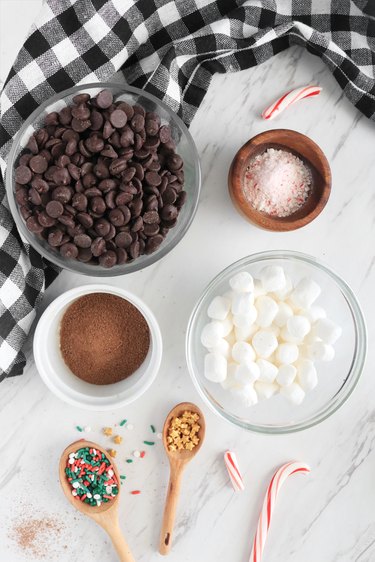 Tip
We used two molds with six 2 1/2-inch wide cavities each. However, you can use a mold with slightly bigger or smaller cavities; just be sure the finished spheres will fit into a mug. Adjust the ingredients accordingly if you're using just one mold.
Step 1
In a microwave-safe bowl, add half the chocolate. Heat in the microwave in 15-second intervals, checking and mixing constantly.
If you don't have a microwave, you can make a double boiler and melt the chocolate on the stovetop. Fill a pot about 1/3 full with water. Place a heat-safe bowl on top, making sure the bottom of the bowl doesn't touch the water. Add the chocolate to the bowl. Bring the water to a simmer and mix the chocolate until melted and smooth.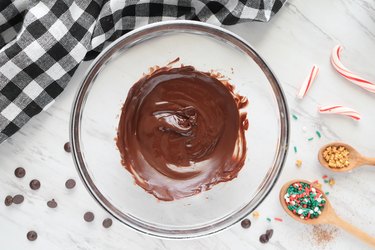 Tip
Melt the chocolate in batches, rather than all at once. This approach prevents extra chocolate from hardening while you fill the molds. Otherwise, you may need keep reheating the chocolate, which can make it clumpy and unusable.
Step 2
Add a heaping tablespoon of melted chocolate to one of the cavities.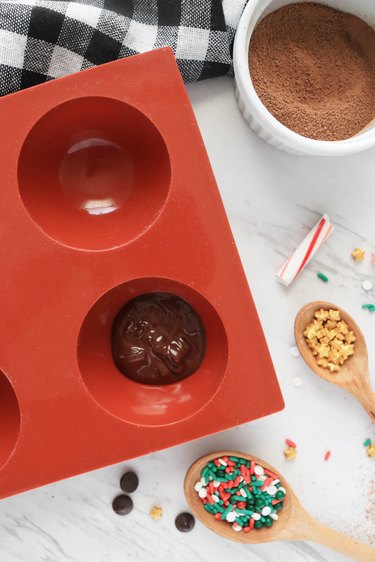 Step 3
With the clean paintbrush, brush the chocolate along the inside of the mold. Try your best to spread the chocolate in an even layer, especially along the edges. (This will make it easier to construct the spheres later on.)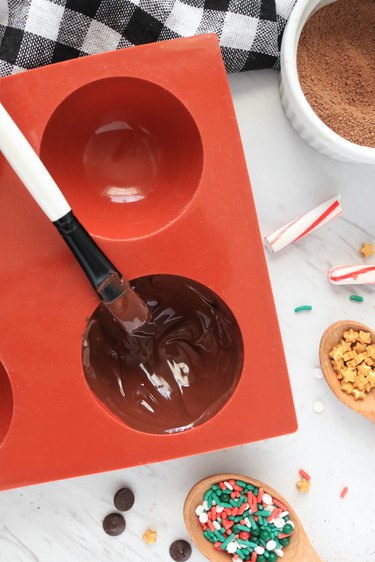 Tip
If you don't have a paintbrush, you can use the back of a spoon.
Repeat with the remaining cavities.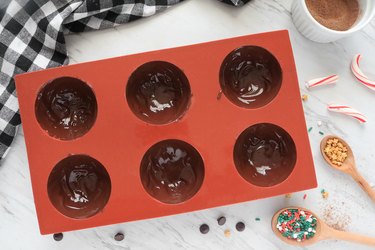 Step 4
Chill in the freezer for 10 minutes or until firm. While the first mold is chilling, melt more chocolate and fill up the second mold.
As the chocolate hardens, check for any cracks or holes. Reapply chocolate and chill as needed.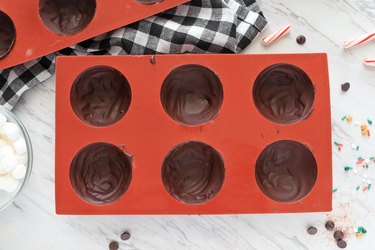 Tip
Just before removing the half spheres from the freezer, prepare a small amount of lukewarm (not hot) melted chocolate and have your brush ready, washed and dried. This way, you'll be ready to quickly stick the half spheres together.
Step 5
When the chocolate is ready, remove one mold from the freezer. Flip it over and press the cavities to release the chocolate.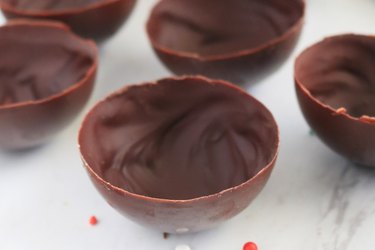 Step 6
Fill half the spheres with freeze-dried marshmallows and hot cocoa, about one tablespoon in each. You can also add sprinkles or edible glitter.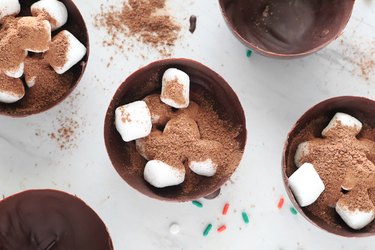 Step 7
Place an empty half on top of a filled half. Brush melted chocolate along the seam to seal. Try to work quickly and handle the chocolate as little as possible.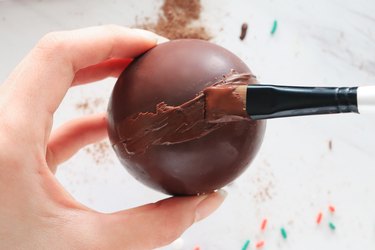 Tip
Brushing the seam with hot chocolate will make the spheres melt, so make sure the melted chocolate is lukewarm or almost room temperature.
Step 8
Place the sealed bomb in the mold to let it dry upright. Repeat with the remaining spheres.
If you'd like, drizzle extra melted chocolate on the bombs and top with sprinkles or crushed candy canes. You can also add graham cracker crumbs, crushed cookies, edible glitter or melted white chocolate. For an extra-festive touch, melt colorful candy melts and drizzle on top of each sphere.
Return to refrigerator to set. For best results, store in the refrigerator until they're ready to use.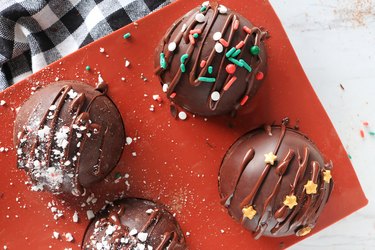 To use a hot chocolate cocoa bomb, add one to a mug of hot milk. The bomb will melt and burst with chocolate-y goodness! Mix well, then enjoy.