It's a bold statement, but we're going to say it: This is the only homemade gingerbread cookie recipe you'll need in your baking repertoire. By varying the shapes and decorating choices, this delicious gingerbread cookie recipe works for every occasion and celebration, so you can tailor it according to your needs. Lucky you.
Things You'll Need
3 cups flour

1 1/2 teaspoons baking powder

3/4 teaspoon baking soda

1/4 teaspoon salt

1 tablespoon ground ginger

2 1/2 teaspoons ground cinnamon

1/2 teaspoon ground cloves

1/4 teaspoon freshly grated nutmeg

6 tablespoons unsalted butter, softened

1/2 cup brown sugar

1 egg

1/2 cup molasses

2 teaspoons vanilla

Zest of 1 lemon

Cookie cutters

Baking sheets


Parchment paper, silicone mat or extra butter for greasing the baking sheet

Royal icing (optional)

Step 1: Start With Dry Ingredients
In a large bowl or standing mixer, combine the dry ingredients: Flour, salt, sugar, baking soda, baking powder, salt and spices.
Tip
For more intensely flavored cookies, add more spices.
Step 2: Add the Wet Ingredients
To the same bowl, add your butter, egg, brown sugar, molasses, vanilla and lemon zest. Mix until your dough comes together. Just beyond the stage seen in this photo, it'll become shiny and more like play dough.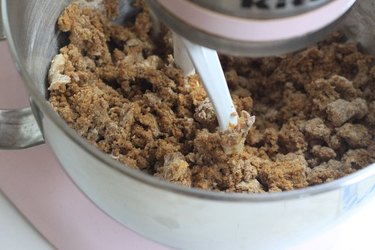 Step 3: Let It Rest
Shape your dough into a log, wrap it in plastic wrap and let the whole thing rest at room temperature for 1 hour (or you can leave it out for up to 8 hours if needed.)
Step 4: Roll the Dough
Working in two batches, roll out your dough with a rolling pin. It should be about 1/4 inch thick. If the dough sticks to your rolling pin, use just a little extra flour on the pin.
Tip
Instead of using lots of flour to create a non-stick surface, roll your dough on the same piece of plastic wrap you just unwrapped it from. It won't stick.
Step 5: Cut and Bake the Cookies
Using a cookie cutter, cut out your gingerbread men from the rolled dough. Place the cookies about an inch apart on a baking sheet lined with either silicone, parchment paper or greased. Bake for 7 to 9 minutes (depending on the size of your cookies) at 375 degrees Fahrenheit.
Tip
To make holiday ornaments, use a straw to cut out a hole for ribbon BEFORE you bake the cookies.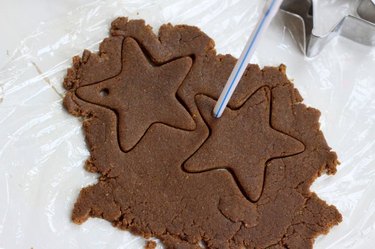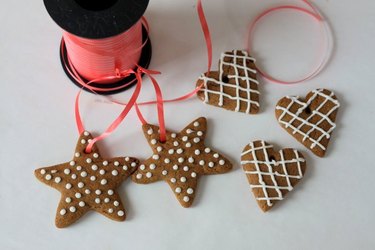 Step 6: Allow to Cool
Whatever shape you choose, cool the cookies completely on a wire rack before frosting.
Step 7: Decorate!
Use a small tipped pastry bag to make lines, polka dots or any other finely detailed pattern. Royal Icing is the best choice because it becomes very firm when dry.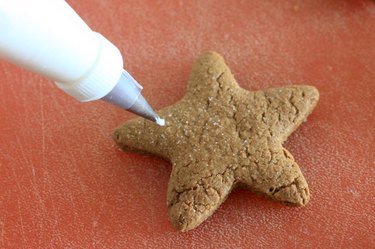 Tip
For a quick decorative touch, melt chocolate chips in a glass measuring cup in the microwave, 30 seconds at a time then stirring to prevent scalding. Drizzle the chocolate over your cookies, or dip half of each one into the liquid chocolate. Alternately, add candies for more color and texture.
Bonus
For a year-round treat, try these same gingerbread cookies studded with chocolate Kisses. Roll a small amount of dough into a ball, about 1-inch in diameter, and flatten it out a bit with the palm of your hand. Bake for 7 minutes and immediately after the cookies come out of the oven, press a Kiss into the center of each one.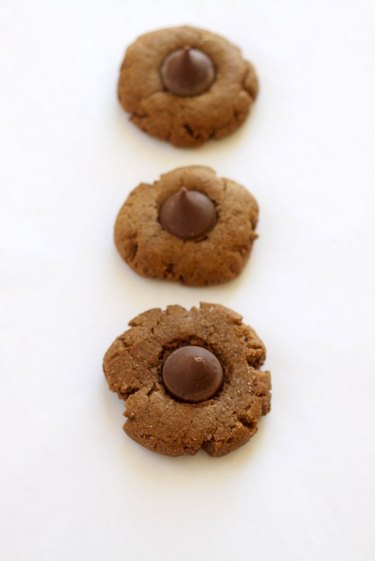 By using this one recipe, you can create several treats for many occasions, all year long.
See? It really is the only homemade gingerbread cookie recipe you'll need!