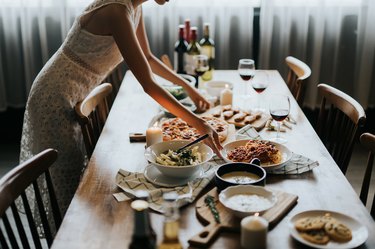 Unless you've made dinner in your prized Le Creuset Dutch oven, you probably won't want to serve guests from the same pot you've cooked in. Dinner parties and other special occasions call for proper serving dishes, and if they're beautiful enough—or practical enough—for everyday use, that's a bonus too. To help you sift through the startling number of serving pieces on the market, we've picked out a baker's dozen of the best serving bowls, platters and incidental serveware you'll need for entertaining. You're welcome.
What to Consider When Purchasing Serving Dishes
‌Materials:‌ Serving dishes come in a remarkably wide range of materials, from glass and stainless steel to wood, ceramics and plastics. All of these materials have their pluses and minuses. Glass and ceramics are attractive and often dishwasher-safe, but they're breakable: Something to consider if you have kids, or your parties get tipsy. Wood is remarkably beautiful, but requires hand-washing and shows wear over time. Steel is versatile and functional, but can lack aesthetic appeal. Define your needs, and then look for serveware in materials that meet them.
‌Style and Design:‌ What's your personal style: Sleek and modern? Bold and colorful? White and classic? You'll find serveware to fit all of those styles and many more. Pick designs that will mesh with the existing decor of your home (or the direction you intend to transition your home) and complement any existing pieces you already have. Bold colors and vivid patterns mean your choices can serve as decorative elements around the house when they're not in use, but nothing puts the focus on your food like plain white (and your Instagram photos will pop!).
‌Your Hosting Style:‌ The specific serving pieces you choose should be appropriate to your style of entertaining. If your dinner parties and gatherings are built mainly around finger foods and appetizers, you'll choose differently from someone who favors sit-down meals. Either approach is valid, so look for things that will just slide right into your existing approach to hosting.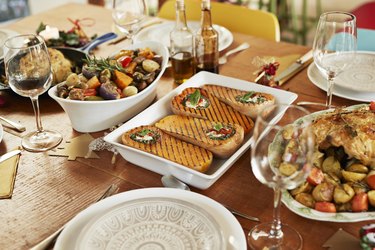 1. Food52 16-Inch Marble Lazy Susan
One of the handiest ways to present appetizers, side dishes, condiments and finger foods, in general, is with a Lazy Susan situated smack in the middle of your dining table (or on a counter, or sideboard, or wherever people congregate). Unlike a conventional serving platter, where some of the foods will always be more of a stretch for some of your guests, everyone can reach everything on a Lazy Susan. If you're on the far side from that canape that's caught your eye, all you need to do is rotate it until your chosen item comes within reach. This one from Food52 is a beautiful slab of marble, 16 inches in diameter, poised on a wooden base with smooth-running bearings. It'll go with almost any decor, and last for decades. And did we mention it's beautiful?
There are plenty of large serving platters on the market and plenty of small serving platters. What's relatively rare is a serving tray that can be both, and this one from Shanik delivers. It comes in three sections: A larger middle section at 16 by 12 inches, and two smaller ones at 8 by 12 inches. Thanks to magnets embedded in the wood, it can be joined together to make one large serving dish or separated to turn it into three. Made of tough acacia wood with a medium-dark finish to accentuate the grain, it's ideal for cheese boards, charcuterie boards, or just a spread of fruit or canapes. The middle section can also double as a cutting board if needed. Cleaning consists of just wiping it down with a damp cloth after every use.
3. Patelai 8-Piece Flatware Serving Set
Tired of using your regular silverware for serving purposes, and then running out later in the meal? The easy way to fix that is with a set of purpose-made serving utensils like this one. You'll get two each of tongs, serving forks, and slotted and regular serving spoons. That's adequate for small gatherings and small households, and should be the "sweet spot" for most users. If you need more, there's a larger 15-piece set available (and also a smaller 4-piece set). All pieces are stainless steel, and dishwasher-safe. It doesn't cover quite everything—a cake or pie server would make a nice addition—but it's solid value for the dollar.
4. Zojirushi 1-Liter Stainless Steel Thermal Carafe
Some companies try to do all things kitchen-related, with uneven success. Zojirushi isn't one of those companies: They carefully pick the niches they'll compete in and then absolutely dominate them, which is why their rice cookers and bread machines topped our respective roundups of those products. Similarly, Zojirushi's thermal carafes are stellar performers in restaurant and home kitchens. If you'd rather not be running back and forth from the table to your coffee maker, just pour your coffee (or tea, or mulled cider) into the Zojirushi and it will stay fresh and hot for hours. This 1-liter model (about a quart) comes in a modern matte finish and two stylish colors, but there are larger models available if you need one.
5. Better Homes & Gardens 2-Gallon Glass Beverage Dispenser
It's nice to have a separate dispenser for your cold beverages, something less starkly utilitarian than the insulated Zojirushi, and this affordable drinks dispenser (sold under the Better Homes & Gardens brand) is just the thing. Its 2-gallon capacity is ample for punch, lemonade, iced tea or anything else you want to throw at it, and unlike a conventional pitcher or punch bowl, it's protected from sneezes and dropped appetizers by a clamp-down lid with a wire bail, the kind you'd find on an old-fashioned Mason jar. The spigot makes drip-free pouring easy (and eliminates the need for a ladle) and the attached handle makes it easy to tote to and from your table, even when full. It's hand-wash only, but the wide mouth makes that relatively easy, and the price is definitely right.
6. Tribella Classic Wine Aerator
No discussion of dinner party beverages would be complete without a mention of wine, because wine poses a unique problem. Most red wines (and a limited number of high-quality whites) benefit from decanting, which simply means pouring it out into a special carafe that's designed to oxygenate the wine. That can take an hour or more, which is an issue when you get to the end of that first bottle. Tribella's clever wine aerator helps you avoid that disappointing moment, by aerating the wine in real-time as you pour. Simply attach it to the mouth of your bottle, and start pouring! The spout divides the wine into three fine streams, sharply increasing its exposure to oxygen as you pour. The results are inarguable, and the device itself needs nothing more than a quick rinse between uses.
7. Lipper International Cherry Finish Sandwich Bowl With Serving Hands
If your style of entertaining skews more to sit-down meals than grazing on finger food, you're going to want a salad bowl for serving purposes. In fact, it's one of the few pieces of serveware that you might well use on a near-daily basis just for your own meals. A salad bowl can be made of just about anything, but wood is the most common choice. It's lighter than glass or stoneware (and not breakable), and unlike melamine, it brings a bit of natural beauty to your dining room. There are lots of options out there, mostly in acacia and bamboo, but we like the richer, warmer hue of this cherry-finish bowl from Lipper International. At over 13 inches in diameter, it comfortably holds enough salad for a modest dinner party, but it's not too large for weeknight meals either. The bowl comes with a matching pair of "salad hands" for serving.
8. Teocera Porcelain Small Bowls, Set of 6
Most of us have a few large platters and bowls taking up space in our cupboards, but one of the most overlooked pieces of serving ware is a suitable set of small "pinch" bowls. They're great for nibblies like nuts or olives, for condiments or spreads, as a dip bowl with finger foods, or even for holding pits and shells. There are colorful options available in this category, but we like this set of six oval, stackable bowls in classic white from Teocera. They're dishwasher safe, practical enough for everyday use, and they'll keep your guests' attention firmly on the food, where it belongs.
9. Delling Rectangular Porcelain Serving Platters, Set of 3
Every piece of serveware comes in a variety of styles, but that's especially true of serving platters. They range from mammoth, ornate pieces meant for an entire large turkey to small, simple trays of plastic or melamine better suited to crackers or cookies. If you're just building up a collection of serving pieces, your best bet may be to invest in a set of matched platters in different sizes, like this one from Delling. They're dishwasher-safe, oven-safe, and you can put them in the fridge and freezer as well. The three sizes, ranging from 8 by 12 inches to 16 by 9.5 inches, will accommodate everything from veggies and dip to cupcakes to— yes—a reasonably large turkey and the side walls will keep foods from rolling off as they go from kitchen to tabletop. The classic white style is equally appropriate for daily use or special occasions, so you'll get lots of use out of them, and they nest neatly to minimize storage space between uses.
10. Dansk Vandvid Ceramic Serving Platter With Flowers
Plain white may be the most versatile option for dinnerware, but it's not necessarily the most exciting. If you want a platter that's more of a statement piece, take a look at this oval platter from Dansk Ceramics. Copenhagen-based ceramic artist Niels Refsgaard hand-painted the original floral design that's replicated on these pieces, giving them a look that stands out among their mass-produced competitors. The tray measures 11-1/4 by 8-1/4 inches, plenty large enough for most purposes, and the sturdy stoneware is chip-resistant as well as dishwasher- and microwave-safe.
11. QLans 10.2-Inch Serving Bowls, Set of 2
Salad's not the only thing to come to the table in bowls. Pastas and casseroles can be served this way (you can bring them to the table in a casserole dish, but those aren't always the most aesthetically pleasing), and the classic wooden salad bowl isn't your best option for serving them. Instead, consider serving bowls like these colorful offerings from Qlans. At just over 10 inches in diameter, they'll give you lots of space for pasta or rice dishes, stews, chili, and—yup—salads, if a plain wooden bowl doesn't fit with your personal style. Their bright, colorful mandala patterns are appealing enough to make them display pieces when they're not in use, and they're not large enough to be challenging to store if you'd rather keep them out of harm's way. They're microwave- and dishwasher-safe, as well.
12. Bone China Soup Tureen With Lid
Wide, shallow bowls are the best option for serving many foods, but soups are an exception. Carrying soup to the table in that kind of bowl is a challenging exercise at the best of times, and it's exponentially harder if you have kids and pets (or a crowd of friends milling around). A much better and safer option is a covered soup tureen in the classic style, like this one from Lorenzo Import. The lid and rounded sides prevent soup from splashing in all but the worst stumbles, yet the wide opening means that filling the tureen—and serving from it—will be easy and mess-free. The gold-trimmed pattern adds to its classic, old-fashioned appeal, but it's low-key enough to not be out of place in most kitchens. The tureen holds up to 4 quarts of soup at a time, and despite its delicate appearance, it's dishwasher-safe and even oven-safe to 350 degrees Fahrenheit.
13. Libby Round Acacia Wood Footed Cake Stand With Dome
Many desserts can be presented effectively on trays or in individual serving bowls, but a beautifully decorated cake (or even a well-made pie) looks more impressive when it's brought to the table whole, and cut there. The ideal setting for that is a cake stand/server like this one from Libby. The pedestal base is made of hard-wearing acacia wood, which will stand up to years of cake-cutting. Cleaning it afterward is a simple matter of wiping down the wood with a damp cloth, and occasionally oiling it—if it starts to look dry—with the same oil you'd use on a cutting board. The domed lid is glass, as you'd expect from glassware manufacturer Libby, and has a large ball top to give you a firm, reliable grip when lifting it. The glass can be hand-washed in warm water, to remove leftover food, or you can give it a quick wipe with glass cleaner to remove random fingerprints.