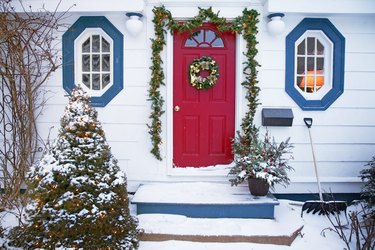 Deck the halls? Definitely. Decking your front door this holiday season is just as important, though. Consider a well-decorated door the equivalent of a warm welcome hug for guests, a charming place to come home to yourself and a delight for the whole neighborhood, too. Don't think you need an extravagant front porch to decorate your outdoor space either; you can easily focus all of your decorating energy on the front door with wreaths, garland and all kinds of decor items.
Whatever your approach, an eye-catching decoration will bring color, texture and serious cheer to your home this Christmas season. Whether that's with the help of lights, ribbons, wreaths or all of the above, you'll be well on your way to a happy and holiday-friendly front door in no time.
You likely already have a lot on your decorating plate, though. From now until December 25th, there are plenty of stockings to stuff, ornaments to hang and cookies to bake. That's why we did the shopping for you, narrowing down the best (and easiest) ways to decorate your front door for Christmas.
What to Consider When Purchasing Christmas Decorations for Your Front Door
‌​‌‌How You'll Hang It:‌​ If you're not a fan of hammering nails on or around your door, we understand. In that case, opt for lightweight decorations that can be hung with removable adhesive strips instead. It's a win-win: You won't leave any residue or holes in your door, and you don't have to commit to hanging the same decorations in the same place year after year simply because there's a nail there.
‌​Practicality:​‌ Door decorations are meant to bring you joy, not become an irritating piece to maneuver around. No matter how fun your decorations are, ultimately, your front door still needs to keep its basic functions. Forget anything that could scratch your door, blow off with a single gust from Old Man Winter or simply become a nuisance when opening or closing your door. We only selected door decorations that are just as easy to hang as they are to take down, and none of them would get in the way of everyday comings and goings.
‌​Materials:‌​ Whenever you're buying decor that will live outside, you'll want to keep a close eye on the material that it's made out of. Depending on the climate where you live, weather can be tough come Christmastime, so your front door decorations will need to be just as tough. Most product listings will outline whether a piece is outdoor-friendly, if it can live outdoors but preferably be covered (shaded from direct sun, wind and blowing snow) or if it simply needs to stay indoors. You wouldn't want to come home one day to find your beloved decorations blown apart on your lawn.
Read on for nine ways to decorate your front door, from lush garland to inexpensive banners and more.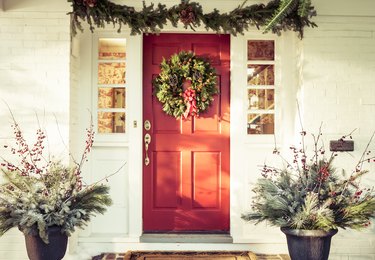 1. Merry Christmas Door Trim Sign
Door decorations can be big and extravagant, or they can be sweet and subtle, like this corner door trim sign. It doesn't get much easier than this laser-cut wood door sitter, especially for a door that you definitely don't want to hammer a hole into (say, if you live in a rental.) Simply choose if you want the sign to be oriented to the left or right, then prop it on your door or any window frame, no additional tools or adhesive necessary. Voilà!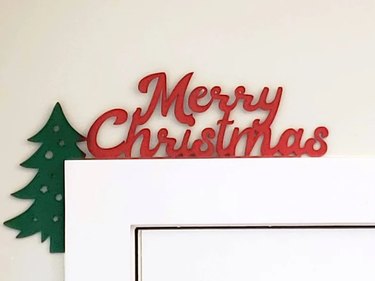 2. Bloom Room Christmas Hydrangea, Berry, Pine & Pine Cone Teardrop
There's no denying that we adore a Christmas wreath, but don't feel limited to the traditional circular silhouette. This teardrop-shaped decoration features faux hydrangeas, berry springs, pine needles and pine cones, making for a dramatic and romantic piece to decorate your front door with. It'd look just as beautiful above a fireplace mantle, in an entryway or along an exterior fence, too.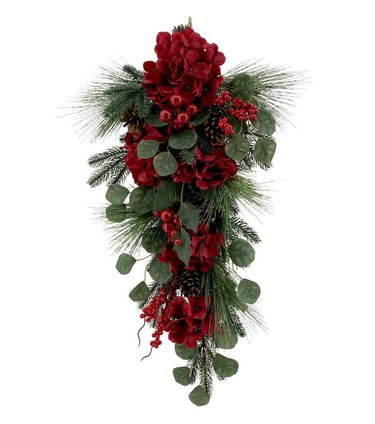 3. Large Glowing Christmas Bow
Turn your entire door into a present with a simple, inexpensive bow, like this one. It's made with ultra tough material so it's resistant to all the wear and tear Mother Nature will try to bring its way. Plus, it includes sweet little battery-operated string lights, so your door will light up the entire neighborhood. Now, which color will you choose? There's the classic red, red and black plaid or a sparkly green and red plaid with snowflakes. (Tough choice, we know.)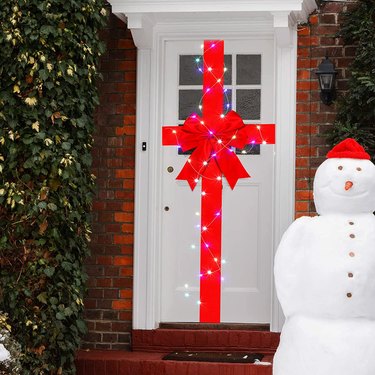 4. Flocked Christmas Tree, Garland, and Wreath Set with LED Lights
Subtle not really your style? Then go big ‌and‌ go home. This entire set—which includes two miniature Christmas trees in black pots, two long strands of over-the-door garland, one wreath and one metal wreath hanger—includes everything you need to decorate your door this Christmas. Light flocking on all of the pieces creates a lifelike snowy appearance, so it'd fit right into a winter wonderland porch. No need to string lights around each piece either; it's already pre-lit with battery-operated LED lights so all you need to do is switch on the timer and bask in the glow of your gorgeous door decorations.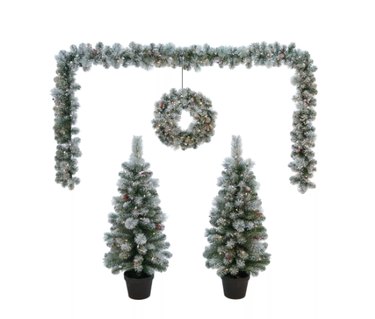 5. Farmlyn Creek Merry Christmas Doormat
Depending on the climate where you live, winter can bring wet, snowy, muddy, mucky shoes along with it. You don't want those wet, snowy, muddy, mucky shoes entering your house though, so a welcome mat is a must. Not only is it practical, but a holiday doormat brings a festive feel to your front door, nearly no effort necessary. This natural coir rug comes with a rubber backing to ensure a no-slip situation. Then, come December 26th, you can easily wash this mat with just water and a stiff-bristle scrub brush. It doesn't get much easier.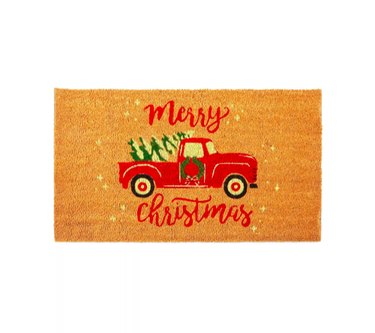 6. Personalized Snowflake Door Hanger
Create an instant heirloom with one of these personalized snowflakes, which you can hang on your front door or anywhere in your home, really. This Etsy seller provides you with options, options and more options when creating this forever piece. Choose from nine different sizes, between 6 inches and 35 inches wide, as well as 16 stains and colors. Once you land on the perfect look for you, let your imagination go wild as to how to style or hang it. Tuck it inside a wreath, wrap a bow around it or add several of these to your online cart as an extra special holiday gift.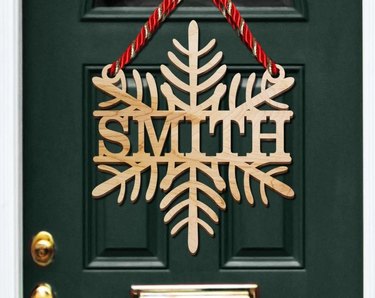 On the hunt for an easy, inexpensive and exceptionally cheery way to decorate your front door for Christmas? We found it. This set of bright-as-can-be Merry Christmas banners can be used in numerous ways, including flanking your door door. Best of all, come the very sad day when it's time to take down decorations, you can roll the banners up to be used next Christmas, and the Christmas after that.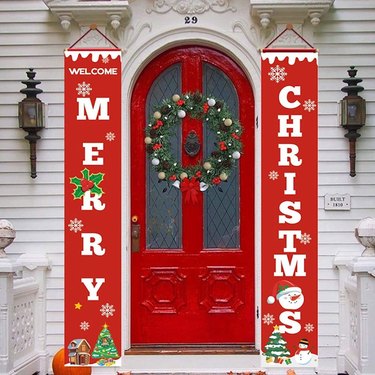 8. Merry and Bright Light Welcome Mat
Merry and bright, indeed! This modern welcome mat design is constructed with a looped vinyl, which makes it extra durable and easy to clean. Still, you wouldn't necessarily want to wipe muddy shoes on this light (and, yes, bright) door mat. It's the perfect dose of cheer for calm climates, though. Guests will surely feel welcomed, and honestly, so will you every time you come home, too.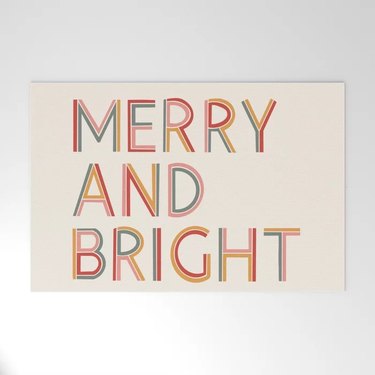 9. Black Metal Battery Operated LED Flameless Candle Lanterns
Okay, okay. So these lanterns aren't exclusively Christmas-y. That's what we love about them. This set of black metal lanterns, which are filled with battery-operated LED flameless candles, are all-year-round friendly. They're particularly charming come the holiday season though, since you can add sweet little twinkling lights, oversized bows or any other number of decorations to them to create a winter wonderland feel. Then, long after the snow has melted, they're just as useful welcoming your guests over for a backyard BBQ.