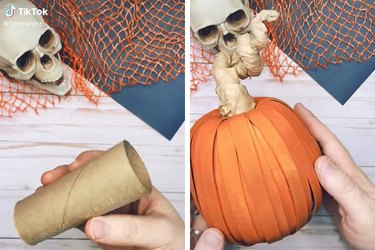 'Tis the season for pumpkins, whether you're carving them, painting them or... creating them from household trash! If you're looking for a kid-friendly craft that they can make with stuff you already have lying around the house, then you're in luck. Thanks to TikTok creator @timmsevitz, your kids can make their very own pumpkin out of a toilet paper roll and some old cereal boxes.
We promise the end result is way cuter than it sounds!
All you need to gather for this craft are a pair of scissors, a hot glue gun, some orange paint, a paintbrush, a toilet paper roll, empty cereal boxes and some brown paper. Repurposing paper bags from the grocery store work great for this.
Following instructions from creator @timmsevitz, start by cutting the cereal boxes into long strips. Make sure they're a few inches longer than the toilet paper roll. You can cut the strips to be the same size, but if you want the pumpkin to look a little funkier, experiment with different-size strips.
Tip
If you're doing this craft with children, be sure to handle the hot glue gun yourself.
Next, use the hot glue gun to attach the strips to the top and bottom of the toilet paper roll. Be sure to place the glue on the inside of the roll so the strips fold into the open space, hiding the glue. Repeat this process with as many strips as it takes to fill out the body of the pumpkin. Once the glue dries, add the orange paint. If you're making multiple toilet paper roll pumpkins, you could experiment with dark green or cream-colored paint as well to mimic other types of pumpkins.
Lastly, create a pumpkin stem by twisting some brown paper into a large spiral. Have fun making the stem oversized and a bit more dramatic than the average pumpkin stem. Attach the stem to the top of the toilet paper roll with hot glue and then let it dry.
We think this craft hack from @timmsevitz is particularly genius not just because you can make it with household supplies but because there are so many other Halloween characters you can make with the same basic shape. For example, you can create the same sphere but paint it black and add ears and a face to create a black cat or add legs and eyes to create a spider. Or, you could paint the sphere green and turn it into Frankenstein's head.
Whether you make a toilet paper pumpkin or another ghoulish shape, the options are frightfully endless!