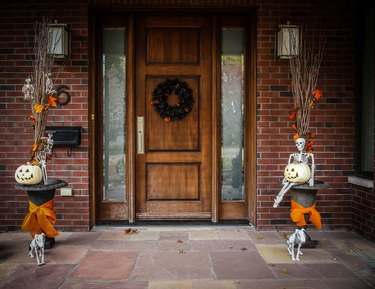 Bags of candy? Check. Creative Halloween costumes? Check. "Hocus Pocus" on repeat? Of course. While gearing up for the best Halloween yet, all of those ingredients are a must, and will only be enhanced by a houseful of delightful Halloween decor.
At the top of our "must have" list, decor-wise, is a Halloween wreath. Whether you hang one on your front door or anywhere indoors, a wreath is an easy, oftentimes affordable way to bring a whimsical, festive appeal to your home this autumn, and for many more spooky seasons to come. Not only would a wreath delight the trick-or-treaters on Halloween itself, but it would put a smile on your own face every time you arrive home.
What To Consider When Purchasing a Halloween Wreath
​Material:​ Many Halloween wreaths are intended for both indoor and outdoor use, but read the description carefully before buying to ensure that its material is a match for wherever you intend to hang it. If you live in a climate with harsh weather or would place it in a spot with direct sunlight, opt for a tough material like plastic that won't fade or fall apart. Fragile materials, like feathers or dried flowers, are undoubtedly elegant but require a calm (and likely indoor) home. There's no right or wrong material for a Halloween wreath; just be sure whichever wreath you decide on can thrive where you want to hang it.
​Price:​ As much as we adore the scary season, the month of October tends to fly by in a blink. One day you'll be sipping a pumpkin spice latte, and the next Christmas music will be playing overhead at Target. Since a Halloween wreath likely won't be adorning your front door or fireplace for more than a month each year, consider how much you're willing to spend on one before clicking "add to cart." We selected wreaths in a wide range of price points, from affordable options under $20 to one-of-a-kind handmade pieces that cost over $100. How much you spend is up to you, but if you're committed to hanging it year after year and storing it properly, throwing down a few extra dollars may be worth it for a higher-quality wreath.
​Style:​ Halloween wreaths can run the gamut from dark and spooky, like ones with black bats and skeleton hands, to lighthearted and cheery. (Think candy corn wreaths and ones decorated with gourds.) If you prefer wreaths on the gothic side—like skeleton wreaths and witch wreaths—and will be hanging it outdoors, consider who will see the wreath. Will it spook the little ones in the neighborhood when they come by to trick or treat? If so, and if you don't want to be known as the scariest house on the block, you may want to bring it indoors or opt for a fall wreath with faux flowers or orange and black ribbons instead.
Ready to add some cheer to your Halloween decor? Read on to discover Halloween wreaths that we love, and know you will too.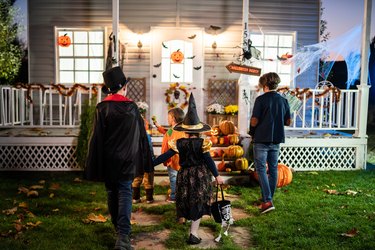 1. Sierra Asymmetrical Wreath
This graceful asymmetrical hoop wreath is not only fitting for Halloween home decor, but it's all-fall-long friendly too. Leave this 25-inch wreath, featuring fall harvest-colored leaves that are pre-lit with fairy lights, on your front door from the first chilly day in September through Thanksgiving. It's powered by three AA batteries—don't worry, the battery box is easily concealable—and includes an optional six-hour timer so you never have to worry about turning it off before heading to bed.
This spooky snake-wrapped door wreath is not for the faint of Halloween heart. Elegantly spooky, this 22-inch wreath would add some moody magic to any front door decor, entryway or fireplace. Since it's made out of plastic, grapevine and tin, it's also easy to care for—especially because each purchase includes a brush that makes cleaning a breeze. That way you can keep this beauty in tip-top condition for use year after year.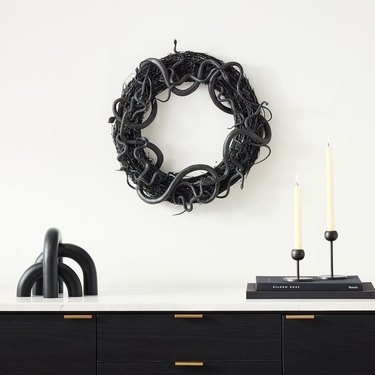 3. Halloween Feather Wreath
For a beautiful Halloween wreath on a budget, add this black feather option to your Amazon cart. Measuring 15 inches across, it's simple, it's stunning and it's just spooky enough. It'd be especially pretty atop a fireplace, hung above a mantle full of seasonal treasures, like pumpkins and gourds. This wreath is best kept inside if you live in a rainy or unpredictable climate, though it'd make for a perfect option for an apartment door too.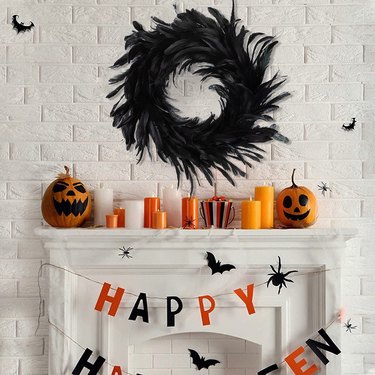 4. Halloween Wreath in Purple/Black with Skull and Flowers
Halloween decorations don't get much more gothic than this skeleton wreath. With a stunning yet creepy display of faux black leaves, black and purple flowers, as well as a skull and skeleton hands, this 24-inch wreath says "happy Halloween" before you even open the door. It'd be a perfect addition to your other outdoor Halloween decorations, or as indoor decor for a Halloween party.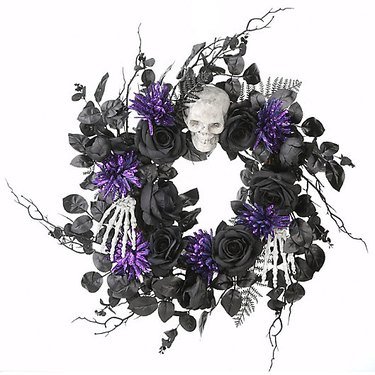 5. Pre-Lit Black Glitter Branch Wreath with Bats
Some of our favorite Halloween-themed wreaths juxtapose light with darkness, like this eerie option from Pottery Barn. Its rattan branches add a poky texture that would pop against any wall or door, while its hanging bats add movement, and the LED light bulbs bring it all the more to life. This 22-inch wreath is recommended for indoor use—how about in an entryway, or above a buffet table? Be sure to add AA batteries to your shopping list too; this wreath requires three of them, and they are not included.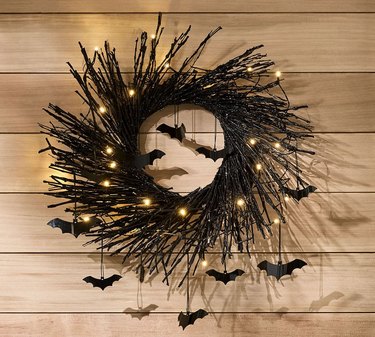 6. Halloween Witch Wreath
We can hear a witch cackling just looking at this festive wreath. Featuring a witch's hat and two orange-and-black striped witch's legs, this cheery, 24-inch wreath would add a fun touch to anyone's Halloween decor. Hang this wreath, which also features glittered pumpkins and orange ball ornaments, to any door, wall or window either indoors or in a covered outdoor location. Bewitching, indeed.
7. Falloween Nature Vine with Bats Halloween Wreath
You can create a full Halloween scene with this bat-covered black wreath as the centerpiece. Surround it with spiderwebs, creepy crawly spiders and bat decals for charmingly spooky decor. This 18-inch wreath is wonderfully lightweight too. Since it weighs less than a pound, you can feel confident hanging it with adhesive strips anywhere in or around your home in a covered spot. (Though this one is recommended for indoor use, since the bats are made out of felt.)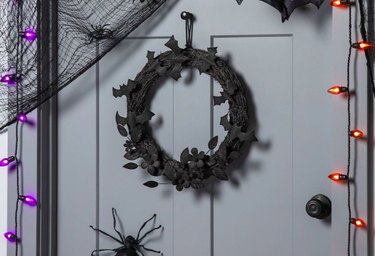 If you'd prefer not to hang a spooky wreath, select a jolly, playful Halloween wreath instead, like this oh-so-cute candy corn-themed one. It's handmade by an Etsy artist, so it has a higher price point than other wreaths on this list. For good reason though: it's one of a kind! The vibrant colors would brighten any space, especially a front door or dark entryway, thanks to its pompoms, berry stems and candy corn-themed ribbons. You don't have to worry about this 26-inch wreath wrecking your door either; it's covered in coordinating felt to prevent scratches.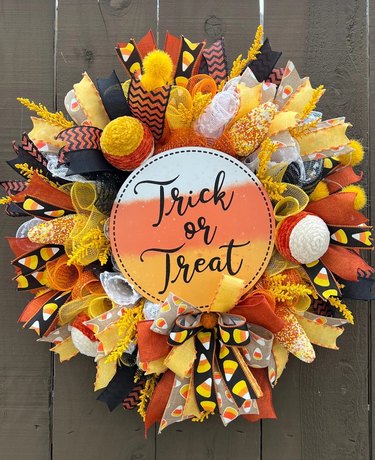 9. Bloom Room Halloween Rose, Gerbera, Daisy and Berry Wreath
For Halloween decor that you'll never tire of, opt for an artificial wreath like this 21-inch floral design. It's made with faux roses, gerbera flowers, daisies and berries in deep shades of burnt orange and rich black. It's an ideal Halloween door decoration that you have to put little to no thought into. Simply hang it by a nail or use an adhesive strip to secure it into place. Voila!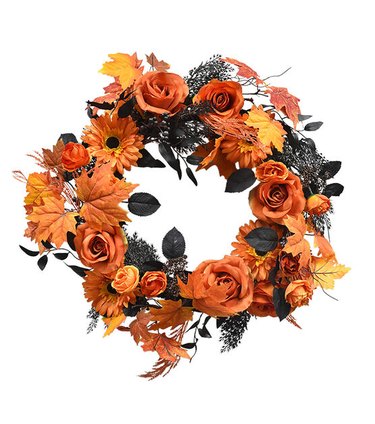 10. Halloween Autumn With Skulls Floral Wreath
The best Halloween wreaths perfectly ride the line between eerie and gorgeous. Take this option from Wayfair, for instance. Accented with white vines, miniature skulls, and faded orange, black and gray flowers, it's just spooky enough while being a beautiful addition to your home decor—one that you can hang year after year since it's made with high-quality materials that will last for many Halloweens to come. Hang this 22-inch wreath on any door, wall or window, and consider your Halloween decorating done.