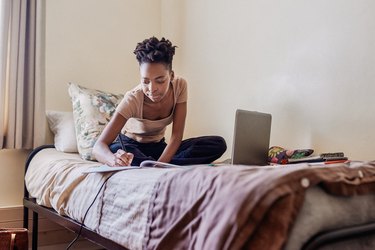 Most dorm room beds have existing mattresses that aren't very comfortable without a mattress topper. The mattress you'll be sleeping on has likely previously been slept on by many college students, so it makes sense that it would feel worn and uncomfortable—even if the mattress was brand new, it would probably still not be an ideal sleeping situation without some added cushion. The function of a mattress topper or mattress pad is to add an extra layer of comfort to a not-so-comfortable mattress to help you get a good night's sleep.
A twin XL mattress is the most common mattress size in college dorms because it accommodates the height of all students. Twin and twin XL mattresses both measure 38 inches in width, but there are 5 inches added to the length of a twin XL mattress, making it 80 inches in length. The good news is there are plenty of twin XL mattress pads and toppers to choose from.
What to Consider When Purchasing a Twin XL Mattress Topper
​Type:​ Mattress toppers and mattress pads are similar in that they both provide extra cushion and padding for your mattress. A mattress topper is usually thicker than a mattress pad and sometimes has straps to help attach it securely to your mattress. A mattress pad is a thinner piece of material that goes on top of your mattress to adjust the firmness, and it can be waterproof and provide more protection for your mattress without the need for a mattress protector. The mattress pads included on this list all have extra cushioning to make your bed as comfortable as you want it.
​Material:​ Since mattress toppers can be thick, they can have a variety of different materials packed inside, including foam, memory foam, gel memory foam, down, down alternative, cotton, latex rubber or fiberfill.
​Thickness:​ Most mattress toppers range from 2 inches to 4 inches in thickness and can offer pressure relief while you're sleeping. If you prefer a lot of cushioning when you sleep, you should probably go with a 3-inch or 4-inch topper. If you don't need too much added cushion, you might want to go with a mattress pad, which usually ranges from 1 to 2 inches in thickness and doesn't drastically change the mattress's firmness level or offer significant pressure relief.
​Price:​ The most budget-friendly option is a mattress pad. If you only plan on sleeping in a twin XL bed for a year or two, you probably don't need to shell out a lot of money for an extra luxurious mattress topper. But if being comfortable in your bed is imperative to you getting a solid night's sleep, you might want to pay the extra money for a mattress topper.
Scroll on to find the best twin XL mattress toppers of 2022.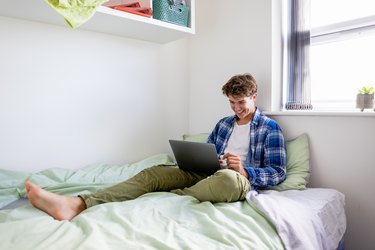 The Best Overall Twin XL Mattress Topper
Oaskys Cooling Pillow Top
This machine-washable pillow top is made with 100% cotton and down alternative fill. Its quilted square design prevents the filling from spreading around and becoming uneven. The twin XL size, along with the other available sizes, has deep pockets that go around the whole mattress so it doesn't move around while you're sleeping—no matter how much tossing and turning you do. The pillow top comes packaged in a vacuum-sealed bag, so the company recommends letting it spread out for a few days before you use it so it can return to normal thickness.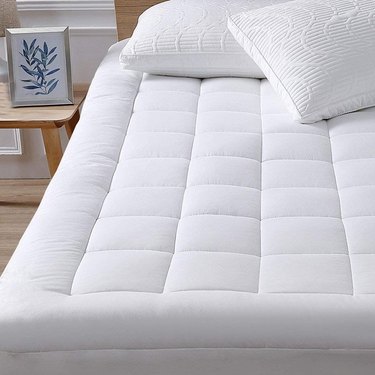 The Best Budget Twin XL Mattress Topper
Mainstays Foam Mattress Topper, 1.25-inch
If you want to be comfortable while you sleep but a luxury mattress topper isn't in your budget, don't worry. This 1.25-inch foam mattress topper is inexpensive and gets the job done. It has an egg crate-like texture and is a bit thinner than other mattress toppers on our list, but it provides seven support zones that work with your body to offer pressure point relief. There's light support for your head and feet, medium support for your shoulders and thighs, and firm support for your torso and butt. Air moves freely through the topper, which can help reduce heat buildup while you sleep. It's also treated with antimicrobial technology to help prevent odors and stains caused by mold and mildew.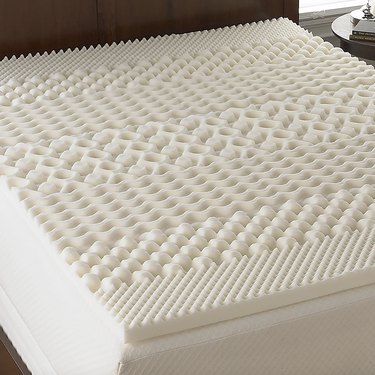 The Best Cooling Twin XL Mattress Pad
Bare Home Quilted Cooling Mattress Pad
There are a lot of factors at play when it comes to feeling rested when you wake up in the morning, but this cooling mattress topper sets you up for success. The quilted mattress pad is filled with fiberfill, which feels similar to down without all the feathers and poking. The mattress cover is easy to care for—it's machine-washable and can be tumble dried on low. Since it's only a twin XL (as opposed to a California king size mattress topper), it'll actually fit in most washing machines. An elastic deep fitted skirt wraps around the mattress so it doesn't slip off.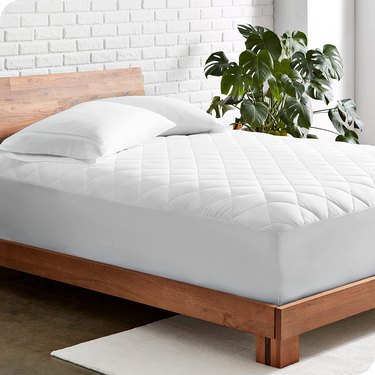 The Best Memory Foam Twin XL Mattress Topper
Therapedic Swirl Gel Memory Foam Mattress Topper, 2-inch
Whether you experience back pain or just want a super comfy gel swirl mattress topper on your new bed, this 2-inch gel Therapedic topper is a great option. Designed with cooling technology to wick away moisture, it'll give your body heat a place to go while you sleep. Memory foam cooling gel conforms to the natural shape of your body as you move throughout the night. It's ideal for all sleeping positions. The topper has a removable and machine-washable cover.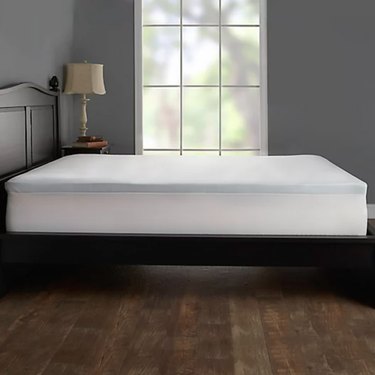 The Best Pillow Top Twin XL Mattress Topper
Wayfair Sleep Down Alternative Mattress Topper, 3-inch
This 3-inch mattress topper adds a thick layer of comfort to any mattress. Baffle box stitching makes it breathable and keeps the hypoallergenic down alternative filling from shifting or clumping. A thick elastic strap is connected to each corner of the topper to securely attach it to your mattress. Once this topper is on your mattress, it'll feel like you're sleeping on clouds. In fact, it's so comfortable, that you'll forget that the uncomfortable mattress is even there at all. You can throw the topper in the washing machine and safely tumble dry.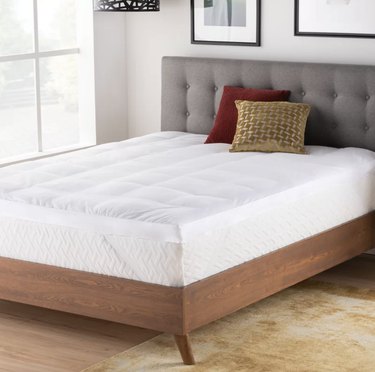 The Best Twin XL Mattress Topper With Removable Cover
Bedsure Memory Foam Mattress Topper, 4-inch
This 4-inch high-density memory foam mattress topper is so thick that it would be comfortable enough to sleep on it on the floor—not that you'd need to do that. The topper offers support for your back and full body with dual layered memory foam and standard foam that contours to the shape of your body without sinking. Made from bamboo and mesh, air flows through the entire mattress. It comes with a cover that can easily be removed and thrown in the washing machine on laundry day.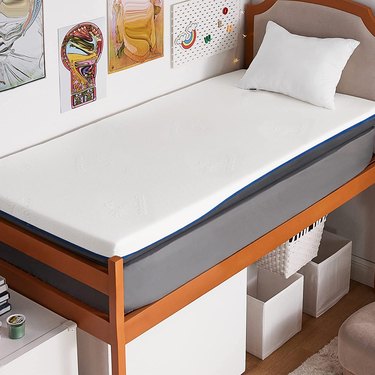 The Best Reversible Twin XL Mattress Topper
Bare Home Micro Plush Reversible Pillow Top
Your new mattress will get a whole lot cozier with Bare Home's Micro Plush Reversible Pillow Top. Packed with premium goose down alternative, you can enjoy the feeling of down without dealing with the negatives of actual feathers. Fully reversible, one side features a fuzzy micro plush microfiber fabric that's breathable and will keep you warm during the winter months. The other breathable, micro plush side maximizes airflow to keep you cool during the warm months. For added comfort, the pillow top is overfilled with filling so you feel nothing but cushiony goodness while you sleep.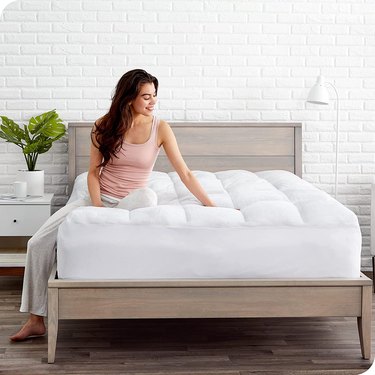 The Best Waterproof Twin XL Mattress Pad
Made By Design Waterproof Mattress Pad
This mattress pad serves double duty on a college dorm bed. Not only does it add a layer of comfort to an otherwise mediocre mattress, but it's also waterproof and stain-resistant, protecting the mattress from damage. Made with 100% cotton, the mattress pad is soft and breathable. In addition to the physical benefits, this mattress pad is also affordable, which is pretty helpful when you're spending money on a long list of other things needed for a dorm room.