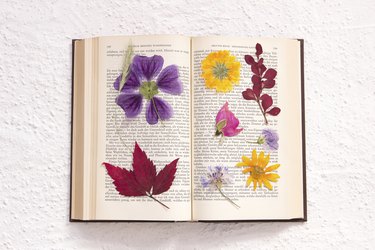 Slow crafting is taking the DIY world by storm with new generations of creators learning how to crochet, make rugs, macrame, and more. Included in the slow craft trends is flower pressing. Dating back to 16th century Japan, pressed flowers have captivated creators and admirers alike with their gorgeous preservation of colorful blooms. And, since the 1800s, preserved florals have been a well-loved art practice in the Western world.
Aside from the endless possibilities of creation, one of the most fascinating things about pressing flowers is how long they last. If pressed correctly, blooms can last hundreds of years, making it a unique way to capture and archive a moment in time, be it from regular nature walks with your kids, a preserved wedding bouquet, or botanicals from your travels.
If you're looking for a unique way to connect and craft with nature, pressing flowers, herbs, and other botanicals might be it. Whether you want to store your botanical memories in a journal or try your hand at flower crafts, here are the best flower pressing kits.
What to Consider When Buying Flower Pressing Kits
With its relatively simple design, not a lot goes into a flower pressing kit. However, there are some key things to consider before buying a press and pressing flowers at home.
‌Size:‌ Flower pressing kits come in all sizes (and even a variety of shapes, too), so it's important to consider the size you want and need before purchasing. If you're a casual botanical collector looking to add a few sprigs here and there while on a hike, a smaller and more portable flower pressing kit might be the perfect match for your needs. If you want to preserve a lot of florals at once—such as pressing a wedding bouquet—then you'll need something larger. And, if you aren't sure what you'll need, a medium-sized flower pressing kit is a great place to start as it will allow you a little more flexibility with your creations.
‌Number of Layers:‌ The number of layers in a flower pressing kit is also helpful to look at, as it can give you a realistic idea of how many layers of florals you can press at one time. Most flower pressing kits will allow for five or six layers, however, some might have less or more depending on the brand, side, and usage.
‌Durability:‌ Pressing flowers requires a decent amount of force (especially to the boards) so you want to ensure that the kit you purchase is made from durable materials. To ensure durability, look for flower pressing kits made from a high quality wood material.
‌User Manual:‌ Not every flower pressing kit will come with a user manual but, if you're new to the art, you'll want to check that the one you buy does. Albeit a fairly simple craft, flower pressing kits can be a bit tricky at first (especially when the goal is to preserve correctly for long-lasting dried blooms) and detailed instructions can help you learn how to press flowers as well as tips and tricks for creating the best pressed flowers.
‌Application:‌ Not all flower pressing kits are used in the same way. Traditionally, you press flowers between wooden panels and blotting paper—but you can also speed things up by pressing them in the microwave. If you want to try a more instant flower press, a kit designed for the microwave is ideal. If you prefer the more traditional application, go for a classic wooden flower press kit.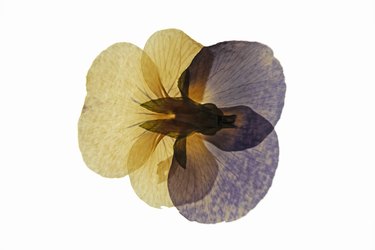 The Best Overall Flower Pressing Kit
Suziko Professional Flower Press Kit
For the best flower press kit overall, the Suziko Professional Flower Press Kit is an excellent choice. Ideal for all skill levels, this craft kit comes with the actual flower press, plus other craft supplies such as tweezers, scissors, a craft knife, extra lining paper, and a few things to display your blooms on once dried, including bookmarks and transparent film. The kit also comes with a gift box, making it even easier to give this as a gift to the craft person in your life. The press itself has six layers and is durable enough to press anything from sprigs to bouquets.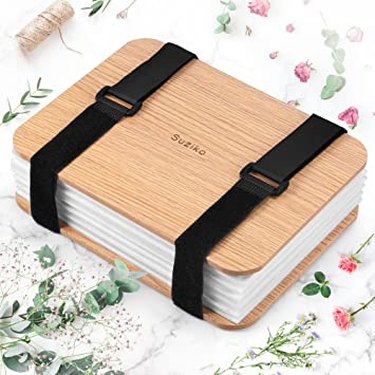 The Best Budget Flower Pressing Kit
Worown Mini Flower Press Kit
Flower press kits can get a little pricey, depending on where you buy from and the quality and usage you require. If you're new to the art and want to give it a try without digging deep into your pockets, this budget-friendly option from Amazon is an excellent starting place. The Worown Mini Flower Press Kit is a small flower and plant press with four layers so that you can preserve several blooms at once. The floral and leaf press also comes with high-quality drying plates, sponges, and a sturdy outer surface that allows you to give it some force without wrecking your botanicals.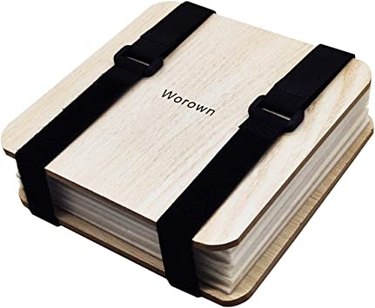 The Best Flower Pressing Kit for Beginners
Berstuk® Large Flower Press Kit for Adults
The Berstuk® Large Flower Press Kit for Adults is the best for beginners thanks to its simple and user-friendly design. Unlike other flower presses, the flower press kit doesn't have straps, which can be a little more difficult to navigate as a beginner. Instead, it features screws that are easy to adjust, depending on the amount of pressure you need for each bloom. The kit also has an in-depth user manual that teaches beginners how to use a flower press and gives them guidance in the early stages of their botanical press crafting. On top of that, it comes in a gorgeous box, making it a great gift to give.
The Best Flower Press for Gifting
Terrain Herb + Flower Press
If you're looking for a chic and thoughtful craft gift to give, this Herb + Flower Press from Terrain is an excellent choice. The flower press takes a more traditional approach with a simple wooden design and leather straps for adding pressure. It's a gorgeous gift and the perfect addition to a basket alongside other flower and herb-inspired presents such as teas, a botanical journal, and other goodies for the nature-lover.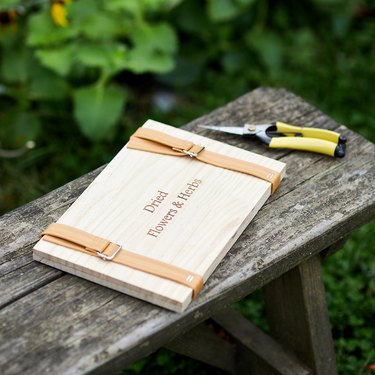 The Best Personalized Flower Pressing Kit
Happys Laserworks Flower Plants Press Kit
For the more experienced flower pressing artist, a personalized press makes a gorgeous gift (or treat for yourself). The Happys Laserworks Flower Plants Press Kit from Etsy allows you to customize your flower press and choose from five high-quality wood types—including cherry, hickory, cedar, maple, and walnut—as well as an engraved design with your name on it. The press is secured in place with bolts and wingnuts, making it easier to use. With that said, this press doesn't come with blotting paper, so if you want to give it as a gift, it might help to also gift some extra blotting paper.
The Best Decorative Flower Press
Ola Di Clock Flower Press
Most flower presses are simple with limited design. But, if you're looking for something with a little more pizzazz, the decorative Ola Di Clock Flower Press is an excellent choice. Though simple in design, this press has a colorful botanical border with the option to add a personalized message on the front and backside. The design has a Mary Blair feel with its whimsical blooms bordering the press, making it a great choice for anyone who loves to get lost in the wilderness, admiring all that Mother Nature has to offer, and creating dried flowers along the way.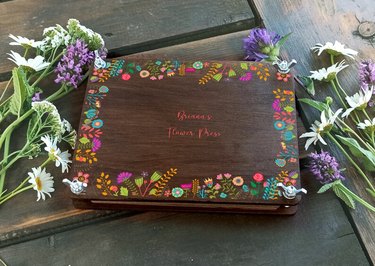 The Best Flower Press for Traveling
My Papercut Forest Portable Flower Press
If you love to collect blooms on your travels, a portable flower press is a must-have. The My Papercut Forest Portable Flower Press from Etsy is the perfect travel companion with its small and lightweight style and easy-to-use design. Small enough to fit in a pocket or bag, this is the best flower press to take on the go, whether it's on an adventure in your own backyard or on your travels. In addition to its size, the press is also incredibly durable and features five layers for a nice multi-tasking press.
The Best Mini Flower Press
Rody and Rory Keychain Flower Press
Fun for kids and adults alike, the Rody and Rory Keychain Flower Press is a handy little pocket-sized flower press for picking up small blooms when on the go. Attach it to your hiking backpack or clip it to your water bottle sling and you'll be ready to press blooms along your favorite trail. The 2 1/2-inch flower press is made from your choice of either walnut or maple wood, secured by bolts and wing nuts, and features a gorgeous little lavender sprig burned into the top for added design.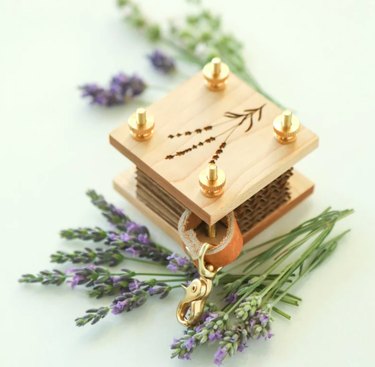 The Flower Pressing Kit for Microwaving
Microfleur Max Microwave Flower Press Kit
While the act of pressing flowers isn't very time-consuming, it can take some time before blooms are well preserved. As a quick alternative, you can press flowers in the microwave using the Microfleur Max Microwave Flower Press Kit from Amazon. This 9-inch flower press allows you to pick and press flowers in an instant with its easy-to-use design. Perfect for creating dried flowers for resin art, scrapbooking, or other botanical crafts, the kit allows you to preserve florals in a flash and helps ensure better color retention, too.