Indoor gardening offers the ultimate option for gardeners without yards to flex their green-thumb muscles and enjoy the botanical rewards of their efforts. Another perk of indoor gardening is that you won't have to labor in the sun and heat, dig holes or otherwise participate in traditional gardening tasks to cultivate certain plants indoors.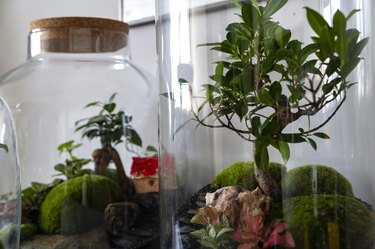 Choosing an indoor gardening kit is an easy way to start your project, particularly if you're a novice gardener who is unsure of how to put together the components yourself. To select the perfect kit, simply decide whether you want to grow plants as ornamentals or edibles, whether you need a kit with supplemental lighting or your home provides the proper amount of light and whether you have a lot of growing space or only a windowsill for your indoor gardening kit.
Terrariums are making a big-time comeback since the 1970s, when they were a décor staple in many fashionable homes. Their popularity, however, goes back even further than that, when this interior-scape feature was all the rage in Victorian times. Today's terrarium choices are vastly improved over the '70s mainstays, many models of which would be too large for today's apartment and condo dwellers.
Here's a terrarium kit that's tabletop-sized, yet packed with interest. You'll not only receive the terrarium and an ornate stand for displaying it but also the plants, sand, moss and artistic accent pieces.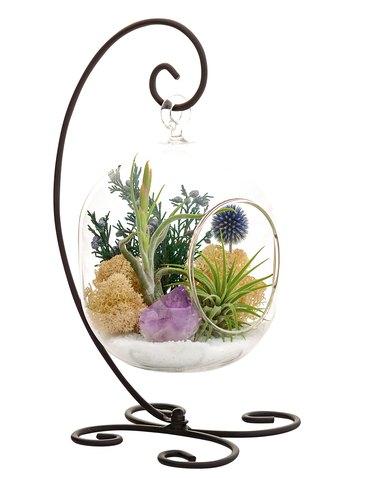 If you don't have room for this tabletop kit, why not find a spot to hang your terrarium?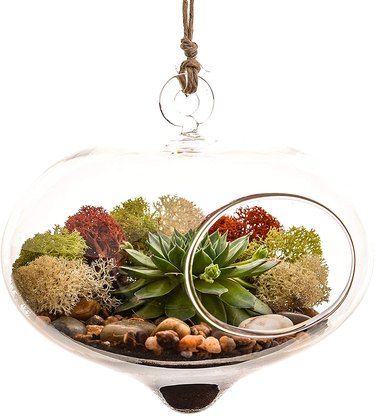 2. Windowsill Herb Garden Kit
Every serious cook wants an herb garden, but not every cook has an outdoor gardening space for growing the herbs. The solution? If you have a sunny windowsill, you can grow many of the same types of herbs typically grown outside, but on a smaller scale. And even if you do have an herb garden outside, starting your herbs indoors from seed earlier than you can directly sow them outside will give you a head start on the growing season. If you place this Planters' Choice 9-Herb Windowsill Herb Garden Kit on your kitchen windowsill, you'll be able to grow culinary herbs right in the room where you prepare them for your table!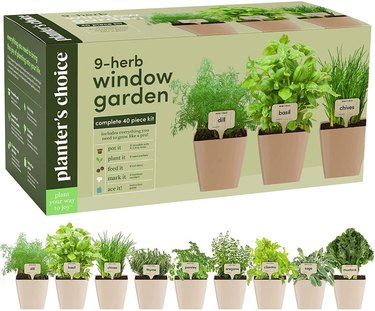 3. Indoor Hydroponic Garden Kit
From "hydro," the Greek word for water, hydroponics offers a space-efficient and soilless way to grow plants in a nutrient-rich water solution. But if your only idea of a hydroponic garden means having to put together an elaborate outdoor floating system, you may not even know that you can grow hydroponic plants right inside your own home. Be sure to get an indoor hydroponic garden kit that has an adjustable light source, such as this Jandel Hydroponic Garden, which you can raise as the plants grow taller.
Filled with delectable edibles, most veggie gardens typically need full sun and outdoor growing conditions. But there's an unconventional "crop" that you can grow indoors, which actually thrives in the low light environment of most homes – mushrooms. From initially watering this organic Back to the Roots mushroom kit, you'll be harvesting your own organic pink oyster mushrooms within 10 days.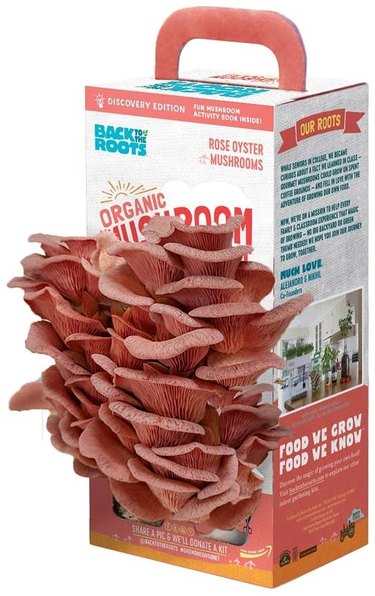 Since an indoor environment doesn't offer nearly as much growing space as the larger expanse of outdoors, an extremely cool indoor gardening pursuit is learning the art of bonsai. Enjoying miniature versions of large plants as an option to growing common houseplants will enhance your interior-scape design. Instead of taking a guess as to suitable plants for bonsai and the proper tools to shape and cultivate them, select a bonsai kit that has everything you need. This Planters' Choice Bonsai Starter Kit includes seeds of four different plant species, pots, nutrient-rich soil discs, tools and complete instructions.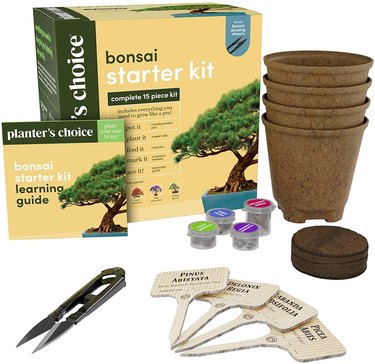 Weather and other seasonal growing constraints limit outdoor gardening work, and some folks just don't have yard space for a garden. But these indoor growing kits open up the gardening world to everyone, even novice gardeners. They also provide lots of "aha" moments for these gardeners (and their family and friends) with their beauty, intrigue and ease of cultivating such unique creations.