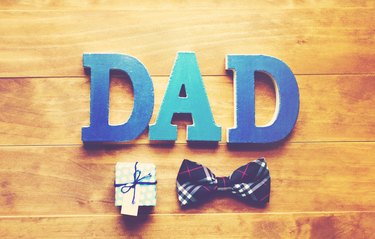 Father's Day 2023 is coming up soon, but it's not too late to shop for unique and thoughtful gifts that will show your dad or granddad how much you appreciate him. We've curated a list of Father's Day gift ideas for all types of dads—from the ones who love the outdoors, to the workaholics, to the self-described comedians, to the introverts who prefer to unwind with a good book at home.
1. BrüMate HOPSULATOR TríO 3-in-1 Insulated Can Cooler
For dads who love their beer crisp and cold at all times, this insulated can cooler does the trick. It features double-walled stainless steel construction with an extra copper layer that keeps drinks 20 times colder than a standard neoprene can cooler. The TríO is designed to fit all 16-ounce cans and 12-ounce standard cans. It prevents condensation from forming on the outside, and you can use it on its own as a pint glass.
2. Kaito Hand-Cranked Solar Power Emergency Radio
If your dad likes to be well-prepared in the face of disaster, this portable emergency radio is a must-have. It's got six different charging options, including a hand crank generator, a solar panel, a compartment for three AA batteries, 5V USB input, and a built-in, rechargeable battery pack. The radio offers comprehensive coverage of AM, FM, two-band shortwave, and seven pre-programmed NOAA weather channels. It includes a telescopic antenna that extends 14 1/2 inches high for high-sensitivity reception. The whole thing is made from impact- and water-resistant ABS material suitable for indoor and outdoor use.
3. Marpac Dohm Classic White Noise Machine for Sleeping
For all the dads who have trouble sleeping (especially if they sleep alone), this white noise machine produces soothing ambient sounds of moving air that can make it easier to doze off. The Dohm Classic model, which has sold millions since 1962, includes two different speed options for adjustable tone and volume, helping to mask background noise. Not only is it great for dads, but also for children and pets who are sensitive to sound.
4. Le Creuset Wine Cooler Sleeve
If your dad is more of a wine guy than a beer guy (he can be both, of course!), this wine-cooler sleeve keeps standard-sized bottles of wine for almost two hours. Its two inner gel packs allow for pre-chilling in the fridge or freezer to achieve optimal temperature retention. The sleeve not only insulates but actively cools the bottle to the perfect serving temperature within 30 minutes. It's lightweight and available in multiple colors.
5. Wooden Docking Station for Phone, Wallet, Keys and Watch
This handmade wooden docking station by GretaOtoDesign on Etsy not only looks great but is a convenient spot for Dad to store his valuables, like his smartphone, watch, wallet, car keys and glasses. It even includes a notch where his phone will sit that allows him to plug it in and charge his phone without removing it from the stand. Best of all, you can personalize the stand with an engraving of your dad's name (or short message), up to 16 characters. The stand comes in multiple primary colors: cherry, mahogany, neutral, ebony, teak, walnut, rosewood and slate grey.
6. Eagle Creek™ Pack-It® Starter Set
Dads that travel frequently may benefit from this travel gear packing set, which helps you maximize space so you can fit everything inside a carry-on bag. The set includes a folder and two travel "cubes." The folder fits most carry-on luggage and compresses eight to 12 shirts or slacks while helping to minimize wrinkles. The cubes are great for packing toiletries and accessories. If your dad likes to keep things simple and avoid having to bring a checked bag, this set can help save money and trunk space.
7. YETI Rambler 30-Ounce Stainless Steel Tumbler
To keep your dad's favorite drink cold (or hot) throughout the work day, the YETI Rambler is our tumbler of choice. It features a double-wall insulated 18/8 stainless steel body that enables your beverage to keep the same temperature going in for hours on end. It features YETI's patented MagSlider lid, which uses magnets to ensure it locks securely. The tumbler boasts a "no sweat" design to eliminate condensation forming on the body, while all pieces are BPA-free and dishwasher-safe. The YETI Rambler is available in tons of neat colors, which vary in price.
8. DIY Gifts Hot Sauce Making Kit
If your dad likes to experiment in the kitchen, is a fan of sauce in general, or enjoys burning his tastebuds (or all of the above), this kit from DIY gifts allows him to create his own hot sauces for everything from chicken wings to barbecue. The kit touts only fifth-generation heirloom peppers and spice blends, including chipotle, ancho pasilla, habanero and—most formidable of all—ghost peppers. Think about it: A 500 on the Scoville scale is just the baseline. This kit can get you to over 2 million. The kit includes recipes, a flavor guide, custom label stickers, squeeze bottles and glass bottles, a bottling funnel and more.
9. Polaroid Go Instant Mini Camera
For dads who tend to wax nostalgic, this instant, mini Polaroid camera will transport them back several decades. It's super compact and portable, so you can take it anywhere. It combines the simplicity of cameras from the past with modern sensibilities and includes a double exposure feature, a self-timer and a selfie mirror. The camera takes only Polaroid Go format film.
10. Kindle Paperwhite Signature Edition
If your dad's an avid reader, but he can't squeeze another book onto his bookshelf, the Kindle Paperwhite Signature Edition is like having a bookstore on a tablet. Yes, he might miss the look and feel of traditional print books, but a Kindle is not only cost-effective but also frees up space. The Paperwhite model features a brightly-lit 6.8-inch display and wireless charging. Unlike a smartphone or tablet, which get populated with ads and interrupted by calls, a Kindle is a distraction-free device, so your dad can make some headway on the newest novel from his favorite author in peace.
11. "Dad Jokes: The Good. The Bad. The Terrible" by Jimmy Niro
Dad jokes. We've all heard them. Some love 'em, some hate 'em, but one thing's for certain: Dads who tell them sure get a kick out of it. And if your dad's an unabashed, self-proclaimed comedian of groan-inducing humor, he's going to love "Dad Jokes: The Good. The Bad. The Terrible" by Jimmy Niro, which is chock full of knee-slappers and cringeworthy duds (although to your dad, they're probably all knee-slappers). Maybe you shouldn't give him any new material. But, if you're committed to encouraging his dad-ness, it's a great gift. For more options, we recommend "The Ultimate Dad Joke Book: 501 Hilarious Jokes & Puns" by Hugh Murmie.
12. Snailax Shiatsu Heated Massage Cushion
Now here's a gift probably all of us could use, but for the tired and overworked dad with chronic back pain, this Snailax shiatsu massage cushion will be a godsend. Designed for use on a computer or office chair (but you can also use it on the bed or sofa), it features four deep-kneading massage nodes that target three areas: the upper back, the lower back and the full back. The seat massages as well—adjust between three intensity levels to massage the hips and thighs. The back cushion also uses heat therapy to relax tense muscles across your entire back, lumbar and shoulders. You might as well get one for yourself, while you're at it!
13. Nestwell Plush Cloud Medium Support King Bed Pillow
For dads who easily get overheated at night, this cooling pillow can keep him comfortable and improve his sleep. Designed for everyone from side-sleepers to stomach-sleepers and combination sleepers, it's made from a hypoallergenic down alternative that sits right between soft and firm. It's filled with 100% polyester fiber that doesn't trap heat, helping regulate temperature. It comes with a removable cover made of 50% cotton and 50% Tencel lyocell that's moisture-wicking for a cool night of rest.
14. HomeRight Electro-Torch Fire Starter
With summer weather on the horizon, we're entering the season of picnics, barbecues and RV camping, and this electric fire starter will make everything easier. It ignites charcoal grills and fire pits in under a minute, and creates roaring fires in as little as 2 to 3 minutes. A chemical-free alternative to other fire starters, it uses nothing but 1,500-degree Fahrenheit hot air to ignite charcoal or wood. It comes with a six-foot-long heavy-gauge, grounded power cord—but if that's not long enough, it works with extension cords, as well, so you can plug it in from the house or camper.
15. Joe Jr. Portable Charcoal Grill – Kamado Joe
In keeping with the grilling theme, the Joe Jr. portable charcoal grill from Kamado Joe is perfect for dads who take their grilling game seriously. Made from premium ceramic with a cast-iron stand and stainless steel hinged cooking grate, it's insulated to allow for remarkable heat retention and lock in smoke and moisture at any temperature. It provides 150 square inches of cooking space and includes a built-in temperature gauge. Weighing just 68 pounds, the light weight and stand make it comparatively easy to carry and transport, so this is the grill your dad will want to bring to every outdoor family outing.