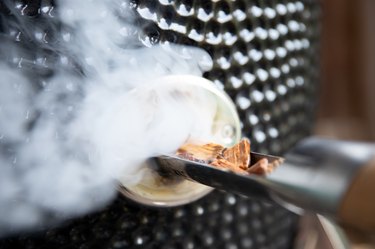 When the weekend rolls around, there are lots of ways to get your grill on, from the tiniest charcoal grill to the biggest, most elaborate gas grills and smokers. Of all your grilling options, kamados have a way of inspiring the most passionate loyalty. They're usually described as "kamado grills," but that's a partial description at best. They're actually a sophisticated cooking system, capable of baking (they make great pizzas) and smoking as well as grilling. Kamados tend to be pricier than other backyard grilling options, so take a few minutes to study our list of the best kamado grills—and what sets them apart—before investing in one.
Slow-cooking foods in a pit hollowed out of the ground is an ancient technique that's used across many of the world's cultures. Among other things, it's the original form of barbecue, which is why the chef at a 'cue joint is still referred to as a "pitmaster." The Chinese eventually realized that an above-ground clay oven offered the same advantages with more convenience, and the Japanese refined that basic concept into what we now know as a kamado.
The best kamado grills pack a lot of versatility, combining characteristics of a charcoal grill, an oven and a smoker. While conventional grills are lightweight and thin-walled, kamados have thick walls for heat retention (for low-and-slow cooking). Their cooking area is also smaller than you'll see on conventional gas and charcoal grills, comparable to a compact Weber charcoal kettle at (typically) between 200 and 300 square inches.
Temperature control is managed by manipulating airflow through the cooker's vent and damper. A good kamado's temperature range is stellar; it can sear at super-high temperatures or hold a low temperature steadily for hours. Unfortunately, their huge thermal mass means they won't cool down in a hurry if the temperature climbs past your desired level. Their preferred fuel is lump charcoal because briquettes tend to compact together in the firebox, but you can certainly use either option.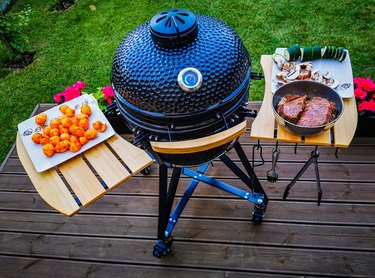 What to Consider When Purchasing a Kamado
‌Cooking Surface:‌ The cooking surface on a "large" kamado, like the Big Green Egg, checks in at 18 inches in diameter or 262 square inches, good for about a dozen burgers. You can find larger and smaller sizes (the largest Egg has a robust 29-inch diameter) but 18 inches provides a good balance of size versus weight. Gauge your size requirements by the amount of food you'll be cooking at once, and buy accordingly.
‌Material:‌ Most kamados are constructed from thick ceramic, which offers excellent heat retention (important for slow cooking and outdoor cooking, which those in northerly climates will especially appreciate). Less-conventional designs use air-insulated double- or triple-walled steel, which makes them both lighter and less susceptible to accidental damage. Metal kamados cool down more quickly as well, a positive if you transition from searing to slow-cooking. One final thing to check is the lid gasket, which seals the unit once it's closed. Older kamados often had felt gaskets, which quickly burned or wore out. Newer designs use woven gaskets of stainless steel or other durable, heatproof materials.
‌Hinge:‌ One characteristic of ceramic kamado grills that can't be overstated is their weight. You'll notice it when you open the big lid on most kamados, which—because of the domed design—represents a substantial portion of that weight. Most models come with a heavy-duty hinge that's spring-assisted, to make it easier to use, but they'll vary widely in how well they prevent "lid fatigue."
‌Package and Accessories:‌ It's possible to buy many kamados just as a bare-bones cooker, or as part of a package containing all of the accessories you'll need (a cart, side shelves, tools). That's neither good nor bad, it's a matter of personal preference. Just be sure you know what you're getting for your dollar, and—if you opt to purchase the extras on an à la carte basis—you've done the research and know which ones you'll want on day one.
Tip
Don't use lighter fluid to start your kamado because the ceramic interior will absorb that unpleasant petroleum smell. Instead, use an electric starter, a charcoal chimney or clean-burning solid fire starters.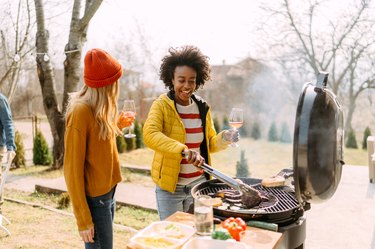 There's a lot to like about the Big Green Egg: It's the market leader for good reason, and it's still unmatched in its ability to maintain a temperature long-term with startling precision. That being said, we've given our nod for the best overall kamado to the newly refreshed Classic III from Kamado Joe (it replaces the Kamado Joe Classic II, still an excellent grill in its own right), which offers a really compelling set of features and refinements. It boasts better temperature control than any leading competitor other than the Egg (the unique tower-shaped top vent makes controlling airflow more intuitive), and its new SloRoller accessory—an insert that improves convection and low-temperature cooking—is a great upgrade.
The three-tiered stainless steel rack lets you cook foods simultaneously at multiple temperatures, and the charcoal basket (also stainless steel) sheds ash and retains unburnt coals, speeding your next cook. The ash drawer slides out from the base of the unit, next to the damper, making cleanup a breeze. One really big differentiator here is Kamado Joe's air-lift hinge, which makes it possible to lift that massive slab of lid with just one finger. Finally, the Classic comes complete. The purchase price is stiff, but it comes with everything you need to start cooking right away (and there's also a Big Joe if you like these features but need more cooking surface).
The biggest objection to kamado cookers, despite their excellence, is that they're just ... a lot. They're big, they're heavy, and above all, they're pricey. Char-Broil's playfully-named Kamander addresses those issues pretty neatly. It uses the lighter-weight option of insulated steel construction, rather than ceramics, which means an assembled weight of under 50 pounds compared to the Kamado Joe's hernia-inducing 260 pounds. Like the Joe, it has a removable ash drawer for easy cleaning, and its slightly above-average diameter means 327 square inches of cooking space. The main grill grates are porcelain-coated cast iron, with a secondary cooking surface of chromed steel.
One unique thing about the Kamander is that the air intake is at waist level, just below the cooking surface (it routes from there to the bottom of the grill) so you can adjust airflow without bending over, which you'll appreciate during long cooks. The Kamander comes complete with a cart and folding side shelf, so it's complete and ready to use (except for charcoal) the moment it arrives. While it can't quite perform at the level of our top pick or the Big Green Egg, at this price point, it's plenty good enough to deliver years of high-quality results.
The Char-Griller Akorn kamado competes with the Kamander in the "value-priced" market but isn't quite as solidly constructed. The Akorn Jr., though, is a pretty compelling product. It's that great rarity, a functional kamado-style grill that's genuinely portable for trips to the beach or your favorite campsite. Like the Kamander, it's steel-walled rather than made of ceramic, which keeps its assembled weight down to just 33 pounds (and it has convenient carry handles, as well). The cooking surface is correspondingly smaller, at 155 square inches, but that's still enough to manage 8 burgers at once or a corresponding number of steaks or chicken pieces. The top vent has a thumb-friendly tab that makes it easy to use, even with heatproof mitts on.
We'd previously named this little guy as one of the best portable grills, and it absolutely earns its place here as well. There are a couple of downsides—temperature control isn't as good as you'll find on higher-end kamados, for example—but most users won't be doing overnight cooks at the beach anyway.
The Most Versatile Kamado
Conventional grills are relatively easy to set up for two-zone cooking, with the cooking temperature high on one side and low on the other. That's not the case with most kamado-style grills, given their relatively narrow and cylindrical shape. Instead, most use staggered systems of racks to raise some of your food farther from the coals. It works, but it's not ideal for grilling. The greater width of a Primo Oval kamado means you can set it up easily for two-zone grilling, so you won't need to switch grills or exercise your temperature control skills when you want to simultaneously sear and slow-cook. The grill's extra width gives a generous 300 square inches of primary cooking surface, plenty for over a dozen burgers or multiple racks of ribs.
The oversized dome lid stands taller than those on most kamados, which means it also works as a highly-capable oven for roasting large cuts such as a full pork shoulder or an oversized turkey (you can even roast turkeys vertically, like a "beer can" chicken). That's a lot of extra versatility at a price point that's comparable to most of its competitors.
The Best Kamado for the Beach or Tailgating
Kamados aren't generally known for their portability, aside from scaled-down models like the Akorn Jr. This Broil King kamado changes that, though, and does it in a big way. This is a fully functional, full-size kamado with 280 square inches of cooking surface (enough for over a dozen burgers), and its party trick is the ability to go with you when you head to the beach or the stadium. With the optional trailer-hitch accessory, you can just pop the cooker from its wheeled cart, mount it to your hitch and hit the road. Once you get to your destination, you can cook with it still on your hitch, or lift it back down onto its supplied cart. The steel-walled construction keeps weight down, but at 126 pounds, it's definitely a two-person lift.
Broil King doesn't skimp on the amenities either, with a removable, easy-clean ash drawer, supplied side tables and multi-tool, and an included rack to provide 200 square inches of secondary cooking area. The main cooking grates are made of enameled cast iron for durability and great grill marks, while the secondary cooking surface is lighter-weight chromed steel.
Ordinary kamado cookers are known for being large, heavy and pricey, but the Komodo takes those attributes to a whole other level. The aptly named Big Bad Smoker is the ultimate ceramic kamado grill: It's by far the biggest kamado in our roundup, with 576 square inches (about 28 burgers) of primary cooking surface, and its assembled weight is over half a ton (yes, it's on industrial-strength casters). What you get for your money—and the price you see here is only the starting point—is, simply, the very best kamado you can buy. The working parts are all CNC-machined for precision, the temperature controls work flawlessly, and the 2-inch thick (!!) walls of the cooker are made of the same kind of materials used for containing blast furnaces and nuclear reactors.
That being said, its looks are anything but industrial. Its hand-tiled exterior surfaces (they're custom-built to order) are available in a range of stunning colors and textures and are bonded in place with a flexible elastomer rather than a rigid grout, so they won't simply pop off as the unit heats and cools. Oh, and if this isn't quite enough of a cooker for you, there's an even larger 42-inch version. The Komodo is a significant investment, but it will last long enough for your grandkids to enjoy.