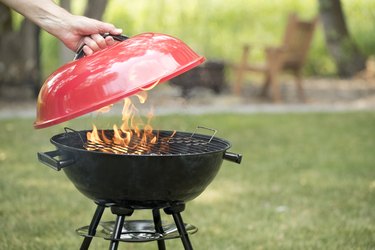 Ever since Weber-Stephen brought its classic charcoal kettle grill to market in 1952, grilling with charcoal has been a staple of backyard American life. Charcoal sales dropped off when gas grills were introduced in the 1960s, and they've since taken a further hit with the growing popularity of pellet grills. But charcoal grills still sell well, and they remain a beloved way to cook outdoors.
Charcoal imparts a distinct smokey flavor to your food. And it's a relatively affordable way to grill and barbecue, as charcoal grills tend to be lower priced than other types and charcoal briquettes are a cheap fuel source. Charcoal grills are also simpler than the others, with fewer things to operate and moving parts to break. Plus, they're easier to clean than propane grills, especially because the dripping grease mostly burns away on the briquettes below.
As simple as they are, there are still some aspects that separate the best charcoal grills from all the others.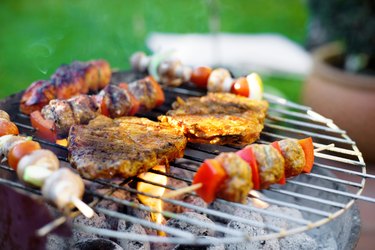 What to Consider When Purchasing a Charcoal Grill
‌Cooking Capacity:‌ Think about how many people you cook for, and whether you mostly prepare small things like burgers, hot dogs, steaks, wings, fish fillets, kebabs and the like, or if you're looking to handle large cuts of meat. You can get a small, portable charcoal grill with around 140 inches of cooking surface, a large one with 900 or more square inches of cooking surface, or something in between.
About 300 to 500 square inches is the range on standard models, which provides enough space to cook for a group of four to five people or more. Also, keep in mind that models with larger grates make it easier to maintain two cooking zones, which is a helpful technique when grilling many foods. With more space, it's easier to pile briquettes on one side for hotter, more direct heat while having lower temperatures and more indirect heat on the other side.
‌Features:‌ One appealing aspect of charcoal grills is their simplicity. Basic models are little more than legs with a bowl, grill grate and lid (some are even sold without a lid, but get one with a lid). You can choose from enameled steel, stainless steel, ceramic and other bowl materials, as well as grill grates made of stainless steel, cast iron or other materials—all work well.
You can also opt for additional features to improve your grilling experience. These include removable ash catchers for easier cleanup, grates with sections you can open to load more charcoal briquettes while cooking, built-in thermometers on the lid (though these are of limited value, as they don't usually give too accurate a read of the temperature at the cooking surface; still, they give you an idea), side tables for food prep, storage shelves, accessory holders, wheels for mobility and more. Some charcoal grills also double as smokers, and there are even digital models available today.
‌Price:‌ The cost for charcoal grills has a huge range, from around $50 to $1,500 or more for luxury models. Of course, you'll pay more for extra features (an easy ash removal system is one worth paying for, by the way) and a larger model with more cooking surface. Many charcoal grills fall into the $200 to $500 window. You certainly don't have to spring for one of the most expensive products out there to get one of the best charcoal grills, and remember, a high price tag isn't a guarantee of high quality. So, take your budget into careful consideration.
These factors will help you pick out a charcoal grill that you'll be happy with for many years to come.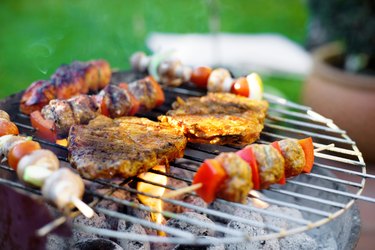 The Best Overall Charcoal Grill
This is an iconic charcoal grill that serves any novice or experienced user well. It has an ample 363 square inches of cooking surface, which is big enough for 13 burgers. So, this model will suffice for a family or entertaining. And it's sold at a great price point—especially considering that it can last a lifetime.
The porcelain-coated bowl and lid provide exceptional heat retention. A section of the grate opens on hinges for easily loading briquettes, even while cooking. There's a built-in thermometer on the lid for reference, as well as rust-resistant aluminum dampers for greater temperature control. The lid also has a hook to hang it on the side of the grill rather than put it on the ground. Hooks on the handle provide a convenient spot to hang tongs, turners or other grill accessories.
You can also attach an inexpensive Slow 'n Sear smoker conversion kit to turn this grill into a smoker, too. Two wheels offer mobility, and cleanup is a breeze, thanks to the one-touch cleaning system that collects ash in the removable ash catcher. And it's a very simple model to assemble; it should only take you 15 minutes at most to put it together. There are just so many reasons this has been a best-selling grill for 70 years.
The Best Portable Charcoal Grill
Weber introduced the first charcoal kettle grill back in the 1950s, and it's still the best-known name in the category, so it's no surprise that this is the brand's third product to make this list. This is a perfect option for anyone who wants a compact, portable, lightweight model to take camping or to the beach, for tailgating or a cookout, or for use on a balcony or other small cooking area.
It weighs in at under 10 pounds, but still features the heavy-duty, heat-retaining, rust-resistant, peel-resistant porcelain-enameled bowl that larger models have. The plated steel cooking grates provide a nice sear and are easy to clean and maintain. There's room for up to five burgers at a time on the 147 square inches of cooking surface.
Easily adjusted dampers let you control the airflow and cooking temperature, and the lid has a glass-reinforced nylon handle that stays cool during use. And, in case you didn't notice, you'd be hard-pressed to find a better price on a charcoal grill. It's all the performance and durability of the larger Weber kettle grills at a fraction of the cost and size.
The Best Budget Charcoal Grill
If you're in search of a budget-friendly charcoal grill, this similar alternative to the previous product is a great pick. It offers the same quality and steel alloy durability, with fewer features and a smaller cooking surface to save you $100. It's another reliable Weber that's easy to assemble, use and clean.
This model has 240 square inches of cooking surface. To put that in perspective, the plated steel grates have enough space to cook nine hamburger patties at the same time. So, you're still getting a grill that can accommodate food for a group. And two of the legs have wheels to easily move the grill around your deck, patio or yard.
The porcelain-enameled bowl and lid provide superior heat retention. The lid has a hook that lets you store it on the side of the grill so you don't have to put it on the ground while you're cooking and possibly introduce dirt onto your food. Dampers on the lid offer more temperature control, too. Plus, the one-touch cleaning system sweeps ash into a removable ash catcher for hassle-free cleanup.
The Best High-End Charcoal Grill
Here's a charcoal grill with superior performance, thoughtful design, and a high-end look that fits right in with any luxury outdoor kitchen. This cart grill is one of the few stainless steel charcoal grills on the market, and it's a beauty. You get an above-average cooking surface of 605 square inches, and the adjustable charcoal bed gives you easy control of the food's distance from the heat source for high-heat quick grilling or low-and-slow barbecuing or roasting.
A door in front lets you replenish the charcoal briquettes while cooking without disturbing the food or opening the lid and letting heat escape. The double-walled hood holds in heat well. And there's a cool rotisserie/spit-roast design feature; a charcoal basket along the back of the grill lets you create a rotisserie-style fire.
The cast-iron grates are highly effective at holding and distributing heat, and they give food gorgeous sear marks. Two big side tables provide ample prep and staging space, and they have built-in hooks for hanging your grilling accessories. There's also an integrated temperature gauge, as well as a spacious storage cabinet for briquettes, wood pellets, tools and accessories.
The Best Kamado Charcoal Grill
Kamado grills are egg-shaped cookers that have been around for thousands of years. They're known for their versatility (use them for grilling, barbecuing, smoking, roasting and baking), their ability to heat up quickly and cook efficiently, and for imparting lots of great smoky flavor into food. Today, they're a popular—albeit pricey—category of charcoal grill. This model is a notably budget-friendly one for the category, and it's reliable, durable and attractive.
It features triple-wall steel construction and double-layer insulation for unrivaled heat retention and fuel efficiency, and the interior is coated in porcelain. It has an integrated heat gauge, a removable warming rack, plus two convenient collapsible side shelves for prepping and staging with hooks for your grilling utensils. There are 447 square inches of cooking space with cast-iron grates for great sears.
The number-indexed air vents provide temperature control, and you can easily note the position for reference. Use this model for cooking at anywhere from 200 to 700 degrees Fahrenheit. Two large locking wheels facilitate mobility, and the easy-dump ash pan makes cleanup as simple as can be. There's also a roomy storage shelf on the bottom.