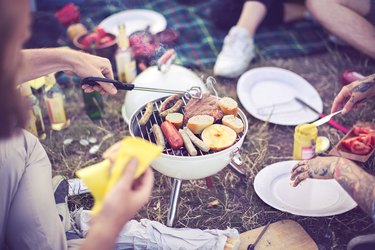 Buying a grill for home use is pretty straightforward. You figure out your budget, then you get the biggest and best grill you can manage for that much money (whether it's a charcoal or gas grill is largely a matter of personal preference). The thinking changes a bit, though, when you want a grill that can go with you to the beach, the stadium, or your favorite hiking or camping spot. For that, you'll want a portable grill.
The best portable grills balance small size and light weight (portability, in short) against overall cooking area and sheer cooking prowess. We've got our own favorites we consider to be the best on the market, but which one actually meets your needs will be your personal choice.
What to Consider When Purchasing a Portable Grill
‌Portability:‌ Duh! Deciding how portable you need your grill to be, and assessing potential purchases against that standard, is pretty important. For example, the smallest version of the cult-favorite Big Green Egg is technically portable, but at 75 pounds, it's a two-person lift and you won't want to "port" it very far. Most portable grills are much smaller and lighter than that, with a couple of our picks clocking in at around 9 pounds.
‌Fuel:‌ Like home grills, portable versions can use either propane (typically those small disposable bottles, though you can use a full-sized tank with an adaptor) or charcoal. Charcoal gets hotter, but it's less convenient and requires more time. There are even portable versions of pellet grills/smokers, which require a source of electricity.
‌Cooking Area:‌ Portable grills are built to be compact, which also means a limit on the available cooking area. If you're prepping meals for one or two that's fine, but if you're looking to feed a crowd in an off-grid setting, you'll need to prioritize grill space over sheer portability (or at least, move the Needle of Compromise in that direction).
‌Durability and Longevity:‌ There are completely disposable grills you can buy, consisting of charcoal in a foil pan with an inexpensive wire rack on top. At the other end of the scale, there are portables built to last a lifetime that are made from solid stainless steel. Most fall between those extremes: Not explicitly disposable, but varying widely in workmanship and quality. At any given price point, assess the sturdiness of the grills you're considering and ask yourself which one is likelier to stand up to years of use.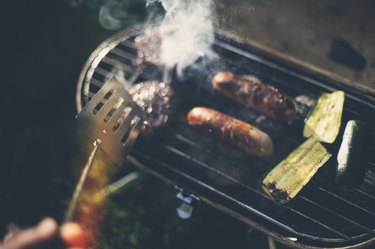 The Best Overall Portable Grill
Unsurprisingly, the grill we chose as "the best portable" in our gas grills roundup returns as the top choice in our review of portable grills. The Q2200 is definitely built to Weber's usually quality standards, despite its compact size, with a sturdy cast aluminum base, enameled cast-iron grates, and fine heat control with a rotating dial. The folding side tables give you some elbow room for prep (and a place to set your ingredients down) but fold out of the way for portability, and the 280 square inches of cooking space makes it one of the most capable portable cookers.
You can use it as-is on a picnic table, or add the optional portable cart to use it as a free-standing grill. The only downside to the Q200 is that it checks in at over 42 pounds, which is fairly hefty for a portable. If you'd like to shave off some pounds and don't need that much grilling space, its smaller sibling, the Q1200, offers equal quality (and a still-reasonable 189 square inches of grilling space) but weighs half as much.
The Best Budget Portable Grill
Weber's reputation was built originally on its charcoal kettles, and this portable offering—the 14-inch Smokey Joe Premium—carries that quality into the portable-grill niche. At under 10 pounds, it's perfectly practical for hauling across a large beach or camping area, or even from the trailhead to your favorite lakeside spot.
While a 14-inch diameter limits your grilling area to 147 square inches, that's still adequate for about six burgers at a time (and charcoal's higher heat means you can cook them more quickly). It's a classic for a reason, and if you're a charcoal loyalist, you'll be hard-pressed to do better. For those who like the Smokey Joe but need to cook for a larger group, the 18-inch Jumbo Joe increases your cooking area to 240 square inches (about 9 burgers at a time) at a small premium in both dollars and weight.
The Most Portable Charcoal Grill
The Smokey Joe is small and light, but the dome shape of its kettle and lid still make it relatively bulky. For sheer portability, nothing beats the GoBQ portable charcoal grill. While it weighs almost the same as the Weber (just over 9 pounds) the GoBQ is made of silicone-coated fiberglass—like the best silicone oven mats—that has a fabric-like feel. The whole grill folds and clips into a bundle about the size of a large purse, with the cover converting to a lid when the grill is unpacked.
The 14-by-14-inch grate provides just under 200 square inches of cooking space, plenty for a half-dozen burgers, a whole chicken or two racks of ribs. Even better, when you're finished cooking, you can simply fold the GoBQ back into its lid and pack it out of your campsite, so disposing of your spent coals isn't an issue. Once you're home, it can just be hand-washed in your sink with dish soap. This is the ultimate go-anywhere grill.
The Best Portable Propane Grill
Coleman's portable gas stoves have been a staple at campsites for generations, so it's no surprise that the company also produces a highly serviceable line of portable gas grills. The Roadtrip 285 is available in five colors, including that signature green, but it is function—not aesthetics—that make it stand out. This is a three-burner rig with 285 square inches of cooking space (slightly larger than our top-pick Weber) and can call on 20,000 total BTUs as needed. Better yet, the folding stand is built-in, so you won't have to take up table space for your grill or hunch over it on the ground.
When folded up, the entire grill is about the size of an airline-approved carry-on suitcase and has a handle and wheels so you can pull it in much the same fashion. The Coleman can become a griddle or camp stove by replacing the included grill grates with the corresponding stove grates or griddle plates (sold separately) for added versatility. It's a superbly capable all-around cooker, despite its portability.
The Best Portable Wood Pellet Grill
For purists, "barbecue" isn't something you do over a grill, but in a smoker. Most smokers are oversized affairs that don't lend themselves to portable use, but this compact model from Country Smokers—at less than 18 inches in width—is an exception. You'll get over 190 square inches of cooking space (for grilling or smoking) on the main rack, and almost 65 more on the removable upper rack.
It's a capable grill, reaching temperatures of up to 500 degrees Fahrenheit, but it really shines when used as a smoker to bring that "real 'cue" flavor to your food. The hopper holds up to 3 1/2 pounds of pellets at a time, enough for several hours of low-temperature cooking.
The downside is that you'll need a source of electricity to run the cooker, either from a regular outlet via an extension cord or by way of a power inverter (it needs a 100-watt inverter if you light the pellets manually, or a 1,000-watt inverter if you use the automatic ignition). On a positive note, the use of electricity means this cooker has easy-to-use temperature controls, a digital display, a timer and other high-tech conveniences. As tradeoffs go, that's pretty fair.
The Best Portable Kamado Grill
Kamado-style cookers are hugely popular in the backyard, in large part because they're equally adept at both grilling and smoking (for old-school 'cue). Standard-issue kamados can weigh hundreds of pounds, unfortunately, so finding one that's genuinely portable is a pleasant surprise. That's what Char-Griller's Akorn Jr. brings to the party. Because it uses insulated triple-wall steel rather than the traditional heavy ceramics, it clocks in at just 33 pounds, while still offering the heat retention and fine temperature control that makes kamado-style kettles so popular.
You'll get 153 square inches of cooking space, plenty for 6 burgers or a small pork butt. You'll have the option of cooking hot and fast or low and slow, and (unlike portable pellet smokers) the Akorn Jr. doesn't require electricity, so you can have real 'cue anywhere you go.
The Most Aspirational Portable Grill
If you're looking for an upgraded version of the outdoor lifestyle, or just fall into the "pay more for better quality" camp, the Snow Peak Takibi may just be the portable grill you're looking for. It's actually a fire pit and grill in one, burning either wood or charcoal as needed (there's a coal bed sold separately for charcoal, but you can burn charcoal without it). The whole grill/fire pit is made of durable stainless steel that should last for decades and may outlive its original purchaser.
At 290 square inches, the grill is the largest in this roundup (albeit slightly), but it packs flat into the provided canvas bag for hauling to and from your favorite spots. There's no lid, so you can't smother the coals when you're done cooking, but you can simply take away the grill, add wood and enjoy a fire. That's a nice bonus in settings where you can't have an open fire on the ground.
Tip
Looking for a more environmentally-friendly option? If you frequently use disposable grills, the biodegradable grill from Casus is made from bamboo, corrugated cardboard and lava stone. Light it, use it, let it burn out, and then bury or compost it.
For an option that creates no combustion by-products at all, Ohio-based Go Sun makes a range of solar cookers including this portable solar grill. It's not a perfect solution to grilling on the go, because it requires sunlight to work, but its compact carry case and 11-pound weight mean you can easily pack both this and a conventional portable for nighttime cooking or rainy days.