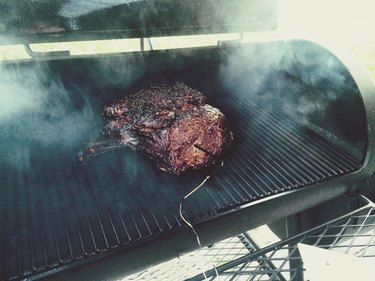 Barbecue aficionados are an opinionated bunch. They'll argue endlessly about almost anything, but they're united on one point: Grilling isn't ‌real‌ barbecue. For that, you need slow cooking and smoke, and buying a smoker is the best way to provide them. While you can smoke on a conventional grill if you've got the skills, a dedicated smoker usually provides the capacity for more food and a lot of extra features to make the job easier.
So what type of smoker should you buy, and what features should you look for? Stay tuned and we'll run through your options, and pick out a half-dozen of the best smokers for your consideration.
What to Consider When Purchasing a Smoker
To be clear, although most grills can be used for smoking in one way or another, we're going to leave those out of this review—even the really smoking-friendly ones, like the Big Green Egg and other kamado-style cookers—in favor of actual, dedicated smokers. With that out of the way, here are a few things you really need to think about before making your purchase:
‌Heat Source:‌ The most traditional smokers burn either charcoal or wood, which aficionados believe adds a hint of extra flavor to the finished 'cue. Unfortunately, neither of those is especially convenient to work with, and on the longest cooks, you'll need to add fuel repeatedly. Some smokers work around that by using propane or electricity as their heat source. You'll gain a lot of convenience, but at a modest cost in flavor.
‌Fuel:‌ In barbecue terms, the "fuel" isn't what you burn to generate heat, it's what smolders to generate smoke. In conventional smokers, the fuel is chips or chunks of hardwood, and maintaining just the right level of smoke is something you'll do manually. Some smokers automate that process by using pellets or discs of compressed hardwood (essentially sawdust) instead, which can be fed into the smoke chamber automatically at a steady rate.
‌Temperature Control:‌ The whole point of real, old-school 'cue is to cook foods "low and slow" at well-controlled temperatures, which—like making a pot roast in your oven—gently breaks down the connective tissues and delivers a lush, meltingly rich texture. To do that you need some serious temperature control. On traditional wood or charcoal smokers, you'll need to achieve that manually by babysitting your smoker and tweaking the vents and damper painstakingly. Electric and some gas models, and higher-end coal or wood models, provide thermostats and some measure of automatic control. Pro tip: You'll still need to verify and monitor the temperatures with a good, barbecue-centric meat thermometer.
‌Ambitions:‌ What do you want to do with your smoker? Feed the whole neighborhood, wedding party or tailgate crowd? Just turn out an occasional batch of ribs or pulled pork, so you won't have to stand in line at your local 'cue joint? Do you want to absolutely master the art of cooking with smoke, or have "good enough" 'cue with a set-it-and-forget-it setup? Considerations like these will dictate how you choose an appropriate type of smoker, and which model's features (and capacity) will make the most sense for you.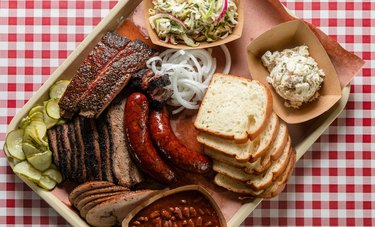 This Weber smoker has been largely unchanged for decades, because, like a Zippo lighter, it's a simple and reliable design that works very well. Often referred to simply as "the Bullet" for its shape, it burns charcoal at the bottom and has a pan of water sitting over the coals to protect your meats from direct heat. Fuel comes in the form of wood chips or chunks, which provides maximum flexibility (you can even harvest your own hardwoods, if you wish).
This isn't a set-it-and-forget-it device: You'll need to learn how to use the vents to control temperature, and how and when to add charcoal, but its high-quality workmanship makes that easier than on many competitive models. There's a larger 22-inch version of the Smokey Mountain, but temperature control is easier on the 18-inch model we've highlighted here. Overall, the compact size, versatility and excellent build quality (a Weber should last for decades with minimal care) make it our charcoal smoker of choice as well as our top overall pick.
Tip
You can add an aftermarket controller to bring set-and-forget functionality and even WiFi to a basic Weber smoker if you've got the budget for it.
If you're "smoke-curious" but don't want to spend a whole lot on trying your hand at real 'cue, you can't go wrong with this compact charcoal smoker. It's a scaled-down version of old-school barrel smokers, and even more compact than the Weber at just 14 inches in diameter. It's still a pretty effective smoker, though, with room inside for a large pork shoulder, a full brisket, a turkey, or six racks of ribs.
It manages this despite its small size by hanging the meat vertically from hooks, rather than stacking it on a grill, which also improves airflow dramatically and yields impressively even, consistent results (you still get a grill, and can use the Pit Barrel Cooker as a small charcoal kettle for grilling purposes). The kit comes complete with just about everything you need, from the grate to the meat hooks and rods to hang them from. Add your choice of charcoal and a good charcoal starter, and you're good to go.
The Best Smoker for Beginners
If your idea of an ideal smoker is one that delivers high-quality results with a minimum of fuss and bother, a Bradley smoker like this is just the thing. It's heated by electricity and uses disks ("bisquettes") of compressed hardwood as its fuel. The bisquettes are fed automatically, and this unit holds enough of them for 9 hours of unattended cooking. Better yet, you can simply add more bisquettes to the hopper without opening the door at all.
The four racks are dishwasher-safe and provide a total of 572 square inches of cooking space, plenty for feeding a crowd. You can also use a Bradley for cold-smoking fish, meats or sausages since the heat source is outside the main cabinet. The only real downside is that you're limited to Bradley's selection of bisquettes for your smoke, which currently consists of a dozen types of wood. It's a pretty good tradeoff in exchange for a fine electric smoker.
Tip
Hot smoking takes place at a temperature that cooks the food (for barbecue, often at around 250 degrees Fahrenheit). Cold smoking takes place at non-cooking temperatures and keeps the smoke— and food—separate from the heat source. Salmon and other fish are often cold-smoked, and "double-smoked" bacon is first cold-smoked and then hot-smoked.
Gas smokers have been around for years, and there have been a few traditional knocks against them. One is that you had to adjust the temperature manually to get it where you wanted it, and another important issue has been gas buildup if the flame happened to blow out. Masterbuilt has tackled those two issues squarely with this propane smoker, which is thermostat-controlled and has a safety valve that will cut the flow of gas if the flame goes out.
It also has a fuel gauge to estimate how much gas is left in your tank, a crucial consideration before you start an overnight brisket (looking for a new tank at 2:00 a.m. is no fun). The four chrome-plated smoking racks provide a whopping 960 square inches of cooking space, enough for 16 chickens or 8 full-sized pork butts, so you'll have plenty of cooking capacity. That combination of ease of use and large capacity makes the Masterbuilt a worthy contender for most buyers.
Traeger is the original and top-selling brand of pellet smoker, and they still (arguably) do it better than anyone. The Ironwood 885 is a high-end, deluxe smoker with all the features anyone could ask for, which makes it a slam-dunk option for enthusiasts willing to pay more for convenience and ease of use. Just fill the hopper with your choice of compressed hardwood pellets, set your temperature and let it run. A fan circulates the smoke around the barrel-shaped cooking chamber, a sort of outdoor take on a convection oven. It's insulated well enough to provide consistent results even in cold weather, and you'll enjoy a raft of "smart" features as well.
You can monitor and change your cooking temperatures remotely through the companion phone app, get alerts if your hopper runs low on pellets while it's cooking, and even use Traeger's Amazon Alexa skill to give commands to your smoker. Alternatively, if you want the high-quality cooking capability but don't care about the high-tech features, the Pro 780 is pretty capable too, and checks in at a significantly lower price point.
The best smokers aren't always high-tech and state-of-the-art. Horizon's 16-inch Classic Smoker could be straight from the 1800s in its design, but the execution is thoroughly modern in its fit and finish. As the name suggests, this is a classic offset smoker, a "stick burner" that can use either charcoal or hardwood in its combustion chamber (there's a shelf for firewood underneath the smoker). The basic design is similar to models you'll see at much lower prices, but the Horizon is handmade in Oklahoma from heavy quarter-inch steel and the fit and finish of its construction are exceptional.
That's not just important for durability, but because well-fitting lids and solidly-constructed vents make temperature control easier and cooking more reliable. A Horizon will outlast several lower-quality offset smokers—so it's going to cost you less in the long haul—and along the way, it will give you better results every single time. It's all about the journey, as they say.