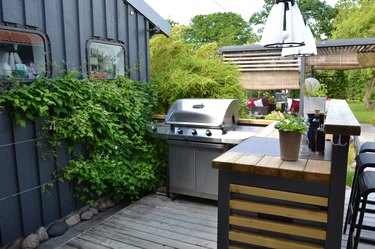 For anyone who's got a backyard or patio (or a balcony and an obliging landlord), summertime is grilling season. Food cooked over a flame just seems to taste better, and it's a lot more pleasant to prepare our meal outside in the fresh air than indoors in a relatively cramped (and sometimes overheated) kitchen.
Of course, like anything else, it helps to have the right tool for the job. The difference between the best gas grills and their lesser competitors isn't always obvious from the spec sheet or price tag, but a really good grill can make your outdoor cookery better and more satisfying. Buckle up as we explore a handful of the best grills for the money, and explain what sets them apart.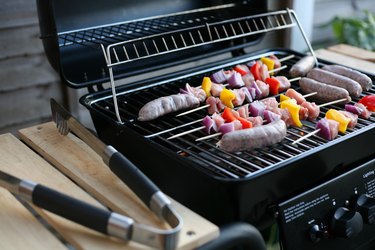 What to Consider When Purchasing a Gas Grill
The most-hyped figure you'll see when shopping for a grill is the number of BTUs. It's commonly viewed as a measure of how much heat the grill can generate, but that's only indirectly true: It actually measures how much gas the grill will burn up when it's running flat out. It's the rough equivalent of miles per gallon in a car, in other words. It's not that it isn't important, but it probably wasn't the only thing you considered when you bought your car.
To get a more meaningful number, you'd need to divide those BTUs by the number of square inches of grilling surface you get with that model. It often turns out that a compact grill with fewer BTUs actually offers ‌more‌ BTUs per square inch because of its smaller size, and therefore gives you more usable heat. Aside from this, a few other things to consider include:
‌The Number of Burners:‌ This is important because the more burners you have the more versatile your grill can be. If you have two, you can heat one side and leave the other low or off, allowing foods to slow-cook in the indirect heat. If you have three, you can leave the center off and the sides on, to get indirect cooking but browning on either side (indirect heat is best for smoking, as well). And, of course, you can have them all on to maximize your grilling area for quick-cooking foods like burgers, sausages, and thinner steaks and chops.
‌A "Sear" Burner or Side Burners:‌ The grilling community is divided on these. Some consider them nonessential frills that drive up the cost of a grill, without adding to its core functionality. Others consider them to be a key part of the overall purchase, for the versatility they add. It's relatively easy to make a case for a (good) searing burner, which can help you get a better sear on your steaks and chops. Side burners can be very handy if you don't want to make unnecessary trips back and forth to the kitchen when preparing your sides. There's no right or wrong, so personal preference is the bottom line.
‌The Style of the Grates:‌ Grates are another contentious topic among serious grilling aficionados. Your grill may come with anything from a relatively thin wire grate to stainless steel bars to plain or enameled cast iron. Some favor the heavy-duty durability of cast iron, because it's too sturdy to rust out in the grill's lifetime and—once heated—delivers serious grill marks that will look good on Instagram. Others argue that big, beefy grates obstruct the flow of heat from the flame to the meat, and that the thinnest grates you can live with deliver the best grilling performance. Here, again, personal preference rules the day.
‌Overall Design:‌ This one's a catchall for your "big picture" view of the grill you're considering. Will it fit the space you have in mind? Is it a good match for your style of cooking? Is it compact and space-efficient, or does it bristle with extra work surfaces and storage? Will it look good with your patio set, and fit the overall aesthetic of your house? These are all perfectly valid questions, and—all other things being equal— can be what swings your decision between two closely-matched models.
Gas grills can use either propane or natural gas. We'll be looking purely at the best propane grills in this article, but many are available in natural gas versions as well. Most (but not all) gas grills can be converted from one to the other though it's not necessarily easy or cheap.
Also, many leading grill-makers now offer "smart" versions of their top grills with Bluetooth or WiFi connectivity and app-driven monitoring of your food as it cooks. This is still relatively new, so we've opted to not discuss it in this year's review. If you'd rather keep your grill and its technology separate, some of the top meat thermometers can give you similar functionality.
The Best Overall Gas Grill
The Weber company made its name originally on charcoal grills, but their gas models—especially the much-awarded Genesis line—are equally good. The current edition of the Genesis is "new and improved" for 2022, the line's biggest update in well over a decade. The grease-management system has improved, and the locker for your accessories is also a nice touch, but the important thing is that this is a really, really good grill.
For one, its patented burners provide even, powerful heat across the entire cooking surface. For another, the searing area for your steaks and chops is bigger than on previous models, and the "warming rack" expands to provide a second level of grilling for toasting buns or cooking sides dishes. You can also set up your grill with optional Weber grillware that can turn your grill into a griddle, a pizza oven, or even a wok-ready stir-fry station.
There are larger 4-burner and smaller 2-burner models in the Genesis line, but the E-335 hits a sweet spot in power, versatility and size.
If your kitchen is filled with Cuisinart appliances, maybe you should consider one for your patio as well. This offering from the kitchenwares giant offers remarkably good bang for the buck with five 10,000 BTU burners in the main grill—giving versatility to spare for any kind of grilling or smoking—as well as a 12,000 BTU side burner. It generates plenty of heat for good searing, as you'd expect, the cooking surface is large enough (460 square inches) for family cookouts and light entertaining, and overall, the build quality is higher than you might expect at the price point.
It scores well for looks, too: Lower-priced grills often pay little attention to styling, but this one has the same sleek, brushed-steel look Cuisinart brings to its indoor kitchen appliances. All in all, it's one of the best gas grills for the money (and if your budget is modest, there's also a 4-burner version at an even lower price point).
The Best Budget Gas Grill
Char-Griller's "Grillin' Pro" has a distinctive appearance that sets it apart from its budget-grill counterparts, with its half-barrel styling and twin chimneys (it almost looks cartoon-y), but it backs up its looks with surprisingly decent performance at the price point. The 3-burner setup provides plenty of heat to the grill's 438 square inches of cooking surface, and the 12,000 BTU side burner is pretty capable as well.
The grates are sturdy, porcelain-coated cast iron, and the tube-steel frame is lightweight but strong. To be clear, you won't get the kind of solidity and build quality that comes with higher-end grills (steel rusts, cast aluminum doesn't), but that's okay: At less than a quarter of the cost of our top pick, it's still one of the best gas grills for the money at the lower end of the market.
The Best Portable Gas Grill
There are two basic kinds of small gas grills: Camping gas grills that are very lightweight but sometimes only middling at cooking, and portable grills that are a bit heftier but more capable. If your needs skew more to a day at the beach than serious camping, the Weber Q2200 is the grill for you. It commands a higher price point than many portable grills, but its quality of construction is unusually high and Weber's service and warranty (5 years on most components, 2 years on the remainder) make it worthwhile.
It's compact enough to still go camping or tailgating with you, but large enough—at 280 square inches—to prep a dozen burgers at a time. You can even purchase optional stands from Weber to turn it into a compact, full-height grill for your patio. As portable grills go, this one is thoroughly deluxe with its electronic ignition, enameled cast-iron grates and folding side tables.
Its only real drawback is its weight, at 42 pounds. If you want more portability without dropping down to a camping grill, you might want to opt for the Q1200 instead. Its cooking area is smaller, at 189 square inches, but it's 11 pounds lighter and every bit is as feature-rich and well-made (and lower in price, as well).
The Best Gas Grill for Entertaining
Compact grills like the Cuisinart and the Char-Griller are great for people with modest needs, but what about the serious entertainer? The person who invites the whole neighborhood, or the whole team, each weekend? If you're that person, you're going to need something bigger and more capable, and this 6-burner beast from Char-Broil totally fits the bill. Its 550 square-inch cooking surface will fit about 30 burgers at a time, while you prep your side dishes on the 10,000 BTU side burner.
It's not a one-trick pony, either: There are lots of thoughtful touches in the design, from the electric ignition to the removable grease tray and durable, rust-resistant grates. With six burners, there's plenty of flexibility for advanced techniques as well (smoking or indirect cooking), so this is a great all-rounder. The company makes two other models at higher price points that are sleeker-looking and add a few bells and whistles, but this is definitely the value point.
The Most Aspirational Gas Grill
Go back and scroll through our previous selections, and read all of the superlatives. Now forget them, because these grills from Hestan do everything better. Everything. The proprietary burner designs (standard or infrared) pack a 25,000 BTU punch and will give your ribeyes a steakhouse-quality sear, and the infrared burner built into the lid acts like the broiler of your indoor oven. Using them together with the rotisserie (the motor and gears are built right into the unit's side walls, so there's nothing to clean or maintain) gives results that lesser grills can only dream of.
You'll often hear people speak of an outstanding product as being "the Cadillac" of its category, but the Hestan is a Lamborghini or a Bugatti. This is at a whole other level, the outdoor equivalent of the extravagant ranges you see in opulent designer kitchens.
We've used a 36-inch model as our example but they're also available 30- and 42-inch versions, either as standalone grills or built-ins for your outdoor kitchen (where climate permits). Other brands play in the rarefied market as well, but none of them do it better. If you want the very best, and have the budget to pay for it, Hestan is your grill.