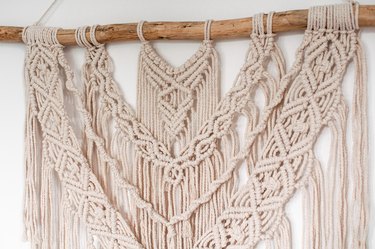 Macrame is back in a big way as creatives everywhere are using cotton cord to knot new contemporary designs for boho home decor, fashion and even jewelry. If you want to get in on this macrame revival and add a boho-chic vibe to your home, a DIY beginner macrame kit may be a great place to start.
There are macrame starter kits available for all kinds of wall art, hanging shelves, keychains, earrings, plant hangers, dreamcatchers, light fixtures, swing chairs and more. Macrame kits will usually include supplies, step-by-step instructions and, if you're lucky, a link to a video tutorial.
Macrame is a wonderful hobby to help you unwind, relax, and take a break from the digital world, all while creating something beautiful. To help you enjoy this low-stress hobby, we've sourced some of the best macrame kits available.
What to Consider When Purchasing a Macrame Kit
​Type of Cord:​ High-quality cotton cord is the best choice for most macrame projects. It is easy to untie if a mistake is made and it creates gorgeous fringe when it's combed out. There are three types of cotton cord to consider.
Single twist cotton macrame cord or single strand cord (1-ply) is made up of hundreds of single threads twisted into one cord. This type of cotton cord creates nice knots and fluffy fringe.
Braided macrame cord is also made of hundreds of single threads but they are braided together. Since braided cord is super strong, it's perfect for large projects like making a hammock.
Three-ply macrame rope (sometimes called triple twist cotton cord) creates gorgeous knots and fluffy, twirly fringe. It's made from many single threads twisted together in three parts. Three-ply macrame rope is easy to work with and very strong.
​Cord Thickness:​ A basic rule of thumb to follow when choosing macrame cord thickness is to use thick cotton cord for large projects so the knots are visible. Use thinner cotton cord for smaller projects.
​Type of Project:​ Single twist cotton cord works well for macrame wall decor, purses and jewelry. Three-ply and braided cotton cord works well for plant hangers and tote bags.
​Using a Pattern:​ If you're using a macrame pattern, just be sure to use the same kind of macrame cord for your DIY project so your knots will be consistent. Three-ply braided cotton cord will take up more space and tends to be more rigid. Using single twist macrame cord results in smaller knots.
​Aesthetics:​ Braided or 3-ply macrame cord creates a sleek, clean look. Single twist cotton cord yields projects with a fluffy look and feel.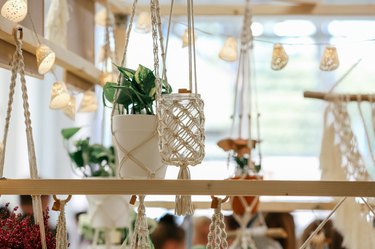 1. Moon Gazing Studio Art DIY Macrame Feather Kit
Whether you need a craft kit idea for a mom's getaway trip, a teenage sleepover, a bachelorette party, a holiday gift, a get-well present, or just a beginner macrame kit for yourself, this macrame wall art kit from Moon Gazing Studio Art on Etsy is sure to be a big hit. This beautiful DIY project includes enough precut macrame cord to create three 10-inch feathers, a piece of driftwood (or you can request a wooden dowel instead), well-written, step-by-step paper instructions, as well as a link to a video tutorial.
One thing that sets this easy macrame kit apart is the wide variety of color options. There are fourteen different colors to choose from: Natural, Sage, Light Gray, Dark Gray, Stone, White Mustard, Almond, Pink, Vintage Blue, Guava Pink/Orange, Linen, Terracotta, Slate Gray, Teal, Dusty Rose or Forest. You can even choose a combination of two or three different colors if you'd like. If you can't decide which colors will look good together or the seller will help you choose. Can't beat that for service!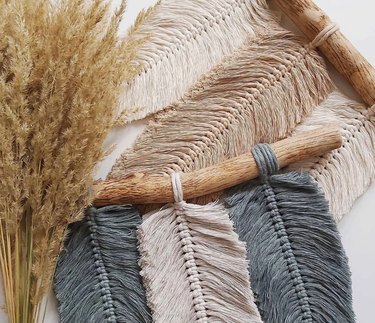 2. Urban Kangaroo Easy Macrame Bag Kit
Destress and unwind while you put together this stylish macrame bag from the Urban Kangaroo on Etsy. After learning a few new knots, it only takes a couple of hours to complete this craft kit. You won't have to run to the craft store for additional supplies or special tools because everything you need is included in this beginner macrame kit. You will receive 100% cotton rope, a pair of beautiful gold-colored handles, illustrated instructions, and an online step-by-step tutorial to have you knotting like a pro in no time. Get one for a friend who needs to pamper themselves or grab a few for an activity at your next get-together. The Urban Kangaroo is so confident that you will have a great time putting this easy macrame kit together that they will give you all of your money back if you don't enjoy yourself. There's no reason "knot" to try this kit out.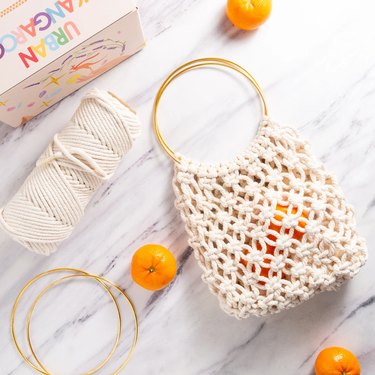 3. Cord Plus Quartz Macrame Wall Hanging Kit
The Cord Plus Quartz Macrame Wall Hanging Kit will successfully introduce you, your family or friends to the world of DIY macrame. It comes complete with a pattern book that has clear step-by-step illustrated instructions, an extremely helpful knot guide, 100% cotton rope that's cut to length, and a 9-inch wooden dowel. It even arrives in a well-built box, which makes for a beautiful presentation if you plan on giving this easy macrame kit as a gift. There are eighteen colors of cotton rope to choose from when you order: Natural, Dove Gray, Camel, Black, Agave Green, Dusty Sage, Lake Blue, Navy Blue, Ocher Yellow, Copper, Dusty Rose, Unicorn Pink, Lavender, Elderberry, Amour, Vintage Pink, Forest Green or Cobalt Blue. When complete, your wall hanging will measure 9 inches wide and you can alter the length by trimming off as much or as little rope as you'd like.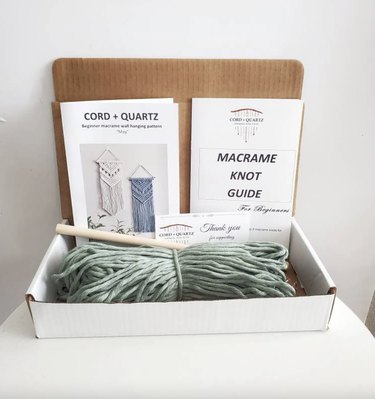 4. Opal Honey Co Macrame Keychain Kit
Small macrame projects are an inexpensive way to get started in macrame, and the Opal Honey Co Macrame Keychain Kit on Etsy fits the bill. This easy macrame kit would make a nice gift for a crafty loved one or could be a fun beginner macrame kit for yourself. When you're finished, you can clip on your keys and be proud to show off your handiwork every day.
This kit includes high-quality, 5-millimeter cotton cord in eighteen color options: Guava, Cinnamon, Rust, Maple, Mustard, Sage, Army, Peacock, Mint, Soft Blue, Lavender, Boysenberry, Dusty Rose, Blush, Antique Peach, Storm, Mist Gray or Natural. Also included in this kit is a strong clasp in five different finish choices: Silver, Gunmetal, Antique Bronze, Gold or Rose Gold. You'll get a large comb, as well as a 24-page PDF pattern with detailed instructions and step-by-step photos. Each knot is explained and there are online video references for extra help. To save paper, the pattern and instructions are digital and you'll receive a QR code to access instructions with the package.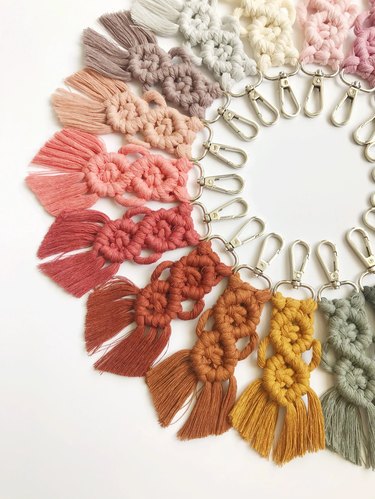 5. DIY Macrame Store Macrame Owl Kit
Treat yourself or a special crafty someone to a fun new project. This macrame owl kit includes all the supplies you'll need to make this 10.5-inch tall and 6.5-inch wide owl wall art. You'll receive 3-millimeter and 5-millimeter high-quality white or beige cotton rope, two dark brown wooden beads, one unstained (natural) wooden bead, matching wooden rings, a natural driftwood stick, a slicker brush, a crochet hook, and a detailed, 42-page step-by-step macrame instruction book with photos.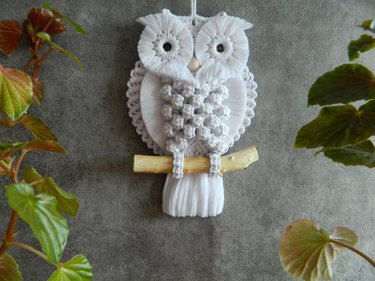 6. Willow and Rosebud Macrame Plant Hanger Kit
Learn how to create your own macrame plant hanger with easy-to-follow, step-by-step, comprehensive instructions that even beginners can follow. The instructions are digital and include over 30 photographs and a knot guide. To save time and help you get started immediately after receiving the macrame plant hanger kit, the 100% macrame cord is already pre-cut and measured for you. This kit also includes a pre-cut piece of unique driftwood that is sourced directly from the beaches of Cape Cod. It is truly one-of-a-kind. It comes with delightful packaging and would make a great gift or a fun group craft night project.