Crochet is all the rage. What was once thought of as something for little old ladies is now growing in popularity, especially among young people. As we become more reliant on technological devices, we also crave hands-on creative projects that help us escape the high-tech rabbit hole, and crochet does just that. Another reason for crochet's resurgence is the variety of playful designs available in kits, many with pop culture references that are irresistible for the modern crafter.
Here are 10 kits that are perfect for beginners. So even if you've never held a crochet hook, you can be on your way to creating something much more fun than a doily.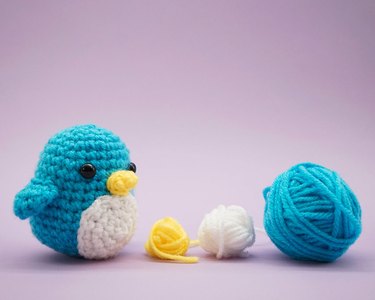 1. 4M Easy-To-Do Crochet Kit
If you're starting from square one, this crochet kit is perfect beginner set to teach you the fundamentals. The kit includes two crochet hooks, one plastic needle and seven colors of yarn. You'll have enough materials to create three of the following items: coaster, handbag, place mat or belt. Follow the steps in the handy 14-page instruction book, and you'll be zooming along in no time.
2. "I Taught Myself To Crochet Pet Clothes" Kit by Boye
For those who love to spoil their fur babies, this kit lets you create cute apparel, accessories and more for your four-legged friends. This crochet kit includes a book with detailed instructions for eight projects, along with six crochet hooks, one yarn needle and four stitch markers. These tools will help you make fashionable clothes for your pets so you dress them up in style – whether they like it or not.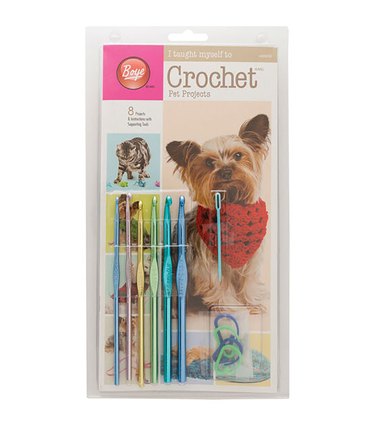 3. Ultimate Crochet Craft Kit by B Me
You can get started crocheting right away with this fantastic kit made just for beginners. With the help of the illustrated instruction guides, you'll master the different crochet stitches in no time. Satisfy your creative itch as you make rainbow keychains, unicorns, headbands and pom poms. And this kit is packed with goodies – crochet hooks, a plastic needle, a punch out paper sheet, two pom pom making tools, two elastic pony holders, an elastic headband, four googly eyes, 10 colors of yarn, two key rings, four pony beads, glue, tape measure and even a storage bag. There's enough here for a crochet party.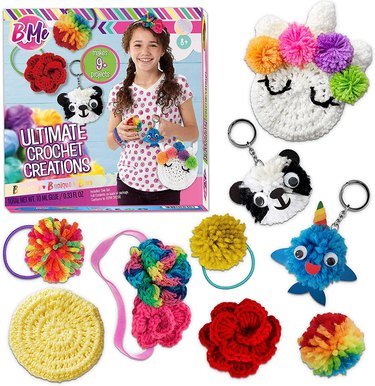 4. Beginner Learn to Crochet Kit Penguin by The Woobles
Everyone loves penguins, and with this kit, your life can be filled with adorable crochet penguins. This type of crochet project, which involves crocheting a stuffed toy or doll, is called amigurumi. It sounds fancy, but it's easy for beginners, especially with the tried-and-true instructions that are included. (Many of the other crochet kits on this list are also amigurumi.) Easy to follow videos are also available to guide you through each step, from making the beak to adding the wings. You'll also receive yarn, plastic eyes, stuffing, a tapestry needle, a stitch marker and a drawstring bag to carry everything. And particularly helpful in the kit is a pre-started crochet piece, so you can get going right away.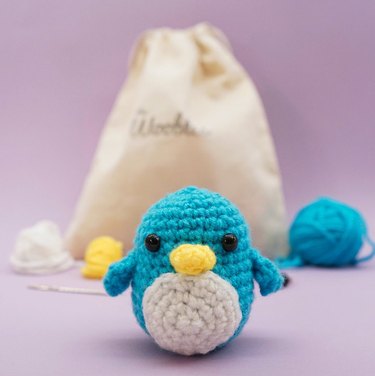 They're alive! Now you can create your own Jurassic Park with this dinosaur crochet kit. It includes everything you need to make four different dinosaurs – a Tyrannosaurus Rex, Stegosaurus, Triceratops, and Brontosaurus. You'll receive five different colors of yarn so you can mix up the colors of your dinosaurs, along with plastic safety bead eyes, pipe cleaners, stuffing, darning needle and crochet hook. Easy to follow video tutorials will also help you become a dinosaur whisperer.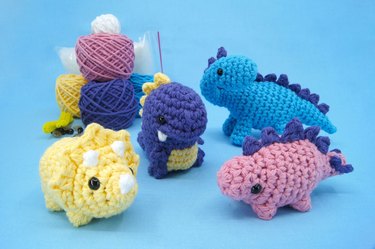 6. Make It Real - Beanie and Infinity Scarf Kit
When people hear "crochet," they often think of scarves and hats, and this kit is just the ticket to making these cool weather staples. Everything is included – a loom, crochet hook, yarn, sparkly beads and a yarn hook. We're warning you, though: crocheting these can be quite addictive. At least you know what everyone will be getting for gifts this year.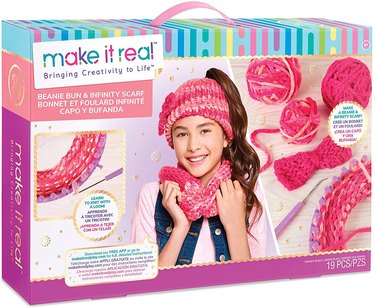 7. Stitch & Story Peanuts Snoopy Beginner Crochet Kit
Happiness is… creating everyone's favorite beagle. This entry-level crochet kit helps you bring Snoopy to life. The all-in-one set includes the pattern, balls of Lil' Merino, bamboo crochet hook, Peanuts woven label, stuffing, sewing needle and a simple instruction guide. Your Snoopy will definitely become a favorite stuffed figure that you'll treasure for years.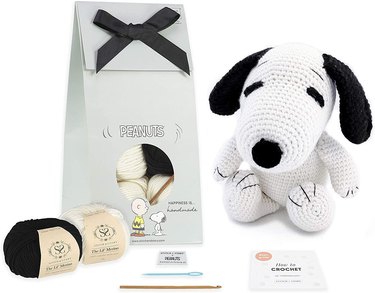 Could this crochet kit ​be​ any cooler? With this kit for fans of the TV show "Friends," you'll get everything you need to create the iconic orange sofa from Central Perk and the Thanksgiving turkey, plus step-by-step instructions for making the characters Rachel, Monica, Phoebe, Ross, Joey and Chandler. Included are an 80-page paperback book complete with photos. For those not sure whether they want to start crocheting, this is the kit to get them over the hump.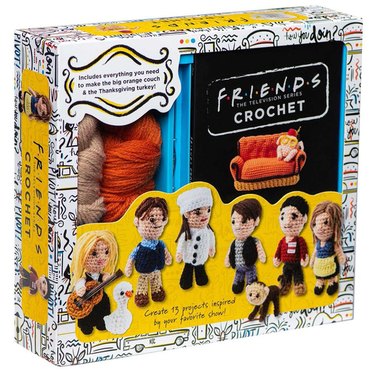 9. Disney's "Frozen" Crochet Kit
Do you want to build a snowman? It doesn't have to be a snowman. You can also crochet Elsa and Anna, which you'll be able to do with all the materials included in this kit. Plus, there are instructions for additional projects like Olaf and Sven. So now you can let it go, and let your creativity soar.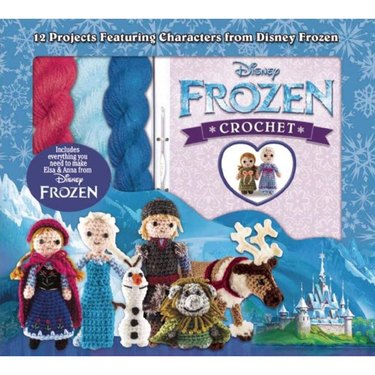 10. Beginner Baby Yoda Kit
You won't need Jedi mind tricks to crochet Grogu, better known as Baby Yoda. For this mission, you'll have the Force – in this case, a PDF pattern, yarn, safety eyes, stitch marker and stuffing to help you hyperspeed your way through this project. In fact, it's so easy the instructions estimate a time of one to one and a half hours to complete. But beware. Your finished Grogu may become so in-demand that Mandalorians will chase you through the galaxy for it.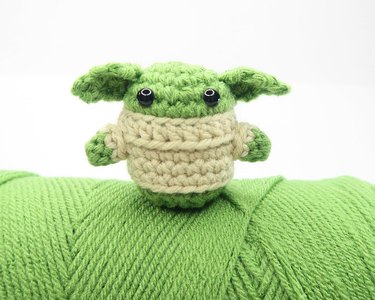 With craft kits like these, it's no wonder crochet has become such a popular pastime. So pick one to start, and discover a whole new pattern of creativity.