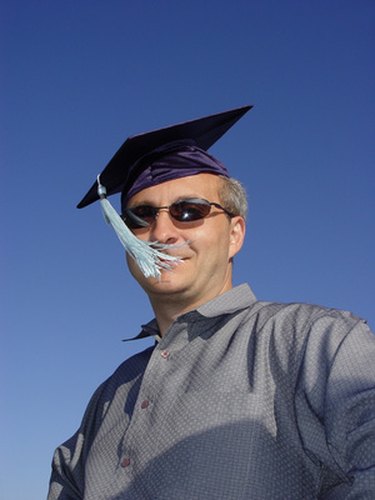 Graduating from college is an achievement worth celebrating for anyone. However, when an adult goes back to school and finishes, it speaks volumes about her determination and commitment. Career-focused gifts or something that she has been wanting for a long time could be given as a reward for all of her hard work. Choose something that shows how proud you are of her completing this step in her life.
Sentimental
If the adult graduate has children, have them make their own congratulatory cards. Personal messages of pride, admiration and appreciation will help confirm that she made the right choice going back to school. If the children are too young to write, draw pictures instead.
Relaxation
Now that she has finished her studies and is entering the work force she will need to take a couple of minutes to herself to relax. A basket full of lotions, scrubs, scented candles and bubble bath might be the pampering she needs. If you prefer you could give a gift certificate to a local spa instead of a basket so that she can go and get pampered for a full day as a special treat. Bath pillows, therapy masks, massage pillows and aloe socks make great additions to either spa gift.
Weekend Getaway
If you are the significant other to the graduate treat him to a surprise weekend getaway. You do not need to go to an exotic destination or spend a lot of money. Head out of town to a local bed and breakfast or plan a stay-cation at a new hotel in your city. Treat him to his favorite restaurant for dinner, and make a toast with a special bottle of wine or champagne. If you do not have the funds for that, plan a special weekend at home. If you have children ask relatives to watch them for a couple of days so you have the house to yourselves. Cook him his favorite dinner and dessert and plan a romantic and relaxing weekend to yourselves.
Personalized Engraving
Frame the diploma in a custom frame with a personalized nameplate. If he is entering an office environment purchase a set of pens, engraved with his name and a message of encouragement. If a uniform is required for a career in nursing or dentistry purchase scrubs or a lab coat with his name stitched on it.